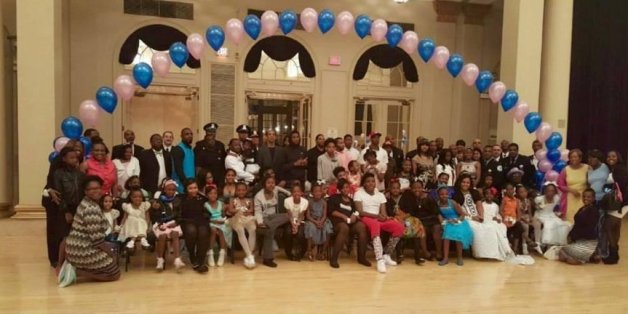 These police officers are making sure all young women have the date they deserve to a formal dance.
"It's a once-in-a-lifetime thing because some people don't really associate with their fathers," 13-year-old Brejay Payne told the news outlet. "So once you come out, dressed up, and dance, eat, and play with your father, it's kind of a nice day."
@ChicagoCAPS07 @ChicagoCAPS05 @ChicagoCAPS09 1st Father and daughter dance of Chicago Police Department Community pic.twitter.com/NlA6UpfUG3
The free event was planned by Chicago Alternative Policing Strategy offices at districts 5, 7 and 9, along with the National Organization of Black Law Enforcement Executives. According to their website, CAPS aims to facilitate a relationship between the city's police force and its community. Events like the Father & Daughter Dance give officers a chance to interact with Chicago citizens outside their line of duty.
1st Father Daughter Dance with Chicago Police .... Great in Englewood.... pic.twitter.com/B5UFamlZEK
The event follows a father-daughter dance held earlier this year in Chicago by the Black Star Project. In February, the nonprofit education advocacy group threw a party to highlight the important role of strong male relationships in young women's lives, the Chicago Tribune reported.
Young ladies 4- to 14-years old! Grab your fathers, grandfathers, uncles, older brothers, teachers, preachers, cousins,...
SUBSCRIBE TO & FOLLOW THE MORNING EMAIL
The Morning Email helps you start your workday with everything you need to know: breaking news, entertainment and a dash of fun. Learn more