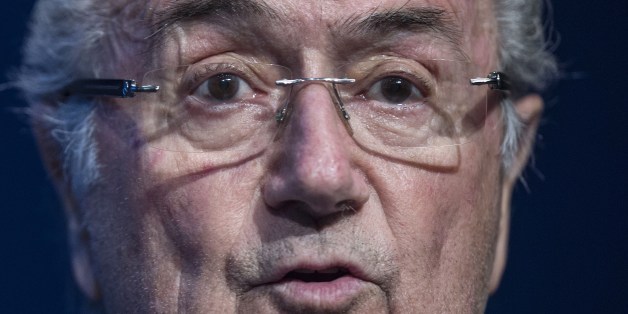 In a press conference on Tuesday in Zurich, Switzerland, Sepp Blatter banished himself to the shadow realm. He's gone -- or, at least, he says he will be -- which means that after 17 years of misuse and abuse, FIFA will finally get a new president.
Sepp Blatter May 29th, 2015 - "I am the President of everybody"

Sepp Blatter, June 2, 2015 - I am no longer President
Congratulations to Billie Joe Armstrong of Green Day, who famously sang "Wake me up when Sepp's tenure ends."
WE LIBERATED THE HELL OUT OF FIFA
We did it, America! You're welcome, everyone else.
Next Ballon d'Or winner: pic.twitter.com/dTW5YTwixb
America indirectly forcing a World Cup off Russia wouldn't be a diplomatic incident at all, would it?
blatter relief
So Sepp Blatter resigned from FIFA. I heard it was so he could run a #boxing sanctioning body!!!!!!!!!
I'd be really nervous if I was leading Qatar 2022 right now. VERY nervous.
He's fallen to the metaphorical ground, metaphorically clutching his metaphorical shin in mock metaphorical agony.
Meet the only person capable of bringing Sepp Blatter back to prominence.... pic.twitter.com/enIjnChVeG
Blatter mixtape: IF YOU'RE RESIGNING IT'S TOO LATE. "I was running through Zurich with my woes. You know how that shit go."
This is the most profound shock I have experienced in my adult life.
So the FBI is the new president of FIFA, I guess
FIFA SUCKS *Plays FIFA for 15 hours*
EXCLUSIVE LIVE SHOT OF SEPP LEAVING THE PRESS CONFERENCE pic.twitter.com/RiHl4SRQWZ
Give 2018 to Australia and 2022 to the US or Sweden.
Can only imagine the deals that were made in last few days for this to happen.
The real person behind Sepp Blatter's resignation. pic.twitter.com/kcLB56I8W1
Oh man, we have at least 4 months of Blatter before he rides off into the sunset. Imagine what he could do... pic.twitter.com/gMmYl1kRoB
"I guess we could say for the moment, hallelujah." - Ian Darke on Sepp Blatter's resignation. #LIVEonSC
"Wait, you actually let them badger you into RESIGNING?" pic.twitter.com/mxlgZYiNm2
If you're assuming #SeppBlatter resigned NOT under threat from somebody or some organization, you're naive enough to work for Roger Goodell
When u resign because u r literally the worst. pic.twitter.com/AgxG8wXQBT
Sepp Blatter resigning could make him more vulnerable to accusations and charges: now those who might point finger at him have less to fear.
Sepp Blatter is stepping down? For real? Maybe noted Chelsea fan Kevin Garnett was right when he screamed: "Anything is posssssibulllll!"
Footballers from around the world are weighing-in as well:
Blatter wasn't sole responsible, more have to follow. Transparency and voting reform, then we move on and bring back ethics. #FIFA
Sepp is definitely a Lannister.
Ding dong the witch is dead. Daddy got his hand caught in the cookie jar🙈☕️🐸.
SUBSCRIBE TO & FOLLOW THE MORNING EMAIL
The Morning Email helps you start your workday with everything you need to know: breaking news, entertainment and a dash of fun. Learn more