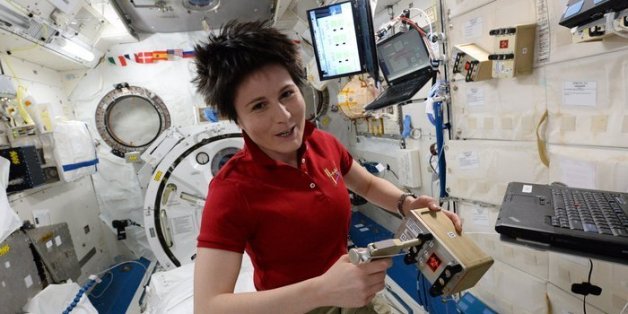 (Scroll down for photos.)
Cristoforetti, 38, who is scheduled to return to Earth from the International Space Station on June 11, has been in space since Nov. 23, 2014. When she comes home, she will have spent 200 consecutive days in space. (You can watch the return live here beginning at 9 a.m. EDT.)
Williams, a 49-year-old NASA astronaut, previously held the record for the longest uninterrupted stint in space by a woman. She spent 195 days aboard the ISS in 2007.
During her time in space, Cristoforetti has conducted research on weightlessness and sampled the first espresso in space, among other duties. But she's found the time to maintain a high profile on Twitter as @astrosamantha, and is known for posting some pretty spectacular photos. Scroll down to see some of her best.
Yesterday @AstroTerry, @AntonAstrey and I spent some quality time in the #Soyuz getting ready for landing! #Futura42 pic.twitter.com/8hw1kZLdMB
A sinister cloud far on the horizon. #HelloEarth pic.twitter.com/iMj19OjcHL
Good night from #space. Buona notte dallo spazio. pic.twitter.com/CYxuysrFcK
Hallo #Torino! That's where many modules of the Space Station were built! #Italy pic.twitter.com/yG4XXtmApT
Written by Milan school children in their 1st language: #DareToFly! No matter where you're from & where life took U. pic.twitter.com/rWMlvCdNS3
A moving night view of #Europe. From #Greece up the Balkans and the Adriatic. Where do you think is that lightning? pic.twitter.com/I9Ez68ZUI9
No real nights these days, Sun always close to the horizon. Still, I can see some moon glint on the Adriatic! #taly pic.twitter.com/vozBdmPVPW
Good night from #space. Buona notte dallo spazio. pic.twitter.com/GjZFAMc9N9
Good night from #space. Buona notte dallo spazio. pic.twitter.com/ZAnEQCQr0F
Now #Dragon is at release position. Houston just gave @StationCDRKelly GO for release. Release window opens in 4 min. pic.twitter.com/eaiDROWyUc
Hello Bangkok! And a wonderful evening to you all in #Thailand. pic.twitter.com/ig3EI0LsSD
Hello #Venice! Ciao Venezia! #Italy #HelloEarth pic.twitter.com/6yHn2A8R9J
Also on HuffPost:
Best Of European Space Agency Photos
SUBSCRIBE AND FOLLOW
Get top stories and blog posts emailed to me each day. Newsletters may offer personalized content or advertisements.
Learn more