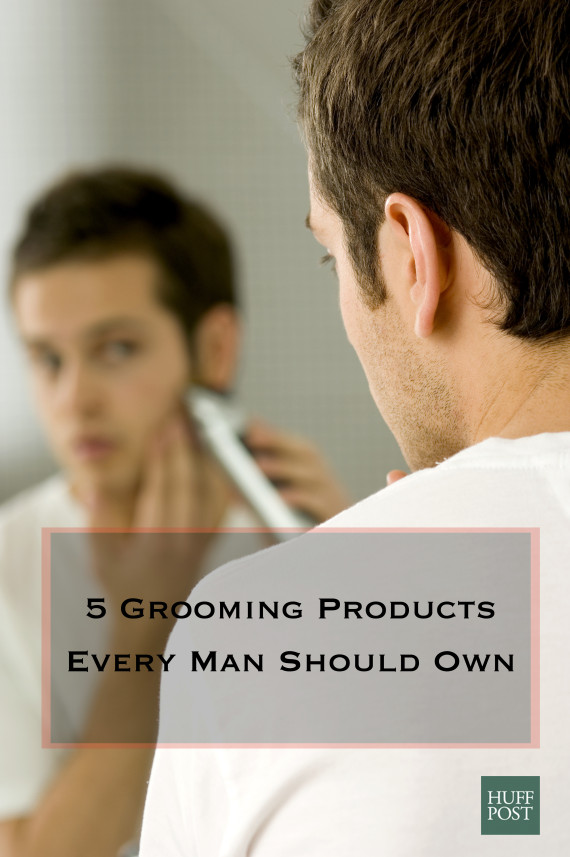 Photo credit: Getty Images
While many women are known to hoard beauty products, many men are guilty of not using enough. And you know what can wreak havoc on a guy's skin? Using just body wash and shaving cream, and calling it a day. To find some middle ground between these two extremes, we consulted three men's grooming experts to ask which items all guys need in their medicine cabinets.
Dudes, stick to these five products and you'll be golden:
1. Moisturizer with sunscreen
"Moisturizing allows you to keep your skin hydrated. I recommend having two moisturizers. They can be by the same brand, but one with sunscreen and another without sunscreen. Naturally the one with SPF is what you should use in the morning to protect your skin all day. Then in the evening hours, after you wash your face, you can apply a moisturizer without SPF, as you won't need the sun protection when you sleep." -- Diana Schmidtke, Celebrity Groomer
[Editor's note: If you want to stick to one bottle of moisturizer, you can apply the one with SPF at night, too.]
3. Face wash
"Body soap is too harsh for the more delicate skin on the face and can speed up the aging process by drying it out. Aside from that, there is a reason you wash your hands after using the restroom –- do you really want the same thing that just cleaned your butt on your face?" -- Mike Gilman, CEO of GroomingLounge.com
4. Hair product
"All men look better with a little hair product applied to their hair. Hair products add texture and help give definition to the overall style. When a guy doesn't use hair product, often times his hair will appear fluffy. One of my favorite things about today's men's hair products is that we are experiencing hybrid products. In other words, instead of just a wax, paste, putty, clay or pomade option, you can now find combination products of all your favorites." -- Schmidtke
5. Fragrance
"First off, regular bathing is super important. Remember that the soap or body wash you use may be heavily fragranced. If you like that smell, then you can use that as your base and nothing else. Your deodorant is the same way, whether you use an anti-perspirant or a regular deodorant, this may have a heavy fragrance and this may be your signature smell. If you use a cologne or a fragrance on top of body wash and deodorant, try to limit the amount of fragrance in your body wash and deodorant. This will help the main scent you choose come through. Please know that more cologne is never a solution for anything. Do not change your fragrance too often, although a seasonal change or trying something new is totally acceptable. Familiarity is a very powerful force, people that are close to you will appreciate that familiar scent and hopefully remember it fondly." -- Lightfoot
Shop some of our picks: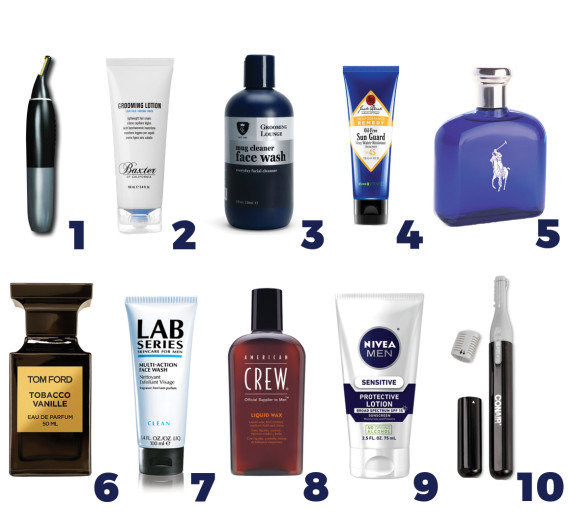 1. Philips Norelco Cordless Nose and Ear Trimmer, $14 2. Baxter Grooming Lotion, $20 3. Grooming Lounge Mug Cleaner Face Wash, $10 4. Sun Guard Sunscreen SPF 45 Oil-Free & Very Water Resistant, $21 5. Ralph Lauren 'Polo Blue' Eau de Toilette Spray, $57 6. Tom Ford Private Blend 'Tobacco Vanille' Eau de Parfum, $215 7. Labseries Multi-Action Face Wash, $21 8. American Crew Liquid Wax, $14 9. Nivea Men Sensitive Protective Lotion SPF 15, $5 10. Conair Men's 2-in-1 Personal Trimmer, $16
Art by: Chanel Parks/HPMG
Also on HuffPost Style:
Lessons From Male Style Icons
SUBSCRIBE AND FOLLOW
Get top stories and blog posts emailed to me each day. Newsletters may offer personalized content or advertisements.
Learn more