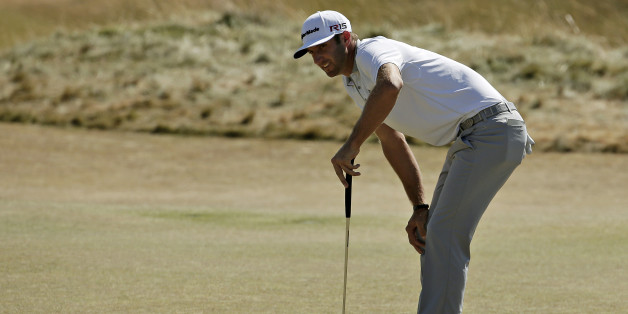 Johnson had a chance to win in the final hole -- except he blew it when it took three putts to sink the ball.
Johnson's disastrous blow provided the 21-year-old Spieth, who was down earlier in the tournament with a double-bogey, with a clutch recovery at the final green.
Watch Dustin Johnson's missed putts to win and force a playoff pic.twitter.com/7tsIAGv9vG
Dustin Johnson blows a birdie putt that would have forced a playoff at the #usopen https://t.co/YfPFpFrv22
JORDAN SPIETH IS THE 2015 US OPEN CHAMPION!!! Poor old Dustin Johnson joins the Doug Sanders Club. He prods a terrible putt to the left of the hole, and that's yet more major-championship heartbreak for the big man. A Chambers Bay of horrors. But it was Spieth who seized the day.
Others did not hold back on how cringe-worthy Johnson's blunder was:
What a heartbreaker for Dustin Johnson #USOpen
The 18th hole. I doubt Dustin Johnson wants this photo #USOpen pic.twitter.com/ulFWYLJBds
With Gretzky watching, Dustin Johnson putts for a hat trick on 72nd hole of #USOpen. Painful for all golfers to witness.
"I'm in shock," Spieth told The Associated Press. He now heads to St. Andrews where he'll chase the Grand Slam title. He is the sixth player to have clinched the Masters and the U.S. Open in the same year. He also walks away with the $1.8 million prize money.
This post has been edited.

SUBSCRIBE TO & FOLLOW THE MORNING EMAIL
The Morning Email helps you start your workday with everything you need to know: breaking news, entertainment and a dash of fun. Learn more