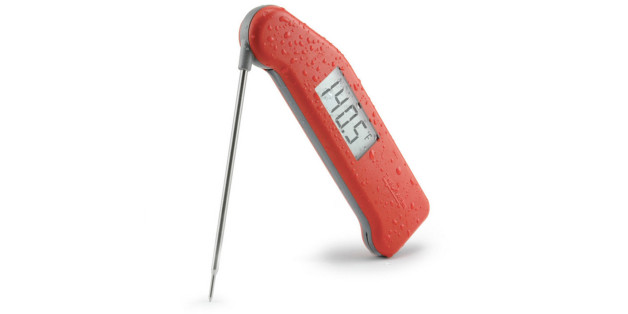 There are hundreds of kitchen thermometers out there, ranging from just a few dollars to over $100. But if there's one source we trust to find the best, it's America's Test Kitchen, which tests thousands of recipes a year in its kitchens. According to ATK's team, the Thermapen takes the guesswork out of knowing when foods are fully cooked. The digital display thermometer offers an extremely accurate reading in about three seconds, which is far faster than others on the market. (It also means you won't risk any burned arm hair, since there'll be no need to keep your arm inside of a hot oven for long.)

America's Test Kitchen
Checking the internal temperature of a miso-glazed salmon fillet with the Thermapen.
A food thermometer may not sound that exciting, but using one is truly the only way to near-guarantee your food is cooked to perfection. Even if you cook very simply and keep your kitchen accessories to a minimum, this compact gadget will have your Thanksgiving turkey, grilled burgers, roast chickens and chocolate cakes cooked so expertly perfect, your dinner guests with think you've seriously upped your culinary skills (or ordered out).
Also on HuffPost:
How To Cook A Perfect Turkey
SUBSCRIBE TO & FOLLOW LIFESTYLE
Get top stories and blog posts emailed to me each day. Newsletters may offer personalized content or advertisements. Learn more