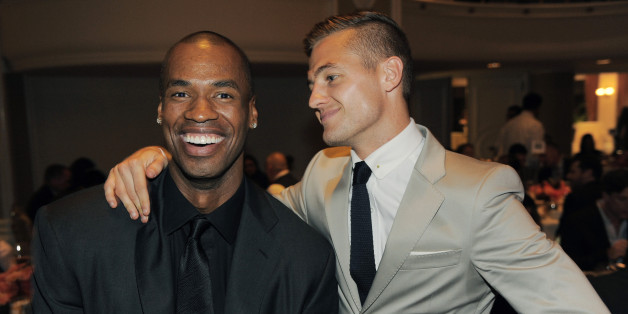 Athletes across the country celebrated the Supreme Court's ruling on Friday that all Americans should be able to marry the people they want to spend their lives with, regardless of gender or sexual orientation. Take it away, ladies and gentlemen.
What a day to celebrate! Today also happens to be my parents' 39th wedding anniversary! Congrats to all who celebrate #love. #LoveWins
This could be the best pride month ever! Thank you to the selfless individuals that made today possible. #MarriageEquaility #history
Equality For All!
Congrats!! Please brace for the backlash! Same-Sex Marriage Is a Right, Supreme Court Rules, 5-4 http://t.co/7QhkdXPFXV
Very big day. Couldn't be happier about what this means for so many of our friends. Love is love!
Resist the urge to engage in debate with those in opposition to equality. There is no more debate. Just rejoice and celebrate this moment.
Marriage equality in all 50 states! Congratulations America! Brimming with pride...🇺🇸
Love conquers all! #SameSexMarriage finally legal in all 50 States! I'm so happy for the #LGBTCommunity! Thank you #SCOTUS #LoveIsInTheAir
Congratulations to all who can live their lives they way they choose! Proud day! @AthleteAlly
LoveWins
#LoveWins ❤️❤️❤️ pic.twitter.com/A8vq52vYpl
What an awesome way to start my game day! @AthleteAlly @gay4soccer @HRC
Finally. A big step in the right direction for our country! https://t.co/uDS6ltqpcR
Next up are the laws allowing firing based on sexuality, and trans rights. Still a ways to go, but this is a great milestone.
#LoveWins 💛💚💙💜❤️💖 #EqualityForAll #SCOTUS pic.twitter.com/dnlYd6EYhc
#LoveWins pic.twitter.com/C18IEvBzOZ
See a reaction we're missing? Email me at maxwell@huffingtonpost.com or tweet at me at @maxwellstrachan.
Politicians React To Gay Marriage Ruling
SUBSCRIBE TO & FOLLOW THE MORNING EMAIL
Get top stories and blog posts emailed to me each day. Newsletters may offer personalized content or advertisements. Learn more