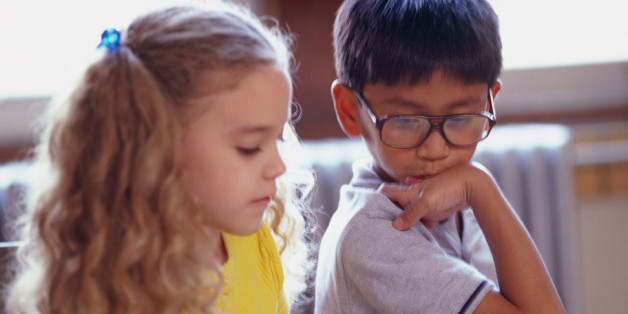 The largest American LGBT civil rights organization and the largest teacher's union want to help educators talk to kids about gay marriage.
The educational arm of the Human Rights Campaign Foundation and the National Education Association on Friday released a guide for educators to talk with students about marriage equality. The guide was put out the same day that the U.S. Supreme Court declared bans on same-sex marriage unconstitutional and said states must recognize same-sex unions.
Here's one of the sample conversations:
"Can Jorge's dads get married? I thought two men couldn't get married."
"Yes, his dads can get married now. This summer, the U.S. Supreme Court
decided that all the states should allow two men, two women, or a man and
a woman to get married."
The checklist for an inclusive school environment asks teachers to consider whether they use inclusive language on school forms, whether school art displays diverse family structures, and whether students are exposed to diverse role models in literature.
"Do staff and educators treat all families with respect and avoid stereotyping or judgment when communicating with two mom and two-dad, single-parent, racially diverse and/or multi-linguistic families?" asks the checklist.
We asked some of our teacher Twitter followers about how they plan to discuss the topic with their students after the Supreme Court ruling. Here's what they told us:
@HuffPostEdu tell them the facts without getting personal.
@HuffPostEdu definitely also look into the other pressing issues that the LGBT community face. Marriage is just one aspect.
@HuffPostEdu a good chance to discuss the legal process but needs to respect all backgrounds and beliefs
@HuffPostEdu give them the facts & let them create the dialogue. It's a huge achievement in human rights but don't want to push an agenda
@HuffPostEdu tell them the truth like we have done in Ireland. Equality for all, love knows no limits. #MarriageEquaility
@HuffPostEdu The same way I teach about all issues of #socialjustice - complex texts, close reads & non-leading ?'s. They connect the dots.
.@HuffPostEdu You'd be surprised how nonjudgmental kids can be. Speak the truth: marriage is an equal right. Kids appreciate the truth.
SUBSCRIBE TO & FOLLOW TRUMP'S FIRST 100 DAYS
How will Donald Trump's first 100 days impact YOU? Subscribe, choose the community that you most identify with or want to learn more about and we'll send you the news that matters most once a week throughout Trump's first 100 days in office. Learn more