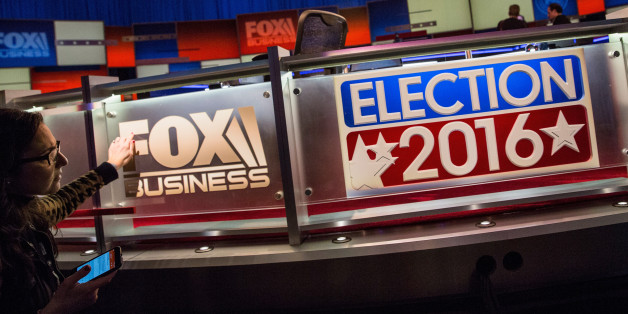 Andrew Burton via Getty Images
Republican presidential hopefuls are gathering in Charleston, South Carolina, on Thursday for the first primary debate of 2016.
The debate, hosted by Fox Business, will feature an undercard debate at 6 p.m. EST, where former HP CEO Carly Fiorina, former Arkansas Gov. Mike Huckabee and former Pennsylvania Sen. Rick Santorum will face off. Sen. Rand Paul (Ky.) was relegated to this debate, but has chosen not to participate.
The rest of the candidates will take part in a larger debate starting at 9 p.m. EST. That includes businessman Donald Trump, Texas Sen. Ted Cruz, Florida Sen. Marco Rubio, former neurosurgeon Ben Carson, New Jersey Gov. Chris Christie, former Florida Gov. Jeb Bush and Ohio Gov. John Kasich.
Read live updates from the event below:
01/14/2016 11:34 PM EST
Marco Rubio And Ted Cruz Get Into Knife Fight
Sen. Marco Rubio (R-Fla.) unloaded on his Senate colleague, Ted Cruz, unleashing a flurry of attacks over his shifting stances on immigration, trade, subsidies and national security.
In what seemed like one breath, Rubio accused the Texas senator of flip-flopping on increasing the number of green cards for foreign workers, birthright citizenship, his support for the Trade Promotion Authority, ethanol subsidies and crop insurance in the early caucus state of Iowa. He also criticized Cruz for changing his opinion of National Security Agency leaker Edward Snowden, whom he once spoke favorably of yet now considers a "traitor."
"That is not consistent conservatism, that is political calculation," Rubio said.
Cruz retorted by claiming Rubio was engaging in campaign tactics.
"I appreciate you dumping your opposition research folder," he said. "At least half of the things Marco said are flat-out false."
Cruz said Rubio supported the Gang of Eight immigration bill, which included a comprehensive path to citizenship, before renouncing his support. He also claimed Rubio "supports legalization and citizenship" for millions of undocumented immigrants.
-- Igor Bobic
01/14/2016 11:32 PM EST
Climate Change Missing From Debate, Again
Fox Business debate moderators didn't ask the GOP candidates a single question on climate change.
It was the second Republican debate in a row, climate change was missing from the conversation. The topic didn't come up much at either the Republican or Democratic debate last month.
President Barack Obama has linked climate change to national security, and a 2014 Pentagon report called it a "threat multiplier." A changing climate can limit the availability of natural resources, increase migratory pressures and lead to instability and conflict.
Sen. Ted Cruz (R-Texas), a Republican front-runner in Iowa, has questioned the science behind global warming , even though scientists have overwhelming evidence that the climate is getting hotter. Other candidates have said that the threat posed by climate change pales in comparison to other national security threats to the U.S.
-- Sam Levine
01/14/2016 11:10 PM EST
Chris Christie Barges Into Entitlements Question
Chris Christie was the only one who wanted to talk entitlements Thursday.
After Sens. Marco Rubio and Ted Cruz answered a question on Social Security and Medicare by talking about tax reform, Christie busted into the conversation with a prepared burn.
"I'd like to interrupt this debate in the Senate to answer the actual question you asked, which is on entitlements," Christie said.
Rubio tried to protest, but Christie wouldn't have it: "You already had your chance, Marco -- you blew it."
"The reason why no one wants to answer entitlements up here is because it's hard," Christie said. "I'm the only one that has put forward a detailed entitlement reform plan."
Whereas most of the Republican candidates have said they'd like to protect or strengthen Social Security, Christie hasn't been shy about saying he'd protect it by cutting benefits. He has said he would raise the retirement age and trim or eliminate benefits altogether for wealthier retirees.
-- Arthur Delaney
01/14/2016 11:08 PM EST
Rand Paul Protesters Interrupt Debate
Near the very end of the GOP debate, protesters interrupted it, chanting, "We want Rand! We want Rand!" referring to Sen. Rand Paul (R-Ky.), who did not make the cut for the main event.
Paul did qualify for the undercard debate earlier in the evening, but he opted not to attend. Instead, he went to Twitter's headquarters in New York City and live-tweeted.
Just got to the @twitter headquarters in NYC for my #GOPDebate #RandRally! Send in your questions with #RandRally pic.twitter.com/nibbh1bOgi

— Dr. Rand Paul (@RandPaul) January 15, 2016
-- Amanda Terkel
01/14/2016 11:07 PM EST
Ted Cruz's Tax Plan Would Hammer The Elderly
Marco Rubio just went after Ted Cruz on his tax plan, saying it would hurt the elderly. It would.
Cruz's tax plan would replace income taxes with a new tax on businesses, which Rubio described as a European-style value-added tax -- better known as a sales tax. A sales tax hits the poor harder than an income tax does, because many people who have no income still have to buy things. Cruz would assuage some of this hardship with tax credits for the working poor.
But retired people don't work. So they end up paying more in taxes, without being eligible for any offsetting benefits.
In addition, Cruz's plan would blow up the national debt by $16.2 trillion over the next decade, according to Citizens for Tax Justice, a nonpartisan, liberal-leaning think tank. The conservative Tax Foundation, which assumes that tax cuts for the wealthy lead to economic growth that helps the poor, says the Cruz plan would cost $768 billion.
Rubio and Cruz got into an extended semantic debate about whether the Cruz proposal really is a "value-added tax," or VAT. Cruz said it's not, because consumers would never see the tax bill applied to the price of their goods. But Rubio noted that businesses would be taxed on the back-end of every purchase, so retailers would raise prices a commensurate amount on consumers to make up for the tax. As a result, the Cruz plan would be functionally equivalent to a VAT, without the transparency of a European-style system.
-- Zach Carter
01/14/2016 11:05 PM EST
Something's Missing...
A word not mentioned in this discussion about police shootings: "racism" #GOPDebate

— Jack Mirkinson (@jackmirkinson) January 15, 2016
01/14/2016 11:02 PM EST
Candidates Speak Up For The Struggling Masses … In Corporate Boardrooms
Chris Christie just attacked President Barack Obama for "penalizing American corporations" with taxes and regulations. Ted Cruz and Marco Rubio made similar statements earlier in the debate, and the rest of the Republican candidates have made versions of the argument at one point or another.
Meanwhile, here's how corporate America is actually doing, according to Politifact:
Corporate profits have soared under Obama, setting record after record. They hit a seasonally adjusted yearly rate of more than $1.8 trillion in the April-June quarter of this year, according to the most recent figures from the U.S. Bureau of Economic Analysis. That exceeds the previous record level set in the third quarter of 2014.

Profits are now running 175 percent higher than in the recession-plagued quarter just before Obama entered office. And they are 31 percent higher than in the best quarter prior to his taking office, which was the third quarter of 2006.
Some penalty!
-- Jonathan Cohn
01/14/2016 10:59 PM EST
Trump Touts 9/11 But Never Supported The 9/11 Bill
Attacked for being a New Yorker, Donald Trump draped himself Thursday night in indignation and the valor of other city residents and first responders who answered the call of 9/11.
But it turns out he was terrible at answering such calls.
The group fighting to pass a permanent 9/11 health care law twice asked Trump for his support in getting it passed.
He never answered them or media inquiries related to it.
Even before that, he had a terrible record of donating to 9/11 relief efforts, according to The Smoking Gun. The billionaire gave all of $ 1,000 to a sketchy Scientology "detoxification" group.
-- Michael McAuliff
01/14/2016 10:56 PM EST
The Republican Tax Plans All Are Deficit-Busting Handouts For The Rich
A reminder about all of the GOP tax plans: They would cost trillions of dollars, with vague economic benefits, at best.
-- Zach Carter
FOLLOW HUFFPOST