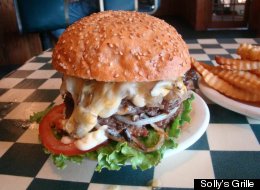 by Mr. Lew, Burger Expert for the Menuism Burger Blog
Celebrating our differences makes each day worth living. As you travel across North America, you'll find people from all walks of life, which truly makes up a mosaic. Much like the people who inhabit this continent, the burgers they eat vary from region, location and city. Here are ten burgers from ten very different areas of North America:
Related Links from the Menuism Burger Blog:
• The 5 Most Audacious Burgers in North America
• The World's Biggest Burgers
• A Brief History of Hamburgers
10 Regional Burgers originally published on the Menuism Burger Blog.
Mr. Lew is a high school teacher from Montreal, Quebec. In 2009, after trying Montreal's supposed best burger, he decided to see what else was out there. So, every week, a new burger was added to the Great Burger Search. Since then, Mr. Lew has tried more than 100 burgers in cities across Canada, and hopes to one day expand to the rest of North America. Since Mr. Lew is part Chinese, the search isn't limited only to great burgers, but to other types of cuisine that makes Montreal one of the greatest culinary cities in the world.
Matt's Bar and the 5-8 Club -- Minneapolis, Minnesota How does one burger cause so much controversy? Located on the same street in Minneapolis, both Matt's Bar and the 5-8 Club have laid claim to the creation of the burger known as the Juicy Lucy, with a generous helping of cheese between two patties. Brace yourself as you take your first bite, a steaming hot flow of cheese is bound to catch you. Photo by Flickr user TheGirlsNY.

Ted's Restaurant -- Meriden, Connecticut None of us would picture our burgers coming out of a small drawer. Well, at Ted's Restaurant in Meriden, trays were created to hold small mounds of hamburger meat and cheese. Those trays are then placed into those drawers, where they're steamed to perfection. Gracing hungry diners' plates for well over 100 years, the steamed burger has gotten the attention of many popular food authorities like Hamburger America and Man v. Food.

Horseman's Haven Cafe -- Santa Fe, New Mexico In the southwest, all you have to do is add New Mexico's staple chile to pretty much any dish. One of those dishes is the cheeseburger. Horseman's Haven Cafe, on the outskirts of Santa Fe, New Mexico, does that burger justice. Just be careful that the chile itself is hot enough to make you see the Four Horsemen. Photo by Flickr user WordRidden.

Wheel Inn -- Sedalia, Missouri The Guberburger, created at The Wheel Inn in Sedalia, Missouri, places peanut butter, lettuce, tomatoes and Miracle Whip between two buns. Though The Wheel Inn closed in 2007, it has been resurrected under the ownership of a former employee.

Solly's Grille -- Milwaukee, Wisconsin The Butter Burger is so named because the meat patty, when being cooked, is drenched in butter. Once done, it is once again slathered in butter. Since 1936, Solly's Grille in Milwaukee, Wisconsin, has been using nothing but the finest ingredients to churn out its signature butter burgers, winning Best of Milwaukee awards from the Milwaukee Journal. The Butter Burger was put on the national map in a television ad for Miller Lite.

Crown Burgers -- Salt Lake City, Utah For three decades, a really popular New York deli meat has been rooming with an unlikely partner. Take a trip out west to Salt Lake City, Utah, you'll find that your traditional pastrami has found its way into a burger. The pastrami burger was popularized by a Greek family, the Katsanevas, at their restaurant, Crown Burgers. Photo by Flickr user Symic.

Hukilau Cafe -- Laie, Hawaii If the sunshine and beautiful beaches of Hawaii aren't enough of a reason to get up and book a flight, the Hukilau Cafe has been putting their spin on burgers for years. Their take on the Teriyaki burger coats the patty in teriyaki sauce, topped with pineapples, and includes a fried egg. Photo by Flickr user TheGirlsNY.

Wimpy's Grill -- Durham, North Carolina The Carolinas are known for their burgers with everything. At Wimpy's Grill in Durham, North Carolina, they take that quite literally. The burger is jam-packed with everything on the menu. It's so messy that I recommend eating it outdoors.

Weeks' Diner -- Booneville, Mississippi Created during the Great Depression, a slugburger extends its beef with soybean grits. The burger is then topped with mustard, dill pickles, and onions. They are tiny but tasty, especially at Week's Diner in Booneville, Mississippi. Photo by Flickr user Southern Foodways Alliance.

Montreal Pool Room -- Montreal, Québec The province of Québec is known for its unique style of hot dogs. The "steamie" is loaded with relish, mustard, and coleslaw. For a similar style of casse-croute burger, go to the Montreal Pool Room. Load your burger with tomatoes, relish, mustard, and coleslaw. However, there is no actual working pool table at the Montreal Pool Room. Photo by Flickr user Y-Not.
Follow Menuism on Twitter: www.twitter.com/menuism