By John Brady, Artisan Beef Expert for Menuism.com
I had an eye-opening experience at a pig farm about five years ago. Since we usually buy a couple feeder pigs in the fall to utilize our garden scraps, I went to the hog farm to get a couple pigs. This was a small to moderately sized pig operation -- but definitely a confined animal feeding operation (CAFO, aka "factory farm"). I wasn't ignorant about the use of antibiotics in animal agriculture, but this was one of those days when reality struck. While I was there getting my two piglets, the delivery truck rolled up and unloaded a 4x4x4-foot pallet loaded with antibiotics -- a month's supply. Wow!
Even if you know nothing about raising pigs, doesn't common sense make you wonder how healthy the pigs are in the first place if that much antibiotic is needed?
I haven't been in a beef feedlot at the time of the antibiotic delivery, but it's common knowledge that most feedlot beef cattle are fed low doses of antibiotics to keep them from getting sick on their totally un-natural diet of grains and poor living conditions.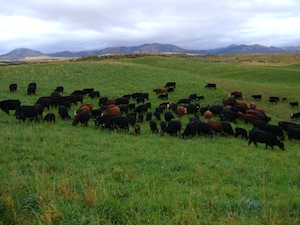 Grass-fed cattle at the Brady's Beef ranch.
What are the health risks for human consumption of this meat? What's the broad picture of animal health in a CAFO? How does this relate to health benefits of grass-finished beef? Here's my take, based on a lot of reading and a lot of personal critical observation. Here are six reasons why you should choose grass-finished beef.
Related Links from Menuism:
A Brief History of Grass-Fed Beef
The Bartender's Guide to Preventing Hangovers
A Girl's Guide to Scotch
Why Grass-Fed Beef Is Better For Your Health
John Brady is one of a now-rare breed of farmer-ranchers who comes from an unbroken chain of family farmers going back multiple generations. He is the third generation currently farming the same land in Idaho. After earning a degree in Agronomy and a Master's degree in Agricultural Economics, borrowing money, and participating in USDA farm commodity programs during the 1970s, he has finally overcome most of that to be a maverick in doing things the "new old-fashioned" way, working with nature to raise beef the way it was intended: on grass, legumes and forage. Watch John move cows at BradysBeef.com, read the Brady's Beef blog and keep up to date on all things Brady's Beef on Twitter.

SUBSCRIBE TO & FOLLOW THE MORNING EMAIL
Start your workday the right way with the news that matters most. Learn more