A U.S. Army Specialist, jailed after distributing rap against the Defense Department's "stop loss" policy of involuntarily keeping service members past their enlistment commitment, will be flown to the Middle East to be court-martialed, the Pentagon announced this week.
The soldier charged, 27-year-old Spc. Marc Hall, has already been incarcerated in a county jail outside Fort Stewart in Georgia for more than a month. He stands charged for distributing "original songs wrongfully threatening acts of violence against members of his unit," as well as "conduct prejudicial to the good order and discipline of the armed forces" and threatening to "go on a rampage" against his commanders.
When the charges were filed, Hall had already served one tour in Iraq and was looking forward to being discharged from the military this month. Instead, Hall's superiors "stop-lossed" him and ordered the specialist redeployed to Iraq for a second tour.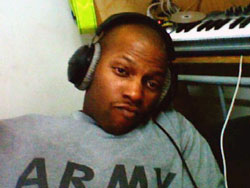 Hall was outraged about the deployment, wrote an angry rap about it, and posted it on his personal Web site. He also mailed copies of it to the Pentagon general delivery, which his supporters say generated the charges.
Fuck you colonels, captains, E-7 and above
You think you so much bigger than I am? ...

I'm gonna round them up all eventually, easily, walk right up peacefully
And surprise them all, yes, yes, y'all, up against the wall, turn around

I got a fucking magazine with 30 rounds, on a three-round burst, ready to fire down
Still against the wall, I grab my M-4, spray and watch all the bodies hit the floor
I bet you never stop-loss nobody no more.
Hall is not the first soldier to protest the stop loss -- which critics call a "back-door draft" -- since George W. Bush implemented it in the wake of 9/11. In June 2007, for example, U.S. Army intelligence analyst Evan Knappenberger spent weeks perched in a makeshift guard tower in Bellingham, Wash. and Washington, D.C. to protest the practice.
When he campaigned for president, Barack Obama said he would end the policy, but with troop levels remaining stable in Iraq and surging in Afghanistan, the military has continued to use it. To date, more than 60,000 soldiers have had their terms of service extended by the practice, though Hall appears to be the first arrested for writing a violent song against it.
Iraq war veteran Jason Hurd, who has spoken with Hall since his incarceration in Georgia said the specialist "never meant any violence toward anyone."
In the song, no threats are made against any specific individuals.
"This is clearly a free speech issue,' said James Klimaski, a Washington-based lawyer who has worked with Iraq Veterans Against the War.
"Listen to rap songs," Klimaski said. "I mean there are a whole bunch of rap songs talking about killing people all the time. Nobody gets killed from them."
Hurd added that Hall's rap was his way of stating he would refuse to go to Iraq and that he "rejected the deployment on moral grounds."
"He's told me that he's done one tour over there and he saw how much it was hurting the people (of Iraq) rather than helping them. He was really looking forward to getting out of the military," Hurd added.
Officials at Fort Stewart and the Pentagon failed to return repeated calls for comment on this story, but on February 4 they added six new "specifications" to the charges against Hall, which list specific instances where Hall allegedly made threats against particular soldiers. In the charge sheet, all names except Hall's are redacted.
On February 5, the Army announced they would be sending Hall to the Middle East for trial so the trial could be "processed in accordance with normal procedures."
Hall's unit is currently stationed in Mahmoudiya, near Iraq's "triangle of death" and it is normal procedure for a soldier to be court-martialed where his unit is stationed.
So far, however, bad weather has kept most planes grounded at Fort Stewart, and for now Hall remains incarcerated in Georgia's Liberty County Jail.
This story originally appeared in New America Media