Joanna Coles, the editor-in-chief of Marie Claire magazine who is featured in the upcoming reality series Running in Heels, spoke to students at Columbia's Journalism School on February 19 about editing, parenting, and working as a foreign correspondent. Her bottom line to students of journalism: B-E A-G-G-R-E-S-S-I-V-E!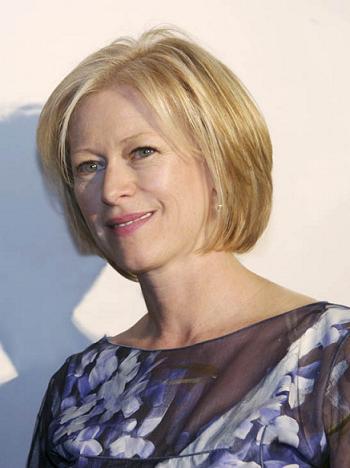 More from Columbia J school students...
"We're not against orgasms, we just don't put them on the cover," Joanna Coles explained to the (mostly female) audience of Columbia journalism students who attended this week's Delacorte Lecture.
Coles, who has been the editor-in-chief of Marie Claire for the last three years, was commenting on the difference between her magazine and its rivals, Cosmopolitan and Glamour. Although still a fashion magazine at heart, Marie Claire wants to be "a compelling cocktail" of style and good writing; a girl's mag that can cover issues like women in the third world "and really mean it."
Since Coles took the helm of Marie Claire in April 2006, the magazine's circulation has more than doubled from 305,000 to 758,000, she said. That's down to the success of the redesigned website, which has attracted lots of new subscriptions, and Coles' efforts to return the magazine to what she calls "its DNA": a blend of fashion, beauty, and a serious focus on women's issues worldwide. The magazine demonstrated its commitment to its readers in 2004, when it rebuked former cover girl Ashley Simpson as a hypocrite for having a nose job right after she stated in their interview that, "everyone is made differently, and that's what makes us beautiful and unique."
--Cordelia Jenkins
Marie Claire Editor-in-Chief Joanna Coles advised students to figure out now what they want to do with their lives. At a school that rarely discusses work-life balance, Coles said, "Try and be very clear about the kind of life you want: Do you want to have kids? Do you want have a family?"
No one's ever asked us that before. Then again, no editor from a women's magazine has spoken to us before. It's lucky that Coles isn't an advice columnist, though, or her Marie Claire readers might be as confused as we were. For every point she made, she later made a contradictory point. Coles gave a cutthroat portrait of the reporting world. She described being a part of a pack of foreign correspondents, always knowing she had to get to the front of it. "If you want to be a good journalist, you have to be able to work on your own," Coles said.
Not five minutes later, she said that she wished she'd learned earlier in her career that journalism doesn't always have to be as competitive as it sometimes seems. Well, it seems that way because you just told us it was. In yet another about-face during the Q&A portion, she said she wished she'd been more ambitious earlier on. "I wish I'd been much pushier," Coles said, "which probably appalls people that know me in the audience."

--Kathryn McGarr
When she talked about Marie Claire, Coles focused predominantly on the visual. She played a video about the magazine that featured her appearances on cable news shows. She showed a preview for an upcoming reality TV show about Marie Claire interns. While answering questions, a slideshow of Marie Claire readers flashed on the screen behind the stage. It felt like watching a marketing campaign be unveiled.
As a guy, I'm not Marie Claire's target audience. I'm unfamiliar with the publication and its competitors. But the challenge of finding an appropriate balance of content -- fashion, health, politics, celebrities -- in a women's magazine seems like such an interesting topic to discuss. Particularly because Coles repeatedly said she was trying to bring Marie Claire "back to its DNA." But she was rather evasive when responding to questions about any changes that would be, or had been, made during her tenure.
It was too bad. Coles seemed smart, unwilling to pull punches, experienced and capable. She could really implement some change. So why's the magazine focusing on a reality show?

--Cyrus Moulton

FOLLOW HUFFPOST