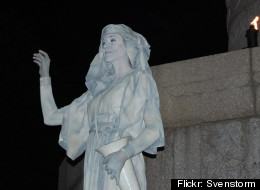 Everyone knows the economy sucks, companies are downsizing left and right, and if you have a job--even if it's the world's most boring job--you better learn to like it because at least you have a paycheck, which is more than half your friends can say. Right? Not necessarily. In Odd Jobs: How to Have Fun and Make Money in a Bad Economy [], I take a look at more than 100 jobs that might make you look crazy, but will also make you moolah, and could make your life a heck of a lot more exciting. Here are 9 of the oddest jobs that don't require much (if any) training and could have you making money tomorrow:
This is a rather unusual form of party entertainment, popular at middle-aged women's birthday parties, bridal showers, and charity events, and can pay $25 to $50 an hour. Basically, you paint lipstick onto a woman's lips (you can skip this part if she already has enough on) and ask her to kiss a piece of paper. You study the lipstick print on the paper for a while and tell her something about her personality and, with a little practice, about her future. Lipstick reading is a descendent of physiognomy, the science of discerning a person's character by careful observation of their physical features--you'd be surprised how much you can tell about a person by checking out their clothes, hairstyles, and lipstick color choices. Let's face it--lots of times you can tell a book by its cover.

Dress up as the Statue of Liberty, a doll, the Tin Man, or any other inanimate object. Your goal is to make people think you're made of concrete or stone or metal until you shock them by batting an eyelash, cracking a smile, or waving. Ninety-five percent of the time, all you have to do is stand there (though, granted, "just standing there" perfectly still might be harder than it sounds). Then, out of the blue (or more specifically, when you get a tip), you change your pose. If you get a gig at a party or promotional event, you could make $25 to $100 an hour. If you're working for tips, your pay will depend on how heavily trafficked the area is and how amazing a statue you are.

Do you live in the country? Don't let anyone tell you there aren't any career opportunities in rural America. It's just a matter of discovering a problem and figuring out how to solve it. Crows eating crops are a problem. The solution? You waving your arms, hollering, spraying a hose, or doing whatever else it takes to scare those pesky crows away. Sure, the old-fashioned straw hat on a post might frighten a few birds, but for $10 to $15 an hour farmers could have a living, breathing, screaming scarecrow protecting their livelihood. What conscientious farmer wouldn't choose the latter option?

Meet with a group (generally 6 to 10 other people) led by a moderator to give your opinion on an idea, evaluate a service, or test a product. Focus groups are a way for companies to gain valuable qualitative data on what and how consumers think. Most focus groups pay $40 to $100 an hour and there's a good chance you'll walk out with some free stuff. Check out www.focusgroup.com and www.iopinion.com for more info.

Without going into too much detail, basically you go through some tests, answer a bunch of questions, and then give your goods to doctors who will match them with future parents. Women can make $6,000 to $8,000 for their "donations." Guys, you only make $50 to $200 per specimen, but don't complain because the process is a whole lot easier than it is for your female friends and you don't have to worry about side effects (women have to take some prescription drugs that can cause unwanted symptoms).

Go to a shop, bank, car dealership, or restaurant, pose as a normal customer, and evaluate your shopping experience. Oftentimes you will be given a certain amount of money to spend, but other times (like at a car dealership) you will pretend you are interested in making a purchase without actually buying anything. Your goal is to gather as much information about the service, quality, and quantity of products, cleanliness of the facility, and overall atmosphere to report back to the owner of the establishment. You can expect around $100/month in money, food, and merchandise if you work for one company and do one assignment a week. A quick search online will turn up a number of companies with which you can register.

Sign up with a local talent agency, or watch for advertisements in the paper or online for film or television companies coming to your area. At the shoot you will probably spend most of your time in the "holding room" or "holding tent." When you are needed for a scene you will be herded to the proper place and told what to do (probably just stand there, but possibly walk or talk amongst yourselves). Assuming you're not a member of the Screen Actor's Guild, you can expect $100 to $200 a day.

Pose as part of a window display or at a store's entrance, sporting the shop's latest fashions. Businesses have found that live mannequins attract more attention than the traditional plastic ones, which really isn't much of a surprise--of course it's more fun to look at a beautiful model in a short skirt than a freaky inanimate object with bad hair. (Feel free to use that line when convincing the store manager she should hire you for $50 an hour.)

If a billboard isn't getting potential clients' attention, your forehead might. With this nontraditional form of advertising, companies pay an individual to get a tattoo of the company's logo or website address. The tattoos are temporary (most last about a month) and can usually be placed on the body part of your choice, as long as it's regularly visible to the public. You can make $100 to $5,000, depending on the size and location of the tattoo. Check out www.leaseyourbody.com to get started.