WARSAW - It's all led up to this. The World Festival, the closest thing I've ever come to the Oscars, acted as a closing ceremony and award show for the 2010 Imagine Cup World Finals. The 400 competitors and audience of about 600 gathered in the Polish National Opera House Thursday to find out who would win it all.
The common theme of the evening was that everybody is a winner. Just being here in Poland is enough of a victory. To drive this point home, General Manager of Education Jon Perera announced that all 400 competitors would receive a Windows Phone 7. Not... the worst conciliation prize in the world. While a wild applause did erupt, no one fainted or even jumped out of their seat. Look, to me it felt like an "Oprah giving away cars" moment, but I digress.
Throughout the show, Microsoft executives, including Perera, shared advice and an ample amount of computer jokes while revealing the winners of the 11 categories. With their respective flag in hand, winners would make their way to the stage to receive their trophies and Publishers Clearing House-sized checks.
Software Design
Thailand - Skeek
The team won the Imagine Cup and $25,000 to turn their culinary dreams into reality to further develop their software, eyeSight. The program uses a real-time speech to sign language and text translation system that's intended to be used during a lecture. "We don't wait for the future," said team member Pichai Sodsai. "We create the future and change the world."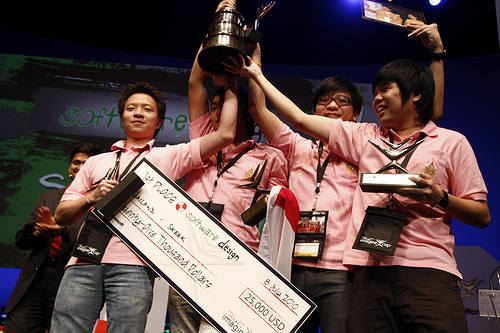 Embedded Development
Taiwan - SmarterME
The trophy for this category is a wrestling belt, à la WWE, and an $8,000 prize. SmarterME monitors electrical appliances and reveals what is consuming the most energy, thus making it easier to save electricity. I have to give it up, because their simplicity and practicality was able to come out on top in a stacked category.
Game Design
Philippines - By Implication, Wildfire
ByImplication walked away with the title and $25,000. The team was my pick to win because this game just... clicks. Inspired by the rebuilding of the Philippines after Typhoon Ketsana, Wildfire is a 3-D simulation of a city plagued with problems, but when the player enlists enough volunteers those problems dissipate. Along the way, the player also learns about real-world health and environmental organizations.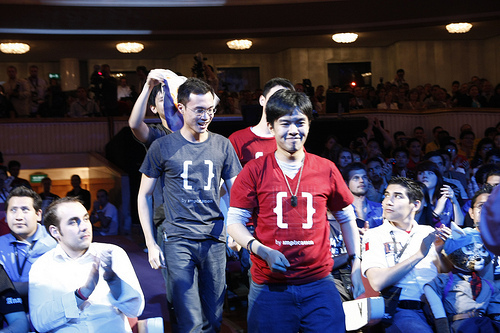 After all the awards were given out, the flag was literally passed to the host of the 2011 Imagine Cup World Finals: New York City. A video message from United States First Lady Michelle Obama encouraged students to get to work and stay inspired. "Through your ingenuity, you're literally changing the world," she said. "Isn't that what imagination is all about?" Indeed it is.
Throughout the week, it was easy to see the tremendous sense of unity amongst all competitors. Like the Olympics, this event brings people together from all over the world and often raises the thought, "You know, we have a lot in common." Ideas were exchanged, passions were expressed and while there was an unavoidable amount of competition in the air, it was a true lovefest.
"I didn't think of it as 'oh, this team didn't deserve it," said Ronny Kaiser, team member of Mediator. In Software Design, the German team made it to the semi-finals with a program that seeks to improve global health. "After elimination, I just wanted to learn about the other projects and learn from them."
You can start registering to compete in next year's Imagine Cup right now, so get those innovative juices flowing. Look, if Michelle Obama is giving her stamp of approval, you should take on the challenge and aspire to be the best. Oh, and her arms. Take on the challenge of getting her well-toned arms.
Click here for a full list of finalists and winners.