When was the last time you thought about felt? Most likely, if it didn't come as a pen tip, then the answer is never. Despite holding the distinctive title as the world's oldest fabric -- once essential to human survival and believed by some Mongolian tribes to hold magical properties -- the coarse textile is never given its share of fanfare. Lacking the soft richness of cashmere or the classic stylishness of a wool knit, felt has been largely relegated in public consciousness to the arts and crafts bin of kindergarten classes everywhere.
One brand has been working for the past several years to bring felt out of the toy box and onto the shelves of trendy boutiques across the country. Holger Gräf and Daniel Lantz of the design studio Graf and Lantzhave been pioneering felt's unlikely renaissance, creating stylish bags and accessories that are as design-conscious as they are sustainable.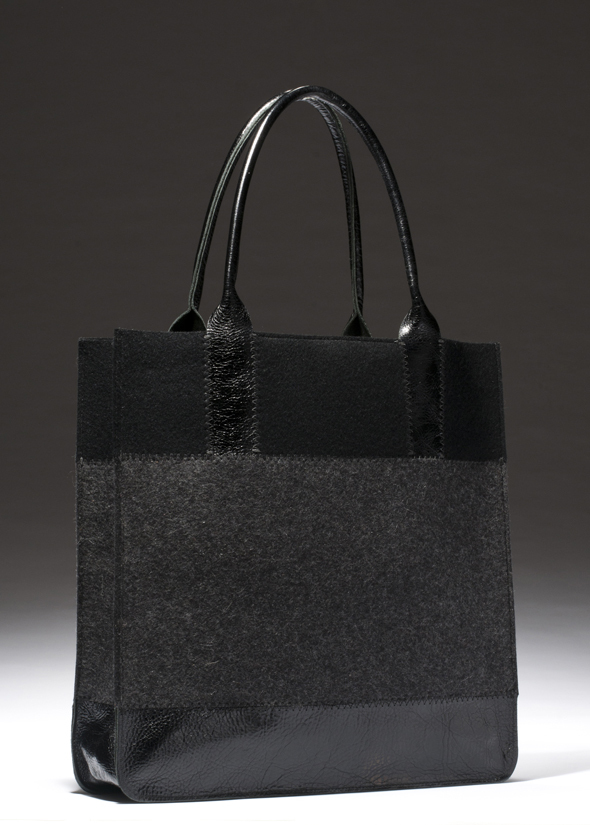 Between Graf and Lantz's combined education that includes a Ph.D. in engineering and a ten-year residency in Japan, their design aesthetic is immediately evident in their pieces' utilitarian minimal structure and innovative fabric selection. Besides using 100 percent merino wool for their felt -- a rarity today when most is synthetically manufactured -- the pair have also integrated Swiss wool felt, sourced from a non-profit employing socially disenfranchised people who had previously gone unused because of its coarser fibers. The two found a way to utilize the fabric, preserving its natural color and creating bags with a rugged yet polished feel. As a natural fiber, felt's benefits are manifold, including being stain and water-resistant, due to the oil content in wool, as well as being biodegradable.
Tote bags are the centerpiece of the collection, offered in an array of varying colors and patterns, some combining colored felt and vegetable tanned leather for a Mondrian-reminiscent architectural blocking effect. Other unique pieces include home accents such as harlequin bowls and wine carriers, all in signature felt.
See the full collection at www.Graf-Lantz.com.