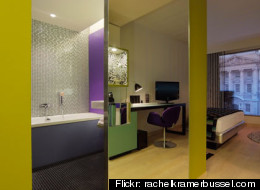 "Buongiorno Signor," said Umberto, the head waiter at Hotel Missoni's Cucina restaurant. By the beginning of the third day of my stay, the staff knew what I drank with breakfast. An espresso doppio was delivered to my table a minute later. "Prego," the server said.
You'd think I was in Italy. In fact, I was 2,500 miles southeast of the country's heel, in the capital of diminutive, oil-rich Kuwait. Opened in spring 2011, Hotel Missoni, owned by the eponymous fashion and home furnishings house, is one of many designer-conceived hotels that have popped up around the globe.
I have to confess: I have a complicated relationship with fashion. Maybe it's related to my childhood. (Isn't everything?) In the seventh grade, I wore a T-shirt to school that read, "My Son Is in the Navy." My trend-conscious peers, who clearly had no sense of irony, laughed at me until the final bell rang.
When I wore bowling shoes to high school, I was similarly mocked. How would I do in a hotel designed by a couturier?
I was picked up at the airport in Kuwait City in a Maserati (a complimentary perk for all Missoni guests). Not a bad start.
The property (like its sister hotel in Edinburgh, which opened in June 2009) is the brainchild of the Missoni family matriarch, Rosita. The hotel's 169 rooms were designed to feel like her home. Compact Hans Wegner wishbone chairs and tuliplike Eero Saarinen-designed tables rest on hardwood floors, and everything--espresso cups, towels, even the swimming pool--displays the colorful striped patterns Missoni is known for. Generous helpings of turquoise, gold, and beige are splashed throughout the hotel to evoke the bayfront landscape outside, and every room looks out on the ever-expanding Kuwait City skyline. Like many things Italian, the hotel is simple and comfortable.
Other fashion-forward hotels offer similarly memorable experiences. The fifteen highlighted below are unforgettable thanks not only to their fabulous decor, but also because of their beautiful settings.
Afar's Wanderlists round up the best the world has to offer:
-The World's Best Cave Hotels
-Unexpected San Francisco
-Great Tent Hotels
-Check out Afar's newest issue.
The Spanish shoe company's sec
ond hotel (the first 
is in Barcelona) features 51 minimalist rooms and three suites with hardwood floors, fluffy rugs, and furniture plucked from the 1970s
and '80s. Albert Raurich, formerly of Catalonia's elBulli restaurant, created the menu at the eatery, Dos Palillos. The hotel also rents out bikes, perfect for exploring nearby Hackescher Markt. From $314. 49/(0) 30-2000-3410. Photo courtesy of Casa Camper. This appeared in the September, 2012 issue.

Luxury and opulence define Donatella Versace's fashion sense. This Roman-style palace with Brazilian marble, Italian mosaics, and gold columns, is no departure from her aesthetic. Details from the custom bath products to gold-and-fuchsia-patterned upholstery were conceived by the designer. From $492. 61/(0) 7-5509-8000. Photo courtesy of Palazzo Versace. This appeared in the September, 2012 issue.


A fairy-tale-like property near the Musée d'Orsay is one of three Paris hotels designed by Christian Lacroix. Dragonflies, astrological symbols, and fantastical creatures flew from Lacroix's imagination onto the walls.
 From $364. 33/(0) 1-4550-2231. Photo courtesy of Hotel Le Bellechasse. This appeared in the September, 2012 issue.

The Missoni team, which is fine-tuning its approach before opening hotels in larger markets, learns fast. There are no design hotel clichés here: no faucets with the function designed out of them, no overly formal staff. "Are those Camper shoes?"
a waiter asked me one day at breakfast.
I nodded. "Like bowling shoes," he said. "Very cool." Here, it seemed, fashion and
 I got along great. 965/2577-0000, from $414. Photo courtesy of Hotel Missoni. This appeared in the September, 2012 issue.

The third hotel in
a growing Bulgari empire shimmers 
in shades of silver--
a nod to the fashion house's silversmith origins. The 85 rooms and suites exude elegance; dark-hued textiles and leather armchairs create an understated, cozy atmosphere.
 From $778. 44/(0) 20-7151-1010. Photo courtesy of Bulgari Hotels & Resorts. This appeared in the September, 2012 issue.

At this renovated cliffside manor in Cascais, Portugal, the fashion designer Arkadius decorated a two-room suite with the black and deep reds of his 2003-2004 Urban Orchid collection. In the bedroom, a glistening gold-and-black-sequin sofa sits below snapshots of his runway models. From $679, Av. Rei Humberto Il de Italia 7, 351/2-1482-3490. Photo courtesy of Farol Design Hotel. -Kareem Yasin

Imagined by students and grads from the Amsterdam Fashion Institute, the Exchange set out to "dress" each room like a fashion model. Avant-garde fabrics drape from ceilings, and everything from buttons and magazine clippings to a Marie Antoinette-style dress decorate the walls. Sewing machines are on hand in case you get inspired. From $150, 31/(0) 20-523-0080, photo by Mirjam Bleeker.

Located in the Burj Khalifa, the world's tallest building, Giorgio Armani's first foray into the hotel business (his second opened in Milan in November 2011) is typical of the Italian designer. Sleek, modern rooms and suites have the Armani stamp everywhere--from the flower arrangements to complimentary chocolates. Each guest is assigned a personal concierge, or, as they're called here, a "Lifestyle Manager." From $1,000. 971/(0) 4-888-3888. Photo courtesy of Armani Hotel.

The iconic Tiffany jewelry box is brought to life in the St. Regis New York's 1,700-square-foot Tiffany Suite. Bright blue walls and silver upholstery are the backdrop for a dangling, crystal-beaded chandelier in the dining room, and sleek grays accentuate the bedroom's porcelain-flower wall decorations. From $9,500, 2 E. 55th Street, (212) 753-4500. Photo courtesy of St. Regis. -Kareem Yasin

Colombian-born fashion designer Silvia Tcherassi's first hotel is set in an 18th-century colonial mansion. There are just seven rooms, but each is unique and includes bedspreads and pillows with Tcherassi's touch of texture and whimsiness. From $400. 57/5-664-4445. Photo courtesy of Tcherassi Hotels.

The magenta walls, bed and space-age lamps in the Schiaparelli suite are a fitting tribute to Elsa Schiaparelli, the Italian designer who brought fuchsia to fashion. Such details contrast beautifully with the bed's black leather headboard and the room's gold sculpted accents. In the sitting room, antique Chinese and Italian statuettes juxtapose flashier amenities such as the ultra-modern, hot pink armchair. From $3,050. Stratton Street, 44/(0) 20-77-69-4041. Photo courtesy of The May Fair Hotel. -Kareem Yasin

Diane von Furstenberg's Piano Suite is a sea of raspberry, chocolate, and ivory patterns. It features handcrafted Balinese trunks, Murano glass sculptures, a leather-top bar, as well as travel photos taken by the "Queen of Print" herself. The bedroom is more subtle with pale blue-and-lavender carpet and a bleached oak four-poster bed. Brook Street, 44/(0) 20-7629-8860. Photo courtesy of Claridge's. -Kareem Yasin

Set on cliffs above the Indian Ocean, this posh resort is made up of 59 spacious villas that blend local stone and wood with Bulgari-made fabrics. It's a luxurious combination of contemporary Italian design and Balinese traditional architecture. From $880. 62/(0) 361-847-1000. Photo courtesy of Bulgari Hotels.

A resort within a resort, Tortuga Bay has 30 suites and 13 villas designed by D.R. native Oscar
 de la Renta. Villas face the Caribbean and feature wicker canopy beds and coralline stone bathrooms. Drive your golf cart to the open-air restaurant, La Yola, in time for the sunset and a pineapple cocktail. From $710. (809) 959- 2262. Photo courtesy of Tortuga Bay. This appeared in the September, 2012 issue.

The 19th-century neo-classical façade of this erstwhile train station belies the inspired, dreamy interiors created by the fashion house Moschino. The 65 rooms evoke various fairy tales: Little Red Riding Hood and Alice in Wonderland-themed rooms, for example, manage to strike a balance between surrealism and minimalism. From $255. 39/02-2900-9858. Photo courtesy of the Maison Moschino.
Follow AFAR on Twitter: www.twitter.com/afarmedia