Back in the early to mid-'90s when I was writing and submitting serious short fiction, or what I would categorize now as 'sh*t no one wanted to read' I found a champion of my work on the Internet. I submitted a short story called 'sale' about a man who finds the meaning of his life while rummaging through the house and making the acquaintance of an old woman who put everything in her home up for sale (Get it? Clever title). I submitted the story to a website called Aspiring Writer and found a kindred spirit in the form of the creator/editor of the website whose name was Annie (don't get used to the name, it changes later).
It was nice to find someone that appreciated my work although why couldn't that person be an editor at the New Yorker magazine? I know, I sound ungrateful considering how Annie had always encouraged me. In fact 'sale' was named Best Short Story of the year on Aspiring Writer and I received a check for $25. Being paid for my writing was a new and happy experience for me.
Over time I not only submitted stories to Aspiring Writer, but cartoons as well that were all writing-related. After awhile, when other obligations came into play, the website shut down, but our friendship continued. Annie lived in Oregon, or as I would say with my Jersey accent 'Or-E-gone' which she repeatedly admonished me on.
"It's Or-gan," she pronounced it slowly for my untrained east coast ears to comprehend. "Emphasis on the 'OR'".
Annie's first husband Eric built computers and when I told them I was looking, he actually built one for me. It was this oddly-shaped silver box that didn't look like anything I've ever seen but damn if it wasn't faster than anything on the market. Sadly, that was 10 or more years ago. I still use it while the rest of the computer world has passed us by. The thing sounds like a coffee maker when it runs, but not like the new Keurig machines -- more like an old Mr. Coffee with a picture of Joe DiMaggio on the box. It's a hand-cranked phone in a cellular world.
It was at this same time that I had watched the new Star Wars movie The Phantom Menace and Annie and I talked about how Darth Maul may have been the best character and could not believe they killed him off so quickly (oh, spoiler alert). This conversation led to two things, the first being when I received my new computer, the screen saver was a montage of pictures of Darth Maul which, by the way, is still my screen saver.
The other being how our salutations on emails and conversations had changed forever.
Every email I received from Annie would start, "Hey, Darth" and end with her signature of "Darth." Phone calls were the same way, for whatever reason we had adopted new names for ourselves (in Annie's case it wouldn't be the last time she changed her name). Once in a while I would get a late night call, "Aye, Darth how ya doin'?" To me, she sounded like a character from the movie Fargo ("so you were with the little fella then?", "Yah"). She would always ask me what I was working on and I would always make excuses as to why I wasn't writing. There is only so much rejection a person could take in life and I decided to focus most of my energy on the rejections that incurred in my love life.
Then on one of those late night calls when she asked me what I was working on I told her my idea of starting a blog.
"Do ya' have a name for it?" she asked and I replied, "Conflict and Scotch."
"Hold on," she said. There was silence on the other end for a few minutes and when she returned to the line she said, "Ok, just bought the URL name -- now you have no excuse."
And she was right. Shortly after that 'Conflict and Scotch' was born.
Over the years a few things happened. For reasons unknown to me Annie became Marea (that screwed up my cell phone contact list). She also divorced her first husband, Eric, the man who built the fastest hand-cranked computer in the world, and then she met and married Larry, who would be the love of her life.
Over the years we always talked about meeting -- that I should come out to Oregon and as much as I wanted to meet her I'm not much of a traveler. Finally, she was bold enough to take the first step and actually planned to come to New Jersey (who leaves Oregon to visit New Jersey?). Sadly, once again, things changed and that trip was never going to happen.
After just a few years of marriage, Larry died while the two took an after-dinner swim in a river in her beloved Pacific Northwest.
I talked to Marea (Annie) a few times since then, and offered feeble advice since I had no idea what she was going through. After a time she started to write again, to continue a blog she and Larry had already designed. Writing can be therapeutic and hopefully, in time, it will help her find peace.
Maybe one day we will meet -- after all, why rush it, it's only been 20 years.
To find out more about Marea go to her blog Wilderness Chick.
My prayers are with you.
As always -- Darth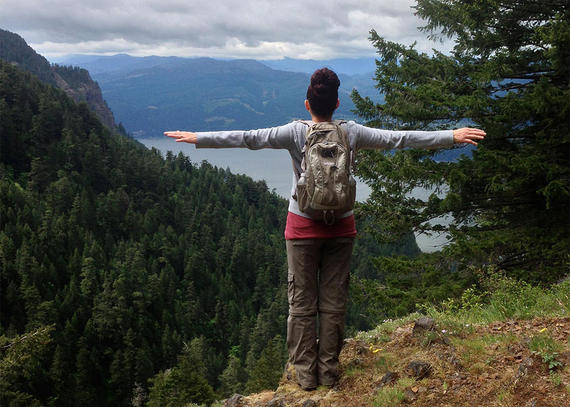 Earlier on Huff/Post50:
7 Ways To Make Friends Post 50
What you want is someone to hang with near where you live. Approach this scientifically. Having a friend who lives an hour's drive away will mean you won't see them as much as the person who lives closer. So think global, but stay local. That means your local coffee shop, the local branch of the public library, they local chapter of the Sierra Club, or the local college that offers evening courses.

If you play tennis, join a club or take a few lessons at the community center. If you like to throw parties, volunteer to run the annual fund-raiser at your synagogue or church; when the board thanks you publicly at the dinner, everyone will learn your name. If you hike, join the Sierra Club. If you bicycle, join a biking group or enter a race in your age category. Here's the one caveat about following your interests: Nobody ever met anyone while watching "American Idol" from the couch.

Be open to the idea that it's OK to have friends who are older or younger. The fact that they are in different stages in life just means they bring a different perspective to the table. While a 14-year-old won't be interested in socializing with a toddler, that 10-year age gap dissipates when they get older. Why not say yes to the 30-somethings who invite you to join them for drinks after work? Invite them over for dinner with their families and get to know their kids. Their views on the world may not match yours precisely, but variety is the spice of life.

If you are post 50 and uncoupled, you might find that traveling isn't as much fun. Call it the Noah's Ark theory, but in general, we like to go places paired up. There are services that will help you find a travel room-mate. Not only does this give you someone to talk to over dinner, it cuts down those single supplements that some tours and cruises charge. Friendly Planet runs one such pairing-up service. Road Scholar offers many active adult adventure vacations here -- offers to find you a roommate if you want. Their programs and generally educationally based and draw a well-heeled and educated crowd. Cruise ships do a pretty good job of making sure solo travelers find people to hang out with; group dining arrangements go a long way toward conversational icebreaking.

Even if you've never been a joiner, now may be the time to get yourself out there. Got a new puppy or an old dog who needs some new tricks? Find a community dog-training class. If you like to cook, take a cooking class. Participate in the 5K run for charity, even if you walk the final three.

Keep your smart phone with you and ask for numbers. Sure it may feel a little awkward to say to someone you just met "Hey, I really enjoyed talking to you on this Sierra Club hike but the next one isn't for two months. Would you like to get together for a hike before that?" Worst they can say is no.

With Skype and apps like FaceTime, it's easier than ever to have face-to-face visits. Don't assume your old friends are too busy to talk to you on the phone. Most cellphone plans include free long-distance calls and for those that don't, there's Skype. Invite friends who live a great distance to come and stay with you. Show them your city. Friendships are like gardens; it's often easier to tend to an existing one than grow a new one from seeds.
Follow Al DeLuise on Twitter: www.twitter.com/conflictscotch