When I read that nearly 500 Taliban fighters escaped from Afghanistan's largest prison Monday through a tunnel secretly dug over more than five months, my first thought was that history repeats itself. My second thought was that we never learn from history.
That's because it was six years last month that U.S. military police foiled at the last minute a massive escape of suspected insurgents and terrorists who had dug a 600-foot tunnel under their compound at an Army base in southern Iraq. A second tunnel of about 300 feet was discovered at the same time under an adjoining compound in the camp, which held more than 6,000 detainees.
I happened to break the story because I accompanied Major Gen. William Brandenburg Jr., who was in charge of the American prison system in Iraq, and Gen. George Casey, then the top Army general in Iraq, to Camp Bucca, the remote desert camp in southern Iraq near the Kuwaiti border.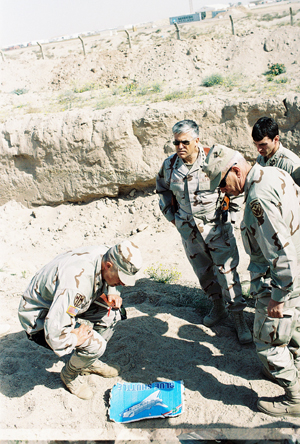 I had flown with Gen. Brandenburg from Baghdad to nearby Basrah the night before, where we stayed in Army quarters while waiting for Gen. Casey to join us the next morning, when we were to take a heliocopter to Camp Bucca, about 30 minutes away.
I was sleeping in a room down the hall from Gen. Brandenburg, when an Army officer banged on my door at 1:30 a.m., and asked where the general was sleeping. I directed him to his room and he told the general, "Sir, you won't believe what we've found."
What they found, as Gen. Brandenburg said later, was that "we were very close to a very bad thing." At two of the camp's eight compounds, each of which contained more than 600 prisoners, including suspected terrorists from Iraq and other Arab countries, prisoners using makeshift tools had dug tunnels outside the camp's chain link fence and concertina wire.
Brandenburg said the prisoners were waiting for the dense fog that often rolls in at night from the Persian Gulf before attempting to escape. "We get fog after midnight in which you can't see 100 feet. I think they were waiting on poor visibility and I think there was a good chance they would have gotten out of camp."
When Brandenburg and Casey arrived at Camp Bucca the next morning, they were shown the longer tunnel's exit point, which was outside the chain link fence.
The prisoners had used a cut-away five-gallon gas can attached to a 60-foot-long rope to haul the sandy soil out of the tunnel. They covered the entry point inside the compound with a false floor made from wooden slats from their beds, which in turn they concealed under two feet of dirt.
The detainees disposed of the dirt they had dug from the tunnel by flushing it down their latrines, which was a fatal mistake because camp officials were alerted something was amiss when workers emptying the latrines complained that the filters on their trucks were getting jammed.
Brandenburg, whose command included the smaller but infamous Abu Ghraib camp near Baghdad, said guards at Camp Bucca suspected an escape attempt might been in the offing because of the clogged latrines and because they had been told by detainees that tunnels were being dug.
When Brandenburg and Casey toured the camp, thousands of prisoners watched silently and sullenly as they walked past them and climbed a watchtower for a panoramic view.
Camp officials showed the generals a large collection of homemade tools and weapons taken from the detainees, including knives, slingshots and even a fake flak jacket made from Muslim prayer shawls that resembled the real thing. "I am never amazed at what I see," Brandenburg said the ingenious technique used by detainees in their escape attempt.
At the end of their tour, Gen. Casey presented a special medal to a young woman soldier, Specialist Lisa Wesson of Asheville, N.C., who discovered the 600-foot tunnel during a routine check.
On Wednesday, I talked by phone to Gen. Brandenburg, 59, who retired as deputy commanding general of the U.S. Army's Pacific command in 2008, at his home in Elloree, S.C. He had just come off the golf course, where he said he shot a 76, and asked him if there were any lessons that should have been learned from Camp Bucca.
"This not new by any strength of the imagination," he said of such escape attempts. "I don't know the prison in Afghanistan, but when I read it I said I wasn't surprised at all."
Why not, I asked? "Because prisoners just want to get out of prison," he replied. "They clearly have the skills, the knowledge, the desire and the perseverance because this was even a longer tunnel they dug."
As for the foiled escape attempt at Camp Bucca, Gen. Brandenburg said he is convinced that if the prisoners had escaped, they would have joined in an attempt to free prisoners at Abu Ghraib, which took place shortly after the Camp Bucca incident.
I asked Gen. Brandenburg for his thoughts about the continuing controversy over the U.S. prison facility at Guantanamo Bay in Cuba. "I sat in on a bunch of meetings about Guantanamo right after I retired," he said.
"And my response was that you can't close it until you find out what to do with the prisoners. And this was before the current administration took office. I said until you figure that out, you're going to find yourselves in a tough set of circumstances."
Brandenburg took over the American prison system in Iraq, which had about 12,000 detainees at the time, shortly after the scandal over the abuse and humiliation of prisoners at Abu Ghraib. As he told a South Carolina newspaper a month before I accompanied him to Camp Bucca, he had hoped that the latter would be a model prison that would "bury the ghosts of the Abu Ghraid abuse scandal and serve as both a laboratory and a showcase for the Army's new approach to detention facilities."
I should have asked him, but didn't, if the ghosts of Abu Ghraib had been buried before he left Iraq. I suspect his answer, after the attempted prisoner escape at Camp Bucca, would have been no.
FOLLOW HUFFPOST