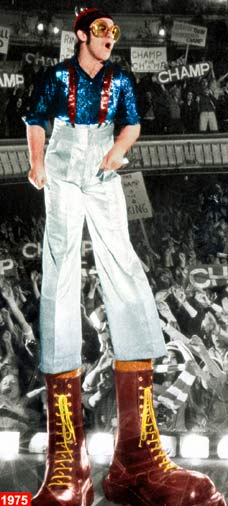 In the UK, Dr. Martens is fifty this week. The iconic pop shoe with an oil, acid and piss resistant soul starting with punk, ska, grunge, Britpop, and soccer hooligans plus the rest of your proletarian bollocks. Footwear worshiped by the mass.
Once, I saw a Catholic priest give a sermon in a pair, fashionably red. Maybe he was a sinner. Docs offer different strokes for different folks. Nasty skinheads go for the fourteen-eye boot with a toe packed with hate; mods and punks run the leather rainbow, blue for the patriot, cherry red for the rebels, and later Dr. Marten molded a sandal for suburban parents pushing prams.
Comfortable in that deeper way, some wearers treasure their original pair like Long John Silver treasured chests of gold. They hang by their laces above beds on walls. Artists frame them. Elton John got high on his. (above)
Docs were a by-product of raging World War 2. One Doctor Mertens of the German Army's Medical Corps was fed up with the blisters on his feet after all that marching over Europe. He poked around bombed out airfields finding rubber tire scraps for the sole, pulled out his last, and shaped a new boot. Housewives were the first to buy into this new air-ware shoe revolution. Soon the Brits got wind of the bounce, and in 1960 the first Doc Marten boots hit high street shops. Cult status quickly followed.
It's a shoe that has seen many battles, probably more than any other; mods v rockers, punks v skins, soccer hooligan wars, suburbanites v dog poop. No matter which unholy mess you find your feet in, Docs will save you. They've got sole.
Tell us about your Docs below
SUBSCRIBE TO & FOLLOW LIFESTYLE
HuffPost Lifestyle is a daily newsletter that will make you happier and healthier — one email at a time. Learn more