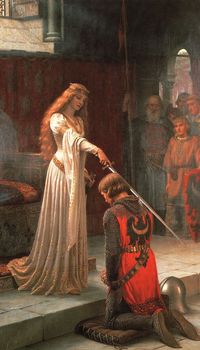 The original empire of broadcasting, the BBC, at a ceremony over the weekend handed out the Lifetime Achievement Award to England's lion heart, David Beckham. A galaxy of stars heaped applause on England's favorite roar with a full three minutes and forty seconds standing ovation. Becks shed a tear, his Queen of Dark, Victoria, was in the front row; all of England stood up.
A proclamation from the Royal Court followed. Prince William, taking a break from selecting his wedding gifts from the registry at Marks and Spencers, engaged in profuse praise for the skillful commoner from the shire -- "His contribution to football is exceptional." Bookmakers in the proletarian quarters of the Kingdom quickly slashed the odds on Her Majesty The Queen picking up Excalibur to proclaim -- Arise, Sir David -- when the Knighthoods are handed out in the New Year with the tax bills.
With the finest matrimonial sheets from Harrods soon to be shared by Prince William and Ms. Middleton this coming April, Sir David and Lady Victoria Beckham can expect their invitation to be licked and posted by Royal mouth and hand. Earlier this month, Beckham the British bulldog gave his all for the colors, fighting the nasty foreigners at FIFA as they spitefully kicked the home of the game in the bollocks, preferring to export the World Cup to the heirs of the Czar. Everyone back at the palace was livid, as much silver had been spent from the Royal Mint in luring the FIFA mandarins. Unsubstantiated rumor from the Court suggested that Her Majesty had called for FIFA's head on a plate -- "We Are Not Amused -- Bring me Blatter on a Platter."
Beckham's acceptance speech to the nation, for the award, was gracious and humble. Recognition of the game as a collective pursuit was the central feature. No player is great without his teammates or his football father. The prodigal son, the apprentice Beckham, spoke lovingly of his soccer dad, Manchester United's Sir Alex Ferguson, already a Knight of the Realm. And in this, the subjects of Great Britain saw their Union in action. The English lion sired by a Scottish haggis. Beckham finished with worthy praise for the British troops serving in Afghanistan. No doubt soccer balls are being handed over to the local Afghan boys as we speak. This was one way the British conquered the world. Tell that to FIFA.
Check out the Knight of Soccer's Speech here


SUBSCRIBE TO & FOLLOW THE MORNING EMAIL
Start your workday the right way with the news that matters most. Learn more