Panthera recently gathered stories from our scientists, researchers and partners about their favorite encounters with big cats in the wild. Below is a story from Panthera President and CEO Alan Rabinowitz, This "Cat Tale" is the second in our series of seven.
Ah Puch
by Alan Rabinowitz
Excepted from Jaguar
"Ah Puch," I screamed. I ran to him, fell on my knees, and cradled his head in my lap. Captured nearly a year earlier, Ah Puch hardly resembled the strong male jaguar I had named after the ancient Mayan God of Death. Now, with his ribs protruding through his muddied, dull fur, only the collar hanging loosely from his neck gave him away.
Then I noticed the shallow breathing. Ah Puch was not dead yet. I pried open his jaws and put my face to his mouth. As I looked up to call my assistant, Ah Puch's jaws clamped down on one of my fingers, and he lashed out with his paw, ripping my shirt and opening a gash in my shoulder.
"Help me!" I screamed, tears of pain and anguish rolling down my cheeks. A dozen Mayan Indians from the nearby settlement had come, staring in disbelief. No one dared move. I grabbed Ah Puch's nose with my free hand and pulled upward, freeing my mangled finger. Ah Puch expelled a gush of fetid breath, then lay his head down in my lap, the last of his energy expended. I filled a syringe with a massive dose of sedative, wanting him to die in his sleep, hoping that in his last moments of life his dreams would be better than reality had been.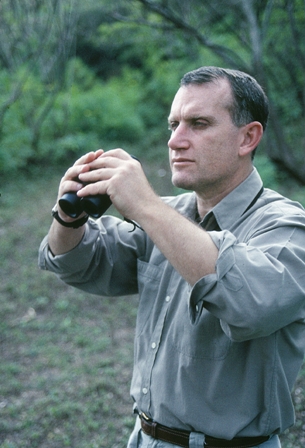 In the 1980s, Dr. Alan Rabinowitz radio-collared jaguars for a study leading to establishment of the world's first jaguar reserve in Belize's Cockscomb Basin. Here Alan remembers one of the first jaguars he collared, Ah Puch, who later died after breaking two teeth.