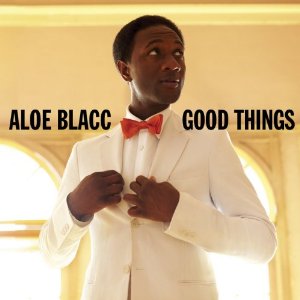 Aloe Blacc's "Good Things" was one of the Great Things of 2010
2010 was a tough one, especially if you were still unemployed or if your name was Barack Obama -- despite a few 11th hour successes with the lame-duck Congress. The economy still flailed, the rich got richer while the poor got poorer, and the politicians still dawdled as most of the nation's biggest problems went unattended. But ever the optimist, I decided that my last post of the year should be a tribute to the things that made the past year endurable, if not, at times, outright beautiful.
1. The Mahler Year: the world celebrated the 150th birthday of my favorite composer, Gustav Mahler. Sure, composer anniversaries can be an express train to overexposure, but Mahler fought hard to turn every pain and setback in life into something others could derive meaning from, and for that we owe him a world of gratitude. If you're looking for a way to explore Mahler's music for free, visit www.medici.TV -- full disclosure, they are a client of mine -- and hear Christoph Eschenbach conduct all nine symphonies with the Orchestre de Paris.
2. Sondheim's A Little Night Music on Broadway: I was there the first night Bernadette Peters and Elaine Stritch joined the cast. Peters' rendition of "Send in the Clowns" was one of the most perfect and moving moments I've experienced in a theater.
3. Two great books: On the fiction side of things, Jonathan Franzen's Freedom made plenty of "best of" lists this year, but that's no reason not to put him on the top of my own. Turning to non-fiction: Although I haven't finished it yet, Ron Chernow's Washington has been a revelation thus far. Finally, a flesh-and-blood portrayal of the father of our country, warts and all.
4. What idiot box?: With so many channels coming on line each month, there's a lot more junk on the airwaves than ever before, but for the discriminating viewer TV has actually become a reliable source of quality entertainment. I'm glad for Glee: it's contrived and manipulative, but it has more than enough lump-in-your-throat moments to make it well worth the investment. Modern Family and 30 Rock are as good as TV comedies get. And while it ain't cheery, Mad Men continues to be a work of true TV art.
5. A few terrific films: I wish the studios wouldn't wait until the very end of the year to release so many hot new titles all at once, so my own picks for "Best of 2010" will necessarily exclude at least five that I'm still dying to see. Still, I'm happy to join the chorus of acclaim that the unfailingly entertaining The Social Network has received. The luminous beauty of The Kids Are All Right, a paean to the alternative family, put it in a class of its own, particularly Annette Bening's radiant and at times heart-breaking performance. And Jim Carrey's star turn as a gay con man in I Love You Phillip Morris is a tour-de-force: one of the most exhausting and exhilarating characters to ever inhabit a movie screen (Ewan Macgregor as his Southern bell of a jailhouse boyfriend turns in an equally winning performance).
6. The iPad: For reading in dim-lighted places, and private movie watching when you are too lazy to get out of bed, this new device provided more than enough pleasure to me to justify the hype.
7. Netflix: okay, they don't have enough great titles available for instant download, but for sheer entertainment value, this essentially bottomless supply of film entertainment is hard to beat. Some newish as well as classic films I was glad to have discovered through Netflix this year include City Island (2009), Bergman's Smiles of a Summer Night (1955), Stanley Kramer's Inherit the Wind (1960), HBO's Elizabeth (2005) with Helen Mirren, Preston Sturges' Sullivan's Travels (1941), Sergio Leon's Once Upon a Time in the West (1968), and Charles Walters's High Society (1956).
8. Politics not as usual: John Stewart's exposure of Republicans' 9/11 hypocrisy, and his role in getting Congress to finally deal with the medical costs facing first-responders to the tragedy, was heartening. The video says it all:
And how about the repeal of "Don't Ask, Don't Tell," a landmark decision that gave common sense a victory over legalized discrimination -- righteous!
9. Recordings of note: From dozens of wonderful recordings by classical musicians, I'll single out just a few. Sir Charles Mackerras, who passed away this year, hardly made a bad recording throughout his long and remarkable career, and both of his recordings of several Mozart Symphonies for Linn records are splendid; and for quiet, late-night listening, you'd be hard-pressed to find an album as beautiful as Paulo Pandolfo playing Carl Freidrich Abel's solo suites for Viola da Gamba (Gloassa). Pushed to pick one non-classical title, I'd have to go with Aloe Blacc's Good Things, which mixes soul and other influences, and lyrics focused on social justice, to powerful effect.
10. Proud moments (and a thank you): a man in my profession can't help but be happy when his clients succeed, and I had much to be thankful for this year. I'm glad that so many critics and audience members are supporting Alan Gilbert in his work with the New York Philharmonic. Just over the last few weeks, three different critics picked their production of Ligeti's Le Grand Macabre as one of, if not the very best, classical music events of 2010. Deborah Voigt's debut at Café Carlyle in a benefit for the classical radio station WQXR was pure joy, and her performance as Minnie in the Metropolitan Opera's centenary production of Puccini's Fanciulla del West just a few weeks later was, for me, a deeply moving experience. Bard SummerScape's production of Schreker's opera The Distant Sound revealed a score of haunting beauty and a composer who should no longer languish in obscurity. Simon Rattle's Metropolitan Opera debut, conducting Debussy's Pelléas et Mélisande, was a transporting experience, even if I only caught the dress rehearsal (Rattle's inspired interview with Charlie Rose was icing on the cake). The Dallas Opera's production of Jake Heggie's Moby Dick went to the top of my list for most moving experience with a new opera. Daniel Hope's performance of his "Air" program at the Chamber Music Society of Lincoln Center in December was irresistible. For all these achievements, I offer a humble thank you to my friends and colleagues.
I am dedicating this post in loving memory to my larger-than-life and exceedingly generous stepfather, Steve Grabow, who passed away on Sunday, December 19. His dedication to our family will always be a source of inspiration, and his encouragement of my many endeavors, professional and otherwise, is a gift for which I am profoundly grateful. I will sorely miss our weekly conversations about film, amongst many other things.
SUBSCRIBE TO & FOLLOW CULTURE SHIFT
Every Friday, HuffPost's Culture Shift newsletter helps you figure out which books you should read, art you should check out, movies you should watch and music should listen to. Learn more