The dust hasn't settled on Oscar's new space. The bricks are cracked and they've finally placed wood on a staircase binding two stories.
Going up is an intimate affair. Nina Garcia is pounding on her BlackBerry, planning a blow-out with her stylist. I'm such a snoop. Resort and Pre-Fall are often some of the most important commercial collections in the industry. They stay in stores longer. So what I'm about to see is pure commerce. On the 25th floor, across from Bryant Park, with the glimmer of new construction and a storm hovering over the city -- fashion waits for Oscar to start.
For the first time in recent memory, I forget to put the battery in my camera. I miss a cute shot of Anna Wintour chatting with the designer as the editors line up, legs tucked, face forward. You'll be happy to know that the red-red lipstick and white face have fallen out of favor with fashion's tribe. Since I'm not obsessed with twisting my camera nobs, I can now focus on the clothes. They're pulling the plastic, someone's walking on the white runway with their rain boots, the lights ignite, the music starts, we begin another show.
Paper hats with red accents and powder-puff balls top the models. They're the classic matador's accessories, elevated of course; somehow they become a milliner's version of a Louboutin shoe.
Red, black, quilting and silver, run through the collection. With healthy models, not a twig among them, or a sunken eye -- there's one girl, with the sheen of orange spray tan, in a flamingo outfit.
The stitching is incredible. Picasso and cubism is the inspiration for the first few looks; I love the patchwork dresses that quickly follow. Chic. Then we go into polka-dot summer frocks, but on closer inspection, the spots are shaped like a wild cat's. It's perfect. Then I'm lost at a beige laser cut number.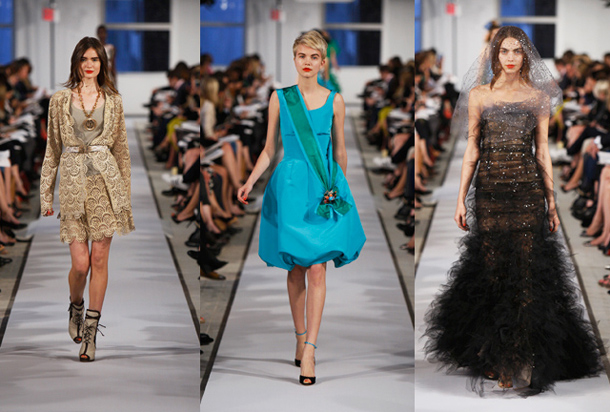 (Oscar Resort, Styling Misses)
I think my biggest challenge is with the styling. There's one ball gown. The girl looks like a black bride -- dark -- is she attending the death of her soon-to-be fiancé or has she lost her husband somehow? The veil doesn't work. Then another model comes out with a country fair sash on a perfectly lovely aquamarine dress with an extended bodice. I like the clothes. I don't like the styling.
But there's always something about an Oscar show. Time and time again. He updates his Dominican and Latin heritage to a sophisticated flare that's always here, now and totally modern. I love the Oscar girl. This collection is so much better then his last Resort offering. Some sequined dresses, which I adore, walk by. I keep on thinking secret agents should wear the gowns when they throw down a red chip in a Moroccan casino or snoop at a black tie gala.
The show ends. Oscar stands. We all applaud a bit. Anna doesn't bolt. She sits there as we all pass and head to the elevators. Another show, another season. But really, is it just me? Or aren't we supposed to have some spring weather in May, so the girls can actually wear these dresses next year?
SUBSCRIBE TO & FOLLOW LIFESTYLE
HuffPost Lifestyle is a daily newsletter that will make you happier and healthier — one email at a time. Learn more