The designer has been quite busy recently.
Opening a Store
Reem Acra's returned home to launch a store in Beirut on November 3rd with her newest collection inspired by an American Princess, full of bejeweled corsets and blush gowns. Old movies and lost nightclubs once again come to mind.
When I saw the dress below, the red plaid -- I instantly thought of a burned out and abandoned Betty Draper, after she'd downed too much Laudanum (I had to mix in some "Boardwalk Empire"). We were able to shoot some of the key looks in the collection at the midtown showroom. The model blew me away; I'm simply excited that I'm starting to shoot actual editorial for HuffPost.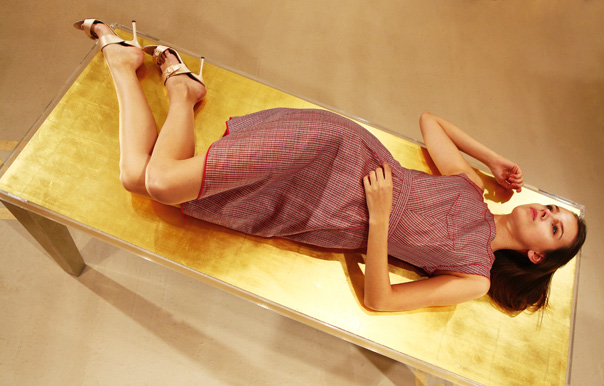 Off To The Races
Reem just spoke at TEDxDoha, in the Middle Eastern country of Qatar, bringing her vision of fashion to that inspiring series of lectures. She's also going to be sponsoring dressage.
Reem Acra has signed a three-year sponsorship of the FEI Western European League and the FEI World Cup Dressage Final, announced FEI President HRH Princess Haya at a Champions Club party during the 2010 Alltech FEI World Equestrian Games.
"The people who participate in the Games are a mirror reflection of the woman I design for. I believe that this is a beautiful way to highlight the Reem Acra brand and the synergies between the elegance of the sport and my luxurious designs," said Acra on her website. "For me, [dressage] is the most beautiful and stylish discipline within the equestrian world, so I am thrilled to be given the opportunity to take a more active role in the sport."
It's now called the "Reem Acra FEI World Cup Dressage". There's something to be said about having an actual World Cup named after you. Frankly, I know nothing about the inner workings of the sport, hence the cut and paste above. But I do know that this is one of the most important ways that Hermes has built a name for itself; not only because horse show culture started and continues to sustain the house, but because they're involved with almost everything associated with the elite sport. They had a booth at the recent Hampton Classic.
In the states, Reem is going back to HSN, her last showing a month ago, sold through and the shopping network has graciously invited her back.
A Curvaceous Bride
Lastly, this busy designer is going to be working with plus size brides and opening a "shop in shop" at Curvaceous Couture, a specialty retailer in Maryland that specializes in gowns for sizes 12-32. Acra believes that everyone should look and feel stunning on their wedding day. Most, if not all bridal boutiques carry only one size -- 6 -- as their sample.
So curvy girls come in with their slender sisters to try on the dresses and don't get the experience and anticipation of finding the perfect fit. For a vast majority of American's, two-thirds of American's actually, this is part of tying the knot, the search for the prefect dress. Reem Acra is the first luxury retailer to meet the demands of a rather large market that wants to remember their wedding day forever. Her goal is to empower women.
Spring 2011
Reem chose a kaleidoscope of inkblot prints and groovy stripes as her palate for spring, from blush to purple - with a node to the American Princess. Silk, organza and chiffon capture a spring breeze, evening dresses are full of the meticulous embroidery Reem's devotees would expect.
I was enamored with the blush dress below, which embodies the houses elegance, it has a corset built in, Cinderella instantly comes to mind. The dress took over a week to meticulously construct, and combines many sizes of crystal to create the striking look, ready for any ball.
The other American Princesses in the collection have an edgier feel, from a "Charlie's Angle" one piece and a flower child on her way to join a protest on the Hill. Other outfits are perfect in their simplicity; white is a welcome reprieve (not enough designers did white). There's gold of course and one silver dress perfect for an art deco visit to the Rainbow Room.
I really loved this collection and how well put together it was, from the luxury casual looks, to the simplicity of the evening wear.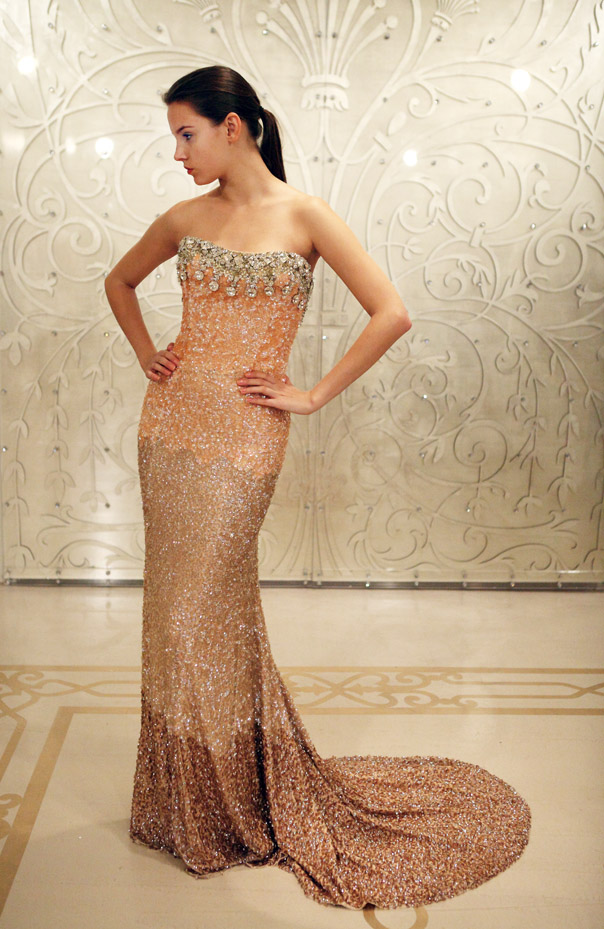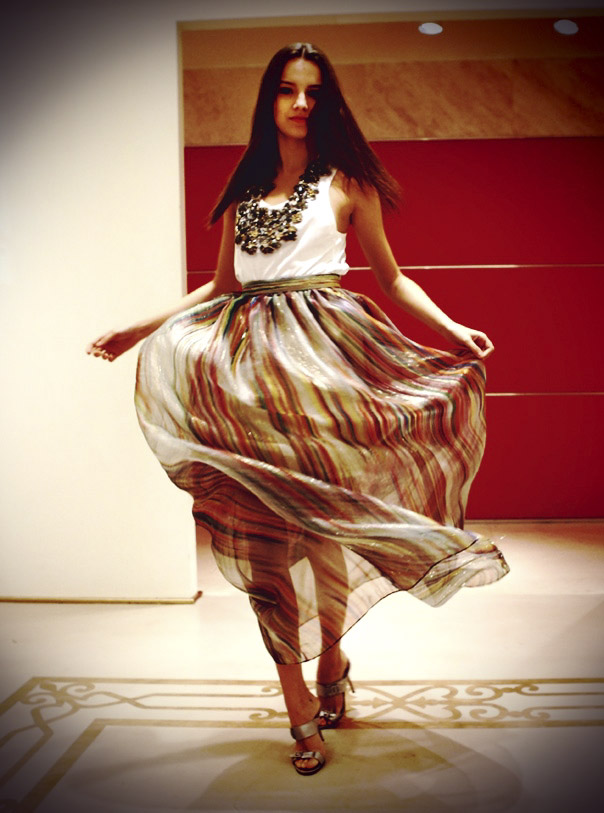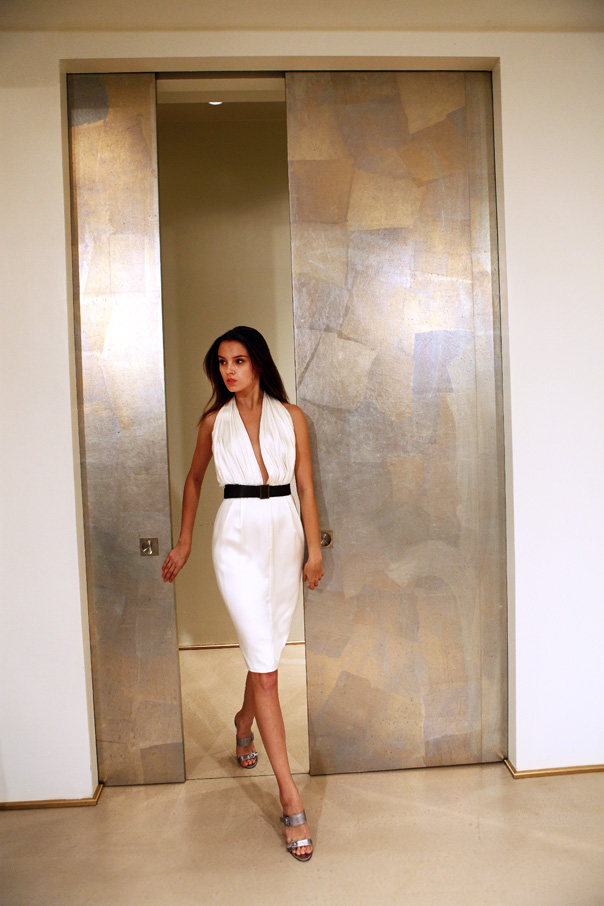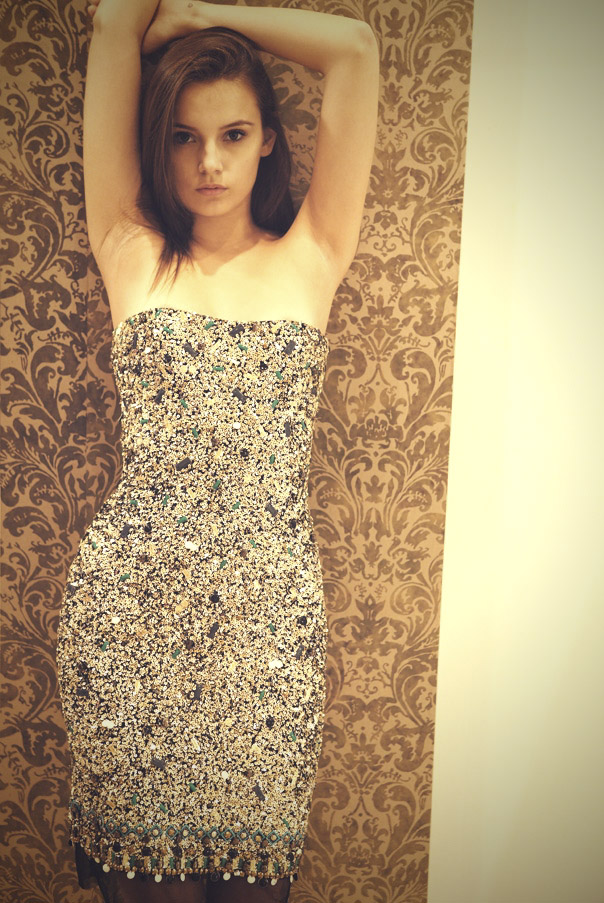 Photo Credits
Photography: Alex Geana
Model: Karina from IMG
Styling and table moving: Yeana Ahn
SUBSCRIBE TO & FOLLOW LIFESTYLE
HuffPost Lifestyle is a daily newsletter that will make you happier and healthier — one email at a time. Learn more