Nothing can stop fashion. Including Snowpocalypse 2010. Fashion Week went on, with only the feeble left by the wayside. Many editors and buyers flew in before, anticipating the inundation of snow. Designers who would have trouble drawing a crowd even in perfect weather canceled their presentations.
Wednesday John Bartlett showed strong on the day of the blizzard, with snow flurries and a foot of snow on the ground. Earlier that day I headed over to the tents. Following Twitter and text message reports that the press line would be crazy, I went to a presentation first. IMG itself might be one of the most efficient publicity teams ever created because by 2 o'clock the line had been cleared and I went straight in.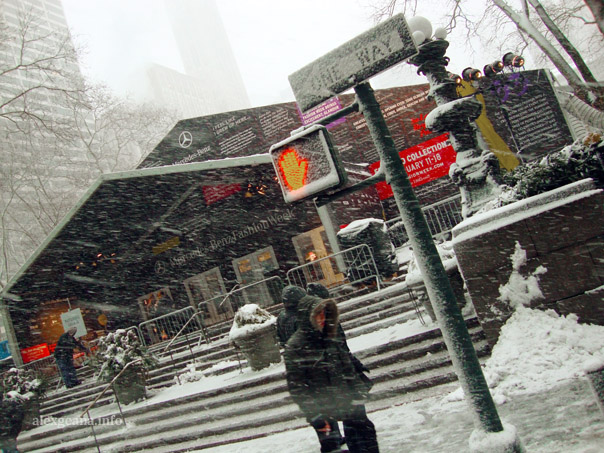 Many designers housed their sample makers in hotels, Donna Karan took care of her staff and even gave them food. While WWD reports that some houses had problems with accessories being stuck in customs and pieces that couldn't fly in, most of the well-financed labels took care of their own.
Everyone is wearing the most practical footwear possible. On my way Cuhnie Et Oches I help a wonderfully dapper women hop a puddle on the way in. The show starts and the back two rows are empty. I go to another presentation, it's spartan, I want to make Mara Hoffman downtown, but I can't. At The Heart Truth everyone's showed up, from celebrity to guest. Although I'm a little bored and wish they had a more energetic bunch to walk the runway. Oh, Liza, how I miss you. At Mik Cire I start taking pictures of shoes.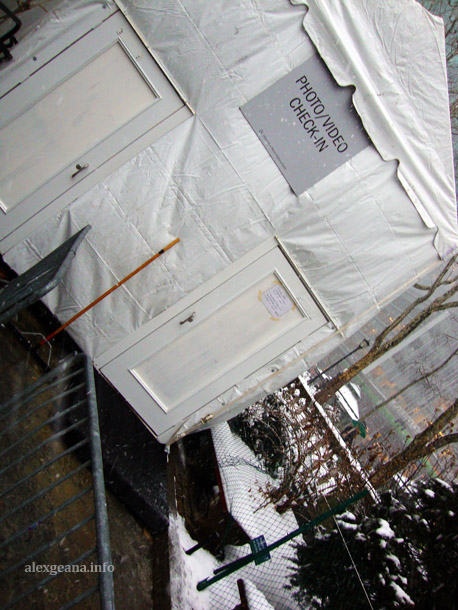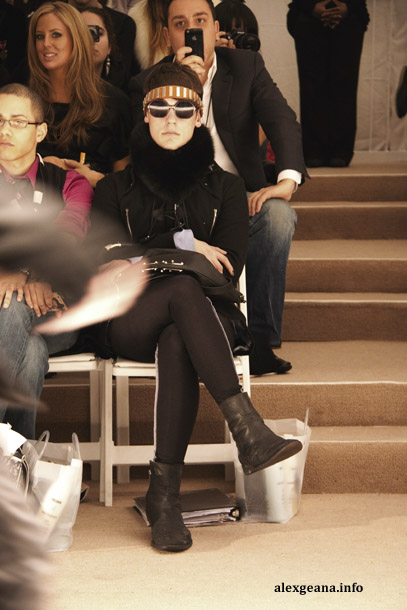 (the press check-in line and a front row guest at Mik Cire)
I see everything from army boots to some neon green DKNY galoshes. Rubber is in. No Louboutins were spotted, I'm sure everyone wore them to L.A.M.B. and Vena Cava. Hillary Moss interviewed the crowd at Erin Wasson about their snow gear and their ability to brave the elements. Although the scene inside the tents is not affected, the scene outside is, normally there's a healthy throng vying for its way inside, either strutting their creations or begging their way in. They've aptly stayed home.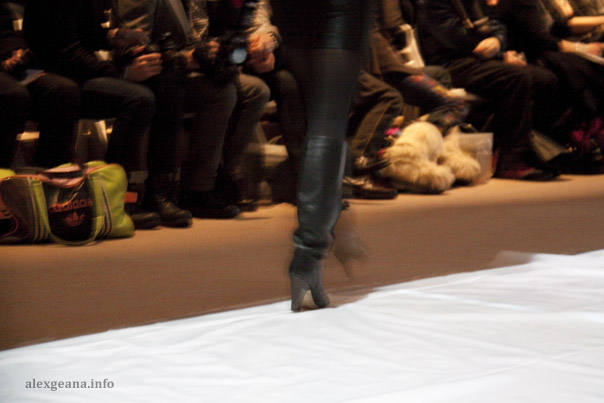 (a guest takes their seat at Mik Cire in Bryant Park)
The tents themselves have 500 attendants shoring up the temporary structure. Sometimes the gutters in the corridors flood, but there's no indication this happened. Inside you can hardly tell that the world outside, is trying to dig itself out from a massive storm.
This Blogger's Books and Other Items from...
SUBSCRIBE AND FOLLOW
Get top stories and blog posts emailed to me each day. Newsletters may offer personalized content or advertisements.
Learn more