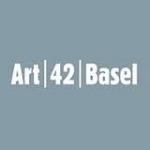 As Art Basel 42 winded to a close, I found myself, no longer a wide-eyed rookie overwhelmed by the frenetic pace, puzzled by the events of the past few days. Sales, never to be reported reliably in this cagey an industry, had been "fair," as so branded by The Art Newspaper. Few major acquisitions had been finalized and announced besides a series of monumental works purchased by private institutions by the newest and slickest high profile collectors, including but not limited to Budi Tek, Dasha Zhukova, and David Walsh whose dedication to supporting, publicizing, and exhibiting contemporary art remains vital to our cultural health and well-being. Typical rumors of Gagosian's $60 million dollar days fluttered about as Larry held court on the bench across from his booth, dealers and collectors alike ventured through Ernest Beyeler's gallery on Bäumleingasse to pay their respects to the legend one last time, the Kunstmuseum's Konrad Witz show, however eloquent, didn't quite enthrall contemporary mavens, and the Kunsthalle Campari Bar swelled to capacity each and every night making a killing on the overpriced drinks and outdated music we've all come to know and love.
PHOTO GALLERIES
Art Basel 2011, Highs and Byes
Yet there wasn't a tangible buzz or vibrance about the fair as there has been in the past few years even during the height of the recession when the intensity felt wholly different. The days of reasonable reserves appear to have returned and the presentation of ne'er seen, jaw-dropping works have come and gone. Few booths dedicated themselves to the art the ensemble, isolating artists or themes in hopes of reviving those forgotten or promoting cutting edge contemporary. Fewer did this successfully, with the exception of galleries such as Hazlitt Holland-Hibbert whose exhibition "Barbara Hepworth: Unique Sculpture, Bridget Riley: Early Paintings" fostered a museumesque atmosphere reflecting commendable thought to curation over commercial viability. Many exhibitors rather gave way to putting up a slathering of inventory or mid-major works by their most marketable artists.
Lisson Gallery exhibited a mesmerizing gestural painting by Jason Martin that sold easily alongside a haunting kinetic sound-sculpture by Haroon Mizra. Hauser & Wirth must have changed their booth at least three times after the closing bell, shuffling in Kuitcas and sculptures by Paul McCarthy, among others. They even managed an emergency repair on a giant squid sculpture by David Zink Yi that had been stepped on by a passerby. Gagosian offered quintessential Prince monochrome jokes alongside Warhol, Murakami, and even a beautiful but unaffordable Twombly. Johnen Galerie, Berlin exhibited works by Ryan Gander, one of the few young artists whose concepts continue to resonate in their physical manifestation. Tony Meier's shelf of iconic small-scale Gober and Chamberlain sculptures alongside work by Jim Hodges and Donald Moffett coalesced to form one of the more ingenious booths in the fair.
In terms of the old guard, Acquavella exhibited Thiebaud and Damian Loeb as well as an important Franz Kline from 1956. One critic rather boldly branded Marlborough's portrait of George Dyer by Francis Bacon "the best damn picture in this whole cluster," a statement that I'll leave up for debate. Krugier had an impressive series of Picasso collages while McKee's two beautiful figurative paintings by Philip Guston sat across from Richard Feigen's forty-foot German history painting "The Holy Roman Empire Through Checkpoint Charlie" by James Rosenquist.
George Condo resurged with galleries capitalizing on his recent publicity run with a controversial retrospective at the New Museum following the release of Kanye West's record My Beautiful Dark Twisted Fantasy that featured his art on the cover. L&M Arts drew onlookers of every sort with Liza Lou's "The Damned," 2003-4, a gigantic sculpture of Adam and Eve covered with intricately woven strands of glass beads. In many ways, this sculpture set a tone for a fair where practicality wasn't always a question.
Works of monumental size, installations, and videos were in abundance through Halls 2.0, 2.1, Statements, and Unlimited. In the latter two, panels by Jacob Kassay and wires by Fred Sandback drew much attention from viewers as meditations on the management and division of space. An unusual cinematic endeavor by Alex Hubbard captivated viewers and revealed an entirely different dimension of his artistic practice. Works by veteran's John Baldessari, Anish Kapoor, Thomas Schütte, and Matthew Buckingham failed to truly impress while knockout pieces by Dan Flavin and Mona Hatoum received a fraction of the attention deserved. Robert Longo and Louise Lawler's large format works interested audiences, both key examples of creative prowess and technical mastery of their respective mediums. In the space occupied last year by Bruce Conner's brilliant "Three Screen Ray," Katarzyna Kozyra presented "Rite of Spring," 1999-2000, a multi-channel video projection pieced together with 12,000 photographs of nude, elderly, and oft-hermaphroditic humans dancing in tune with Vaclav Nijinsky and Igor Stravinsky's famous composition and ballet.
All in all, Art Basel attracted heavy crowds of collectors, fashionistas, and tourists alike. Complaints of increased accessibility during the VIP preview on Tuesday were certainly valid and this situation need be re-evaluated for next year, as wading through a verifiable sea of pomade, "H" belts, and six-inch heels could not have been entirely pleasant for diehards on the prowl. Fears of Basel going the way of Miami with social spectacle dominating the art have become increasingly palpable but the situation is far from dire. In a peculiar way, aspects of the fair felt less commercial or, at the very least, less concerned with bravado than in the past. Unlike 2007 when collectors raced through the halls with a point and shoot mentality or the past two years during which they acted with reserve, those out to make purchases did but went about it more methodically, asking more thoughtful and informed questions of dealers then taking time to examine the work especially getting into the million plus range. All aside, the comprehensive invasion and concurrent allure of the contemporary art world from swirls of unfounded rumors whispered during late dinners at Acqua to the Beyeler Nocturne, sweating at the Perrotin Boat Party, cocktails at the Trois Rois, and Art Parcours, made for an intensely exhausting week that we'll continue to look forward to.