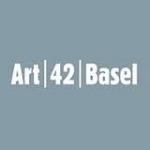 As Art Basel 42 winded to a close, I found myself, no longer a wide-eyed rookie overwhelmed by the frenetic pace, puzzled by the events of the past few days. Sales, never to be reported reliably in this cagey an industry, had been "fair," as so branded by The Art Newspaper. Few major acquisitions had been finalized and announced besides a series of monumental works purchased by private institutions by the newest and slickest high profile collectors, including but not limited to Budi Tek, Dasha Zhukova, and David Walsh whose dedication to supporting, publicizing, and exhibiting contemporary art remains vital to our cultural health and well-being. Typical rumors of Gagosian's $60 million dollar days fluttered about as Larry held court on the bench across from his booth, dealers and collectors alike ventured through Ernest Beyeler's gallery on Bäumleingasse to pay their respects to the legend one last time, the Kunstmuseum's Konrad Witz show, however eloquent, didn't quite enthrall contemporary mavens, and the Kunsthalle Campari Bar swelled to capacity each and every night making a killing on the overpriced drinks and outdated music we've all come to know and love.
Art Basel 2011, Highs and Byes
Bruce Conner, Untitled October 20, 1992, Acrylic on canvas, 50 x 40 inches Bruce Conner, a multi-media artist based in California, made films, photographs, works on paper, various assemblage objects and paintings over a span of half a century. This type of highly tactile work on canvas seemed to come up only sporadically in small series of paintings initiated as a student in the mid 1950s, followed by works in the early 1960s, 70s and 1990s. This work from 1992 is composed of a series of small, monochrome brown brushstrokes lighter near the top of the canvas and gradating into the solid darkness of the background as the brushstrokes descend. Courtesy Michael Kohn Gallery, Los Angeles

John Chamberlain, Untitled (Playskool Series), 1963, Painted tin and wood, 7 1/8 x 5 1Ž4 x 5 1/8 inches, Signed, inscribed, and dated on the underside of wooden base, 'FOR L. WAGNER 1963 CHAMBERLAIN' This small-scale sculpture is a classic example of Chamberlain's brilliant ability to make size irrelevant. Courtesy Anthony Meier Fine Arts

George Condo, Field of Figures, 2011, Acrylic, charcoal, pastel on linen, 70 x 84 inches If nothing else, this large-scale painting exemplifies the maturity of Condo as an artist and affirms that his work has the potential to be both complex and serious. Courtesy Skarstedt Gallery

Felix Gonzalez-Torres, "Untitled" (NRA - National Rifle Association), 1990, Print on paper, endless copies, 20 in. at ideal height x 33 1/4 x 26 1/4 in. (original paper size) This unique work consists of a stack of red paper printed with a black border 2 1/4 inches thick. An integral part of the work is the art of participation as the artist encouraged the audience to take away individual sheets of paper from the stack. The owner or borrower of the work may replace, at any time, the amount of paper necessary to regenerate the piece back to its ideal height or an alternate chosen height. (c) The Felix Gonzalez-Torres Foundation, Courtesy of Andrea Rosen Gallery, New York

Kelley Walker, Black Star Press, 2008, four-color process silkscreen on canvas, 104 x 83 in. signed and dated verso Walker's vivid silkscreen series utilizes images garnered from mass media including iconic references to popular culture, politics, and consumerism. Walker inverts collaged material and relies on gradients of red to create a startlingly powerful visual tour-de-force. © Kelley Walker, Courtesy Paula Cooper Gallery, New York

Barbara Hepworth: Unique Sculpture, Bridget Riley: Early Paintings This booth presents a selection of works by two of the most important and influential female British artists of the twentieth century. Both Barbara Hepworth and Bridget Riley have remained at the forefront of abstract art by exploring the dynamic interplay of line and form; an exploration that led to the harmonious purity of Hepworth's carvings and continues to inspire the extraordinary visual sensations of Riley's painting. Courtesy Hazlitt Holland-Hibbert, London.

Joseph Kosuth, Subject and Object, 1966, Cool white neon mounted directly on the wall, 10 x 318 cm This work is from a series initiated in 1965 when Kosuth began to produce conceptual works with a basis in language, some fashioned from neon and glass, others linking objects, images, and texts into simple and self-referential series. Copyright Joseph Kosuth, Courtesy Sprüth Magers Berlin London

Katarzyna Kozyra, The Rite of Spring, 1999 – 2002, Seven-screen video installation Katarzyna Kozyra's installation The Rite of Spring, takes its title from a ballet scored by Igor Stravinski and choreographed by Vaclav Nijinsky (1913) and considers the larger questions of dance and performance art from a historically informed and critical perspective. The Dance of the Chosen Victim, a single scene from the original The Rite of Spring, is the apex of Kozyra's work, allowing her to blend the ritual themes of Nijinsky's choreography into one condensed and integral act. The layered arrangement of the viewing screens emphasizes this simultaneity. In addition, Kozyra's choice to use aged, un-beautified dancers to fill the roles of Nijinsky's idealized virgins questions our assumptions about the limits of the body and its transformations over time. The naked dancers' ambiguous gendering also pushes the work further into a state of critique and consciousness, as the meaning of virginity and the definitions of beauty and biology are challenged. The relativity of gender, sex and health is often starkly present in Kozyra's work. With her dancers Kozyra creates a death-driven ecstasy, full of movements that would require the most intense training from even the youngest and fittest bodies. The dancers are able to master these movements because they are lying down. After the initial filming of the pure movements, the film is animated, accentuating the re-centered gravity of the dancer's bodies. Despite the animation, and perhaps due to it, the jerky and hysteric gestures create the same sensations of urgency and dread that one experiences in Nijinsky's work Courtesy Żack Branicka

Robert Longo, Untitled (Wailing Wall), 2011, Charcoal on mounted paper, 120 x 325 in Dedicated to the three major monotheistic world religions, Longo has created multi-paneled, monumental works depicting images of Mecca in Saudi Arabia, St. Peter's Basilica in Rome and the Wailing Wall in Jerusalem. In each of these artworks is an iconic depiction of a sacred space. The abstract minimalist depiction of The Wailing Wall, said to be the lasts existing remnant of the Second Temple built around the time of Herod (19 BCE) is one of the most sacred sites in Judaism. Worshippers on pilgrimage come to this site to mourn and bemoan the destruction of the Temple. Courtesy Galerie Thaddaeus Ropac

Haroon Mirza, Modified Stereo Gram, 2011, Radiogram, LEDs, speaker, marble, oil lamp glass, 65 (h) x 125 (w) x 40 (d) cm Modified Stereo Gram is a radiogram from the 70s modified to play a single piece of semi-generative music – this means that the composition seldom repeats itself. The sound is generated by the electricity passing through the LED elements in the piece and the work also features a plastic mould of Beethoven's head. Courtesy Lisson Gallery

Shinichi Maruyama, Garden #3, 2010, Hand coated archival pigment print, 38 x 72 inches, Signed, titled, dated on verso This latest project by Maruyama, Gardens, is a conceptual and visual exploration of the mental as well as physical endurance required in the creation of Japanese Zen gardens. Maruyama writes: "It is said that a Zen garden represents in a three-dimensional space the spirits of high priests who have achieved enlightenment. The Zen garden is the expression of boundless cosmic beauty in a physical environment, created through intense human concentration, labor and repeated action". For Maruyama, a Zen garden is its own universe, a serene place that empowers the visitor to resist temptation, eliminate negative thought, and sever the continuous stream of inessential information emanating from the outside world. Drawing a parallel between himself and the Buddhist monks who sedulously maintain the Zen gardens of Japan, Maruyama has obsessively devoted himself to imaging the sculptural shapes and forms of liquid in mid-air. His surreal, chimerical compositions are created by repeatedly throwing tempera paint into the air and photographing the result. He arranges these frozen actions in imagined compositions that defy explanation and logical physics. His fantastically colored images that seem to occur in real space recall the work of painters Yves Tanguy and Joan Miro. Copyright Shinichi Maruyama courtesy Bruce Silverstein Gallery, New York

Andy Warhol, Preparatory Drawing for Coca Cola, 1962, Pencil and ink on paper, 23 11/16 x 18 inches This exquisite drawing, executed in the same year that Warhol first exhibited his Campbell's Soup Cans at the Ferus Gallery marks a pivotal moment in the history of Pop art. Amongst a bevy of big, blockbuster paintings, this precious sketch reined supreme. © Andy Warhol Foundation. Courtesy Gagosian Gallery. Photography by Robert McKeever

Franz Kline, Untitled, 1956, Oil on Canvas, 65 x 39 1/4 inches, On Reverse, "Franz Kline 56" Kline's monumental painting of 1956—with its powerful, expressive brushwork and contrasting black and white palette—exemplifies the signature abstract style he developed in the 1950s. By eschewing representation and emphasizing the expressive potential of gestural brushwork, Kline created an aesthetic that earned him recognition as a leading member of the Abstract Expressionist movement. Courtesy Acquavella Galleries
Yet there wasn't a tangible buzz or vibrance about the fair as there has been in the past few years even during the height of the recession when the intensity felt wholly different. The days of reasonable reserves appear to have returned and the presentation of ne'er seen, jaw-dropping works have come and gone. Few booths dedicated themselves to the art the ensemble, isolating artists or themes in hopes of reviving those forgotten or promoting cutting edge contemporary. Fewer did this successfully, with the exception of galleries such as Hazlitt Holland-Hibbert whose exhibition "Barbara Hepworth: Unique Sculpture, Bridget Riley: Early Paintings" fostered a museumesque atmosphere reflecting commendable thought to curation over commercial viability. Many exhibitors rather gave way to putting up a slathering of inventory or mid-major works by their most marketable artists.
Lisson Gallery exhibited a mesmerizing gestural painting by Jason Martin that sold easily alongside a haunting kinetic sound-sculpture by Haroon Mizra. Hauser & Wirth must have changed their booth at least three times after the closing bell, shuffling in Kuitcas and sculptures by Paul McCarthy, among others. They even managed an emergency repair on a giant squid sculpture by David Zink Yi that had been stepped on by a passerby. Gagosian offered quintessential Prince monochrome jokes alongside Warhol, Murakami, and even a beautiful but unaffordable Twombly. Johnen Galerie, Berlin exhibited works by Ryan Gander, one of the few young artists whose concepts continue to resonate in their physical manifestation. Tony Meier's shelf of iconic small-scale Gober and Chamberlain sculptures alongside work by Jim Hodges and Donald Moffett coalesced to form one of the more ingenious booths in the fair.
In terms of the old guard, Acquavella exhibited Thiebaud and Damian Loeb as well as an important Franz Kline from 1956. One critic rather boldly branded Marlborough's portrait of George Dyer by Francis Bacon "the best damn picture in this whole cluster," a statement that I'll leave up for debate. Krugier had an impressive series of Picasso collages while McKee's two beautiful figurative paintings by Philip Guston sat across from Richard Feigen's forty-foot German history painting "The Holy Roman Empire Through Checkpoint Charlie" by James Rosenquist.
George Condo resurged with galleries capitalizing on his recent publicity run with a controversial retrospective at the New Museum following the release of Kanye West's record My Beautiful Dark Twisted Fantasy that featured his art on the cover. L&M Arts drew onlookers of every sort with Liza Lou's "The Damned," 2003-4, a gigantic sculpture of Adam and Eve covered with intricately woven strands of glass beads. In many ways, this sculpture set a tone for a fair where practicality wasn't always a question.
Works of monumental size, installations, and videos were in abundance through Halls 2.0, 2.1, Statements, and Unlimited. In the latter two, panels by Jacob Kassay and wires by Fred Sandback drew much attention from viewers as meditations on the management and division of space. An unusual cinematic endeavor by Alex Hubbard captivated viewers and revealed an entirely different dimension of his artistic practice. Works by veteran's John Baldessari, Anish Kapoor, Thomas Schütte, and Matthew Buckingham failed to truly impress while knockout pieces by Dan Flavin and Mona Hatoum received a fraction of the attention deserved. Robert Longo and Louise Lawler's large format works interested audiences, both key examples of creative prowess and technical mastery of their respective mediums. In the space occupied last year by Bruce Conner's brilliant "Three Screen Ray," Katarzyna Kozyra presented "Rite of Spring," 1999-2000, a multi-channel video projection pieced together with 12,000 photographs of nude, elderly, and oft-hermaphroditic humans dancing in tune with Vaclav Nijinsky and Igor Stravinsky's famous composition and ballet.
All in all, Art Basel attracted heavy crowds of collectors, fashionistas, and tourists alike. Complaints of increased accessibility during the VIP preview on Tuesday were certainly valid and this situation need be re-evaluated for next year, as wading through a verifiable sea of pomade, "H" belts, and six-inch heels could not have been entirely pleasant for diehards on the prowl. Fears of Basel going the way of Miami with social spectacle dominating the art have become increasingly palpable but the situation is far from dire. In a peculiar way, aspects of the fair felt less commercial or, at the very least, less concerned with bravado than in the past. Unlike 2007 when collectors raced through the halls with a point and shoot mentality or the past two years during which they acted with reserve, those out to make purchases did but went about it more methodically, asking more thoughtful and informed questions of dealers then taking time to examine the work especially getting into the million plus range. All aside, the comprehensive invasion and concurrent allure of the contemporary art world from swirls of unfounded rumors whispered during late dinners at Acqua to the Beyeler Nocturne, sweating at the Perrotin Boat Party, cocktails at the Trois Rois, and Art Parcours, made for an intensely exhausting week that we'll continue to look forward to.