A slathering of shows opened up over auction week, so we have compiled a shortlist of this season's second round of shows. Plan a visit to Chelsea this weekend!

Don't miss: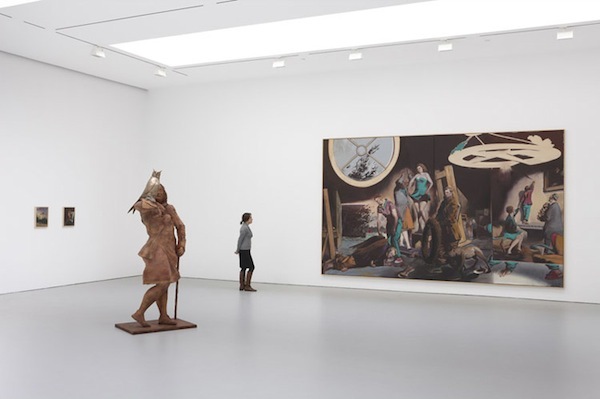 Installation featuring Neo Rauch, Das Kreisen, 2011, Oil on canvas, Diptych. Overall: 118 1/8 x 196 7/8 inches (300 x 500 cm), Courtesy of David Zwirner Gallery
Neo Rauch at David Zwirner, (November 4 - December 17)
- David Zwirner presents a selection of large-scale narrative paintings by Leipzig School legend Neo Rauch drawn from his own dark dreams and fragmented recollections sewed together by a technical master.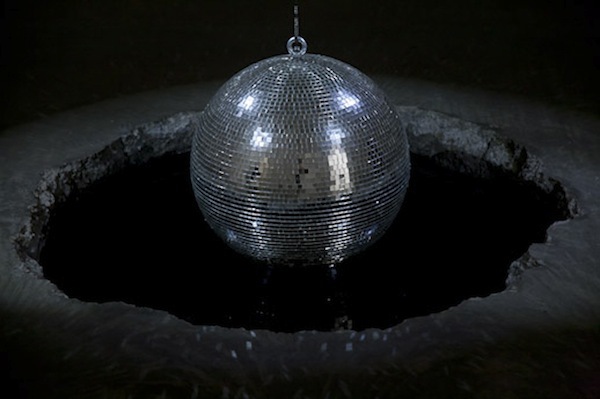 Jim Hodges, Untitled, 2011, Mirror ball, mechanics and water; dimensions variable, Courtesy of Gladstone Gallery
Jim Hodges at Gladstone Gallery (November 5 - December 23)
- Spread over Gladstone's spaces on West 21st and 24th streets, Jim Hodges has fabricated a group of installational, kinetic works that delight viewers of all ages with elements of movement, color, and reflection.

"Jim Hodges is now in his mid-50s, but it seems like only yesterday (it was the late 1980s) that he burst on the scene as a maker of lyrical, spider-webby curtains of thin chains and jewels. Since then, the midcareer sculptor seems to have almost everything breaking right." - Peter Plagens, Wall Street Journal

Accumulations (Bruce Conner, Yayoi Kusama, Christian Marclay) at Paula Cooper (November 5 - December 17th)
- Per usual, Cooper comes up with an assortment by multi-media stalwarts. Anything juxtaposing Conner, Kusama, and Marclay can't disappoint.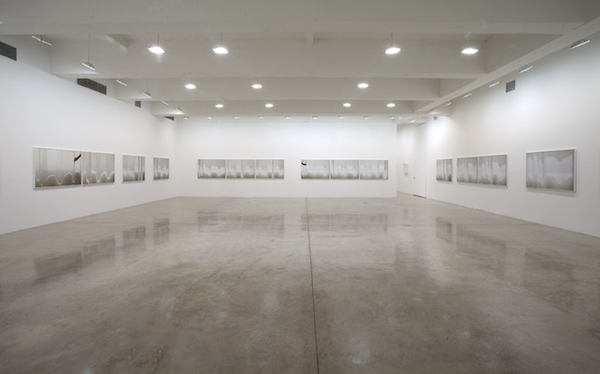 Uta Barth, Installation view - Gallery 1, Courtesy of Tanya Bonakdar Gallery
Uta Barth at Tanya Bonakdar Gallery (September 8th - October 22nd)
- Barth's new body of work, ethereal photographs that retain the presence and efficacy of painted work have stifled audiences with a pristine palette and shimmering colors.

"[Barth] revels in our perceptual confusion between a pattern of undulating stripes that we see on the surface of her photos, and the very different, almost illegible undulation in the shape of the drapes that cause those same stripes." - The Daily Beast



Llyn Foulkes, Lost Horizon,1991, acrylic and recycled materials, 83 x 110 inches, (210.8 x 279.4 cm), Courtesy of Andrea Rosen Gallery
Llyn Foulkes at Andrea Rosen (October 28 - December 3)
- As a counterpoint to L.A.'s Pacific Standard Time, Rosen is displaying a series of figurative paintings by aging LA influence Llyn Foulkes.

"The sad message of this tour de force of homespun history painting may not be unfamiliar, but the magical interplay of the visual and the tactile gives it an unforgettable urgency." - Ken Johnson, New York Times

Rashaad Newsome at Marlborough Chelsea (October 20 - December 3)
- In "Herald," Newsome has collaborated with everyone from MTV to Paddle8 and Performa for this series of works that represents the artist's own modern-day interpretation of "heraldy."

"[Rashaad} has a way of translating ideas that appear on MTV or appear on the street and somehow twisting it or distilling it -- he puts a frame around it...the work leaves a very powerful visual impression; it's like it stays in your retina for some time." - RoseLee Goldberg, founder of Performa.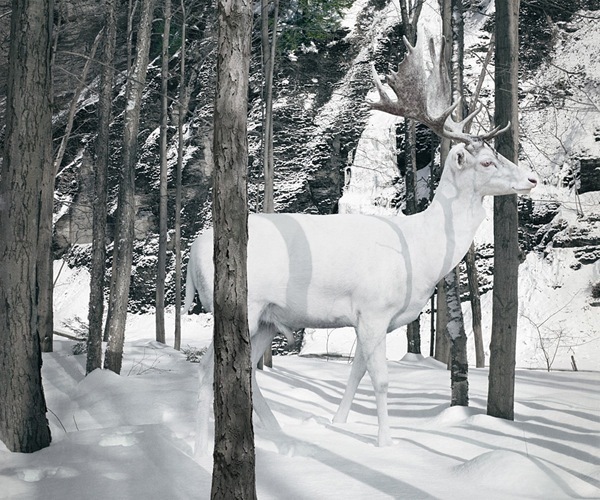 Simen Johan, Untitled #140, 2007, From the series Until the Kingdom Comes, C-Print, 60″ × 70 3/5″ (152.4 × 179.32 cm), Courtesy of Yossi Milo Gallery
Simen Johan at Yossi Milo (November 3 - December 23)
- Hot from a trail of exhibitions at The Frist Center for Visual Arts in Nashville and the 21C Museum in Louisville, work from NY-Scandinavian photographer Simen John remains on display as part of Milo's program.

It's also your last chance to see:

Richard Serra, Junction / Cycle at Gagosian Gallery, 555 West 24th Street (September 14th - November 26th)

"Serra's steel articulations are sublime, and seemed to induce a quasi-mystical experience of awe and bewilderment in people...Time seemed to stop as they deambulated into the gigantic Canyon de Chelly-like copper spirals." - Martine Fougeron as told to Jessie Wender, The New Yorker

SUBSCRIBE TO & FOLLOW CULTURE SHIFT
Every Friday, HuffPost's Culture Shift newsletter helps you figure out which books you should read, art you should check out, movies you should watch and music should listen to. Learn more