A lot was made recently about Nokia and Microsoft's new marriage of convenience, with Nokia apparently tossing in the towel on its antiquated operating systems in favor of Windows 7. The reception to this news has been tepid, with many noting that two players who have so far failed at the smartphone game had no choice but to hook up. This is probably best epitomized by Google's Vic Gundotra's tweet that "Two turkeys do not make an eagle." In sports, this partnership reminds me of Gary Payton and Karl Malone leaving familiar roots and joining the Los Angeles Lakers as a last-ditch effort to win an NBA championship. That failed, and this may too.
As I predicted last year, Microsoft and Nokia joining forces was inevitable. What's missing in this narrative is the role of erstwhile web giant Yahoo -- who has partnered with both Nokia and Microsoft over the past few years. Taken together, these three might actually mount a credible challenge to the dominance of Google and Apple in the next battle in the smartphone wars. Specifically, the sector of location-based services will drive the mobile OS business beyond apps, setting the stage for the actual competition to begin.
The real battle of mobile OS will be advertising.
While the media focuses on visual components of mobile, such as apps and the coolest new handsets, what's happening in mobile is a battle for dominance of the largest new business ecosystem -- location-based mobile advertising. According to Google, mobile will be bigger than the fixed Internet in five years or less. In data released at the DMA last week, Google detailed how two-thirds of all purchases, half of all transactions, and 80 percent of all digital content consumed will occur on mobile devices by 2015. And while 5 billion people will be on the web by 2020, there will be 10 billion mobile subscribers. It's no secret that Google is betting heavily on mobile advertising, giving away its Android OS in hopes of reaping advertising revenue. The acquisition of AdMob was just the beginning of what will be Google's next big thing. And with $130 billion of localized media spend as the prize, all of these companies are trying to figure out how to capitalize on the location-based experience.
One thing Google and Apple now understand is that the Web is becoming connected to the physical world -- and the mobile device is the catalyst for this transformation. The architecture of the Web, however, is by nature without physical boundaries, so a massive redesign effort is required to deal with the complexity of incorporating real-time location data and content and marrying it with real-world behavior. The context of this week's announcement is that Google, Apple and "Nok-Y-Mic" are building their own stacks of services required to enable the digital connection to the physical world, and more importantly, to monetize on the mobile device with location-based advertising all the way through to payments. Think of this as the mobile cousin of the fixed Internet's robust existing digital advertising ecosystem.
Below is a chart comparing the components of this new technology by these three competing ecosystems to tap into advertising dollars, and how each company measures up: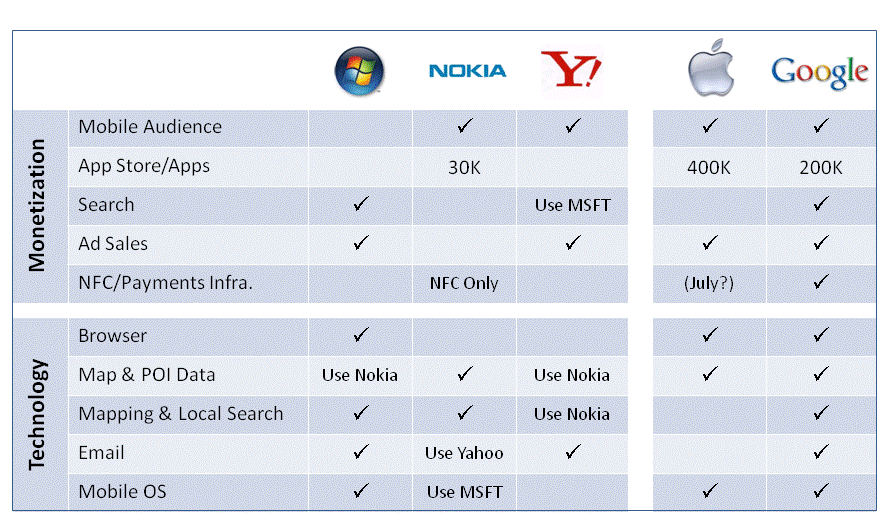 What many pundits have not highlighted is the extent to which Microsoft, Nokia and Yahoo have already been working together, and their complementary capabilities when stacked up against the two dominant ecosystems of Google and Apple.
In the Bing deal, Yahoo shed its search technology, and Microsoft got access to a substantial amount of inventory. Yahoo and Nokia have had deals in place for map and POI data, in exchange for mail and chat functionality. Also of note, Yahoo actually has a sizeable mobile audience -- having negotiated on-deck relationships with carriers worldwide. And in addition to this new deal for an OS, Microsoft and Nokia have had deals for map data and imagery (Microsoft has worked closely in this area with NAVTEQ, owned by Nokia). Microsoft now gets access to an enormous potential mobile audience with Nokia, and has the means to monetize it in a way that Nokia never could.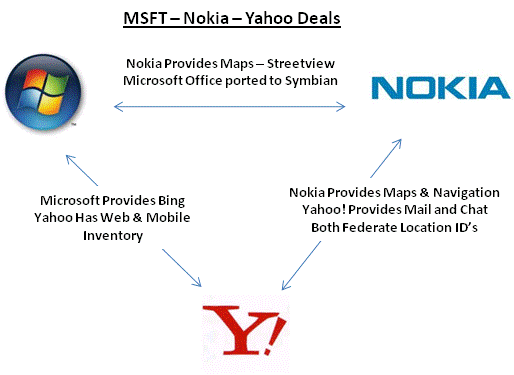 In the face of both the Google and Apple juggernauts, this ménage à trois makes complete sense. In Nokia, we see:
• A handset manufacturer that continues to sell more devices than Android and Apple
• A global brand that's dominant outside the U.S.
• Carrier plus retail distribution outside the US
• A potential mobile audience to be monetized with advertising.
Microsoft is the only standalone player who can credibly say that they have a similar set of services to Apple and Google, but it's lacking the distribution necessary to monetize its search, advertising and mobile operating system technologies. With Yahoo in the mix, there is a reliable web veteran with:
• A massive audience
• Direct deals for mobile search on over 70 mobile operator decks
• One of the largest digital ad sales forces in the world
• Leadership in China via Ali Baba investment and solid brand equity in Japan
So what's missing? Mobile payments. Expect to see investment in this area -- building upon Nokia's NFC hardware and reliance on Nokia's Obopay investment for emerging market payments. Together these three companies form a credible third player, with a lot of hard work ahead of them to mold these pieces into a vibrant ecosystem. The good news is both Microsoft and Nokia have built developer ecosystems in the past.
This deal also spells continued trouble for other pure handset manufacturers who desperately need a strategy for playing into this new mobile ecosystem. While shaving pennies off a bill-of-materials for commodity hardware may be feasible in the short term, it is not a long-term winning growth strategy (something Nokia has now finally realized). And the Microsoft-Nokia deal actually stands to steal substantial share from BlackBerry in particular, as enterprises already running Microsoft look for new tools for their workforce in the smartphone world.
What Nok-Y-Mic could mean for key players and the ecosystem on the whole promises to be an interesting story, and mobile advertising, payments, and location-based services could take an exciting turn in the not-so-distant future.

SUBSCRIBE TO & FOLLOW THE MORNING EMAIL
Start your workday the right way with the news that matters most. Learn more