The main purpose of architecture is to serve human needs. Professionally-trained architects are encouraged to practice in a people-centered way. Works of architecture celebrate the spirit of individual place and ground human identity. Physical results are obvious. Yet, there are additional benefits. Apparently, architecture can order your inner world!
I think of architecture as a conduit permitting natural flow of my life toward harmony. By applying design principles to the practice of internal attunement, I ground my perception and enhance my experience. By harnessing the same techniques professionals use to conceive a structure, I emerge as a budding architect of my own accomplishments, ready to encounter obstacles with constructive mindset and able to envision that award-winning blueprint of my own life worth living!
As an architect and creativity coach I have been my own client for almost twenty years. It has been extremely gratifying, enabling me to take the time to experiment, and to correct mistakes while considering every tiny, yet significant detail! And now, I am on a mission to share my expertise! "The Architect-in-You" training is based on a firm belief that anyone who is willing to pay close attention can be actively engaged as an architect of their own life.
My claim has nothing to do with shape, size or a choice of fenestration. I am not concerned with sculpting lofty volumes, following zoning regulations or fulfilling accessibility requirements. I am talking about an intellectual effort, the kind of logic that is behind a great piece of architecture, and conversely, can be behind your daily experience.
To substantiate my argument, I've listed 10 attributes that you and a proverbial architect are likely to have in common:
• Avidity: doing a thorough job
• Dexterity: ensuring functionality
• Determination: making choices
• Empathy: enhancing quality of experience
• Imagination: visualizing what does not exist yet
• Incisiveness: describing ideas
• Insight: going back and forth from an over-all concept to small detail
• Objectivity: integrating context
• Resourcefulness: accommodating requirements
• Vision: seeing it through from conception to fruition.
"The Architect-in-You" training gives you architecture-inspired strategies to:
• address inner and outer obstacles
• turn the desire to do something into getting it done
• make quicker decisions
"The Architect-in-You" training offers a set of innovative mind tools you will find instrumental in erecting a framework to filter awareness while cultivating new ways of addressing existential provocations. Here is an example that fits with the topic of "Constraints as Possibilities:"
A tragedy that happened in your youth did not end the world. It's time to take charge. Your son is your opportunity to make something visible that, without you, might not be seen. You can't waste this chance.
You study how Michelangelo adjusts his design to address insurmountable pre-existing conditions on the site of Capitoline Hill (Campidoglio) in Rome. The two buildings that he inherits, the Palazzo Senatorio and the Palazzo dei Conservatori are not set at an expected ninety-degree angle to one another. Retaining both of them in the design means having to come up with a solution that addresses the awkward angle these buildings create. The irregularity becomes a catalyst that leads Michelangelo to use a trapezoidal plan which influences other features of his scheme. He masterfully transforms his potential disadvantage into a purposeful ally.
Similarly, you need to hone and perfect your skills while addressing insurmountable pre-existing conditions of your life. Mental imagery as a form of practice guides you to a shift in thinking.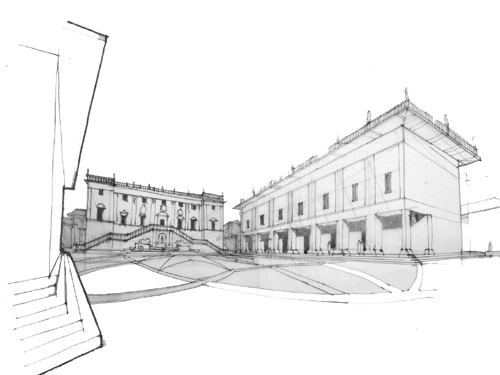 "The Architect-in-You" Workshops will help you realize how accessible and helpful design concepts are:
Week 1. Constraints as Possibilities
Week 2. Empathy
Week 3. Telling the Truth
Week 4. Creating a Sense of Order
Week 5. Accepting Things as They Are
Cost: $100
Pre-requisites: None
Time commitment: Typically a minimum of 2 hours a week
Enrollment: http://live-by-design.net/workshops.html
The training is email-based and fits any schedule. We will work together in an affinity group setting, posting lesson and responses, asking questions, and learning from the feedback of one another.