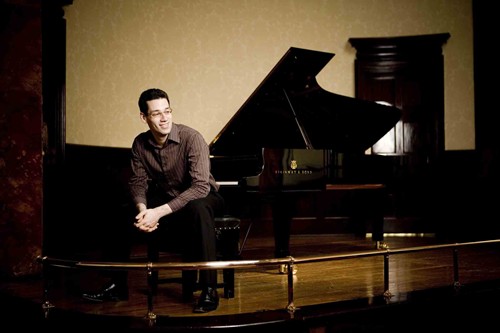 Photograph of Jonathan Biss by Benjamin Ealovega
I can report that Jonathan Biss's Carnegie Hall recital on January 21 won high marks on the CRIS. The CRIS, an unofficial rating system, is the Concert Respiratory Interference Standard. It recognizes the all-too-common experience that lovers of live music have when they take their seats, start shedding daily existence to focus on music and - what's that? Snoring? Or someone has a bad cold.
In and out, the slow wheezing went the other night, like a file grating on a stick of wood. Then, the existential dilemma--should I fight or accept it? Sometimes, fearing a performer can't beat the CRIS threshold, I pivot and shush.
This time, I got swept up in what Biss was doing at the piano. I forgot my neighbor's nasal disability by the second or third measure of Janacek's Sonata I.X.1905. With the programmatic title "From the Street," it has two tragic halves, like turning a page, "Presentiment" and "Death." The sonata is one of the few major piano pieces by a composer who worked from a strong dramatic sensibility he often applied to operatic stories ("Jenufa," "From the House of the Dead") of life and death.
The inspiration here was vividly political. The piece commemorates the death of a Czech demonstrator against Austro-Hungarian domination in 1905. It was new to me. Its simple grace, the poetic lightness with which Biss played, ran in startling contradiction to the gravity I expected. It was like watching someone bend and gently turn over a single leaf in the middle of a storm.
I'm surprised, looking back, how easily my mind leaped free of the rumble behind me. I turned a few times, but never figured out who it was. In the middle of Bernard Rands' "Three Pieces for Piano," I decided Rand had watched a lot of silent films and distilled for this piece all he'd learned from the piano accompaniments to chases, romantic interludes and searching transitions on the screen. The composer sat a few rows ahead of me. When I saw he looks a bit like the older Charlie Chaplin-- a trim mat of white hair, a good-natured oval face, an open possibility in it for all kinds of fun and seriousness--I became more convinced. At intermission, I overheard a listener complain about an emotional colorlessness despite the piece's exciting surface. That was a half-baked first impression, I thought. Rand writes here with clarity, if not purity, as a guiding ideal, and I admired him for it. Biss, who commissioned the piece, found a lot of color in it.
In fact, certain eruptive, driving rhythmic passages, almost hypnotic flurries of notes, recalled the dynamism of Alberto Ginastera's music--of which I'm a big fan.
From one piece to another, Biss faced down a problem that bedevils many fine musicians when it comes to virtuosity--how to employ technical power without crowding out the humanity in the music. Obviously, phrasing is phrasing, whether music is fast or slow. One has to know how to make it live and breathe in all circumstances. What struck me is how much gypsy passion Biss brought to the propulsive momentum (Biss uses the word "relentless" in program notes he wrote) in the two allegros of Beethoven's No. 23 ("Appassionata").
He played them with both sensitive precision and élan. Still, there was some unhappiness. I've been listening to Maurizio Pollini's version of this sonata lately. He achieves something extra-special with the middle movement, the andante, a passionate control that doesn't hurry but pushes its way forward. In theater terms, you'd say he's totally in the moment--yes, Brando-like--yet always conveys a sturdy emotional whole. Well, it knocks me out every time.
I found Biss's playing here too quick, too crisp, even a touch cavalier.
I first met Biss's playing one night on the radio, driving in Los Angeles. It was Beethoven's Emperor Concerto, a program of Leon Fleisher's star students. It's a piece on which I really overdosed years ago. I usually switch stations if it comes on. But something got me. It was the quality of feeling: An true American Schnabel in the making, I thought, a genuine inheritor of the well-known Schnabel-Fleisher connection. That was about five years ago, and I can only guess why that dynamic went AWOL in the andante on Friday. I sensed an insistence on clarity, possibly an alternative to the Viennese stereotype of dwelling in emotion, as embodied by that great descriptive word: Schwaermerisch.
This playing wasn't schwaermerisch. Pollini's wasn't, either. It had a lot of depth and feeling that Biss shouldn't emulate, necessarily. But I don't believe he's found his own equivalent. Maybe it's youth. He's still just 30. Pollini turns 70 next January. The Billy Holiday model doesn't get applied to classical music as readily as it does to jazz--that one must live it to play it. Still, I'm sure Biss will eventually get a better grip on the essential courage, dignity and feeling in spite of everything that kicks us around in life that Beethoven seems to talk about in this movement.
After the intermission, the Schumann (Fantasy in C Major, Op. 17), with its countless quick and subtle shifts of mood, was terrific. Biss passed the CRIS to the extent that I wondered if I'd imagined the breathing that sounded like a punctured accordion. My wife assured me I hadn't. I was grateful my attention got free of the distraction. It's not a purely objective standard for a concert. But it's a good one.
SUBSCRIBE AND FOLLOW
Get top stories and blog posts emailed to me each day. Newsletters may offer personalized content or advertisements.
Learn more