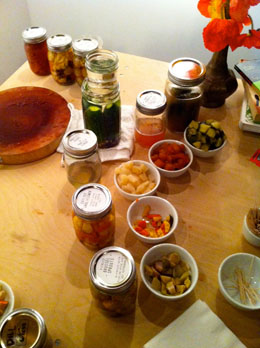 Moments before New York-based writer Elisa Albert began to read aloud from her novel, The Book of Dahlia, at Taylor De Cordoba Gallery on Monday night, the author scanned the packed room and said, "This does not reflect the L.A. of my childhood." When she finished reading, one of the evening's hosts, the writer Gabrielle Calvocoressi, announced with glee to the culture-hungry crowd of Angelenos in attendance that there is currently an artistic renaissance taking place in Los Angeles. If this is true, then Taylor De Cordoba director, Heather Taylor, and acclaimed poet Gabrielle Calvocoressi are at the forefront of the revival. The duo's recently launched art, literature and food event, "Eating Our Words," serves up a veritable trifecta of culture to the sprawling city.
On Monday night, the second installment of the bi-monthly Eating Our Words event took place at Heather Taylor's Culver City contemporary art space, which is currently exhibiting a solo show of new work by San Francisco-based artist and musician, Kyle Field. For the "eating" portion of the night, Jen Smith of Full Moon Pickles and Preserves gave a pickling demonstration and offered samples of her tasty goods, including sweet pickled pumpkin, pickled brussels sprouts and curried cauliflower. (Apologies to all in attendance for the rate at which I devoured samples of the brussels sprouts.) As it happens, the bittersweet samples paired well with the "words" portion of the event, in which Elisa Albert read a particularly biting selection from her novel about a jaded 29-year-old woman who has been diagnosed with brain cancer, and who digests the news in a darkly comical way.
For the next event in February, Eating Our Words will welcome Reza Aslan for an intimate evening of reading and conversation about his newest project, the anthology Tablet & Pen: Literary Landscapes from Modern Middle East. Earl's Gourmet Grub will supply the food, and the backdrop of art will be a selection of new photographs by Sasha Bezzubov.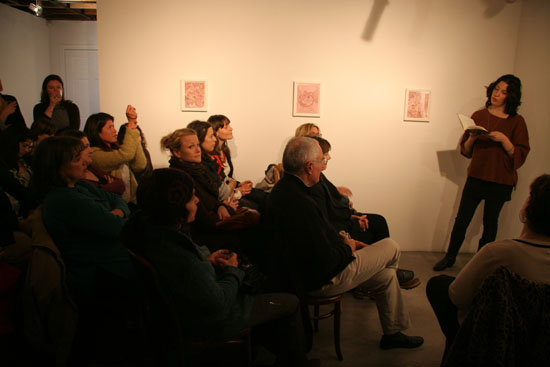 Images courtesy Taylor De Cordoba, Los Angeles
Allison K Gibson is a Southern California-based writer, contributing regularly to The Huffington Post, Daily Serving, Beautiful/Decay and Art Ltd. Learn more at allisongibson.com.