Getting into a fashion show at the tents at Bryant Park is not for the faint of heart. First you need to secure an invite, then a (preferably decent) seat assignment. Then you must brave the massive crowds corralled like well-heeled cattle in the lobby of the tents. Like a piece of performance art, the stanchions at the sacred entrances are reconfigured minute by minute in a delicate ballet by security guards who are former police and court officers; don't mess with New York's bravest and finest. Ultimately, of course, they let everyone with an invite in to the shows. But the real VIPs flit right past the hoi polloi to a large door at the back of the tents. They flash a special card, a knowing glance, a look of entitlement and gain access to the exclusive backstage lounges.

This is where the real action happens. It's like flying first class versus coach. Champagne flows like water and while double cheek kissing is de rigueur, eye contact is discouraged. Do you really think J.Lo waits in the lobby?
For VIPs, celebs and socialites, Mercedes-Benz, W Hotels and MAC Cosmetics all offer private lounges at Bryant Park featuring luxury perks, live feeds of the fashion shows, Wi-Fi, booze and amuse-bouches. (It is counter-intuitive to eat at the tents, but there is food everywhere, perhaps in jest).
The W Hotels lounge is a bright, white space that is as hip and modern as their hotels. Stars like Uma Thurman and Demi Moore stop by for Pop Burgers and Bliss Spa treatments.
On Saturday night, the full service bar was packed five deep with guests rocking out to Heatherette designer Richie Rich DJing in a raised booth with heiress-cum-model Lydia Hearst.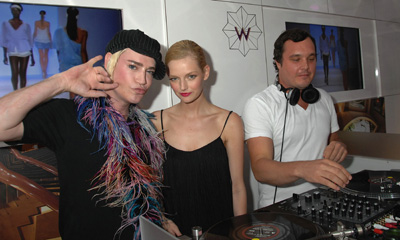 Guests mixed champagne with Pop Rocks until they were kicked out into the stormy night. One guest said that because it was raining, he was wearing thigh high rubber boots and a Prada belt. A Prada belt really does keep you dry.
The Mercedes-Benz lounge is much darker, outfitted in jewel and berry tones, upholstered walls and glass chandeliers. Catered with gourmet sandwiches and Kir Royales, guests like Maria Sharapova and Kate Mara come here to not eat before the Herve Leger show (food doesn't go with those dresses) and talk shop.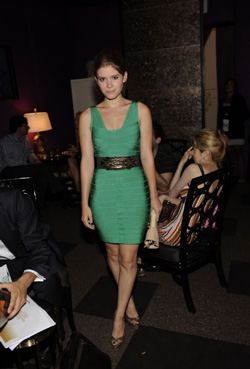 Kate Mara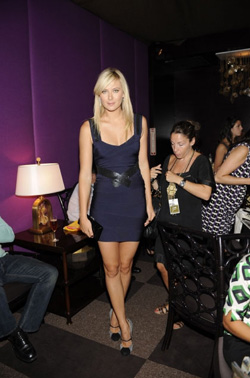 Maria Sharapova
With election season upon us, the theme this year of Fashion Week is "Vote Fashion" and Mercedes-Benz has created a charming series of limited edition politically inspired pins. With slogans such as "NYC is Fashion Country" and "Project Beltway," fashionistas are stopping by the lounge daily to pick up a new pin and clip it irreverently to their Birkin or Muse bags.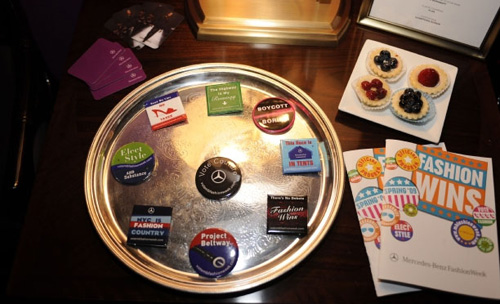 Though the MAC lounge is small in scale, it is large in style and glam. MAC Cosmetics is designing makeup for over eighty shows during the course of Fashion Week and they roll with over one hundred and seventy five artists. At any given time, one of their artists is tucked away in the lounge to provide expertise touch-ups and applications. Magically, they can transform any face in under five minutes. And no, this mascara does not make you look fat ...though the free Peroni beer might. It is also the destination for industry insiders to check out the latest make-up schemes for each collection and learn about new colors. Green is this year's blue which was last season's mauve. Obvi.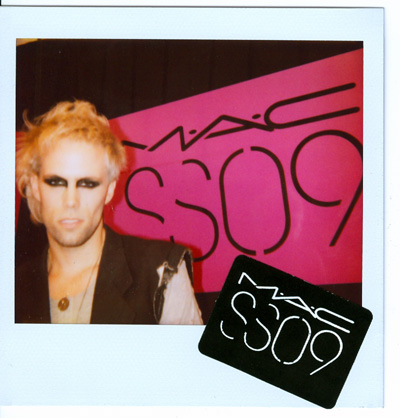 MAC, Mercedes-Benz and W are clearly chic lifestyle brands; they are natural partners for Fashion Week. Season after season, these lounges gain in popularity and become even more exclusive. They are the 770 Park, the Waverly Inn and the Vanity Fair Oscar Party equivalents. "If you can make it there, you can make it anywhere...."
I will be shocked when I saunter over to The New York Public Library (oh, that's what's on the other side of Bryant Park!) next week and find that my maroon Mercedes-Benz all-access, backstage pass does not get me into the private stacks at the library and that there is nothing on tap there. Someone get Steve Schwarzmann on the horn!!

SUBSCRIBE TO & FOLLOW LIFESTYLE
We're basically your best friend… with better taste. Learn more