Wolf Blitzer, CNN's lead political anchor and host of "The Situation Room" and "Late Edition with Wolf Blitzer," has become a familiar face in over 200 countries. True, he covers key events that shape the international political landscape, but I also wanted to know how he shapes his beard and, in the process, developed one of the most distinctive looks in television news.
How long have you had your beard?
When I was in college I started growing a beard because I hated shaving. It came in and I thought it looked cool - in those days it was strawberry blonde. Then I shaved it off and had it off for a few years. And then about 30 years ago, I was on vacation and started letting it grow. I trim it every 4 -5 days. I do it myself with a little beard trimmer with a safety gizmo that even I won't screw up.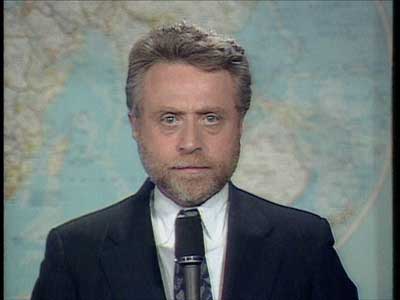 Has anyone ever said anything negative to you about your beard?
Some people did say some negative things, especially when it started to go grey: "Lose it!" "It's making you look old!" And I remember at one point -- I think it was the 1996 presidential convention in San Diego when I was the White House correspondent -- my beard was really beginning to change colors, and I saw the president of CNN, Tom Johnson. We were walking from one event to another and I said "Tom, I'm seriously thinking of shaving off my beard. What do you think?" And he looked at me as if I was crazy and he said, "Shaving off your beard? Are you crazy? I'm thinking of taking an insurance policy out on it!" He obviously saw that it had developed as part of my look and style, and our viewers had come to recognize it. It became part of my brand.
What are your other style signatures?
During the Iraq war in 2003, I was anchoring coverage in Kuwait City, where the American troops were based to launch the invasion, and I was on the air for weeks at a time. It was cold and the middle of the night and I had a jacket that became signature garment that people were commenting on - the collar was up, the collar was down. And earlier, when I was the senior White House correspondent in the 90's doing a lot of live shots on the North Lawn for CNN, I had a trench coat that people were always commenting on and asking about. For some reason, because I was on the air so much, people started asking questions about this standard trench coat. Some of them were sick of looking at it, some were asking, "Where did you get it?", "Was it warm enough?" These were the two basic fashion items that had some sort of resonance out there.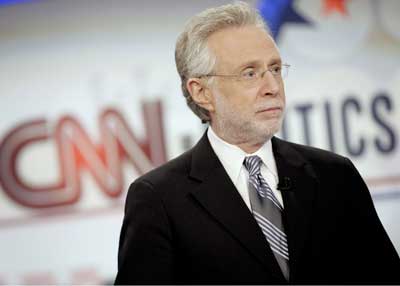 Why do you think they were so interested in your jackets?
Maybe they were bored with the subject I was talking about and just started paying attention to the outfit I was wearing -- I have no idea! People are interested in the clothes that reporters wear on TV. I get a lot of comments on my ties. I almost always wear a dark suit with blue or white shirt, and a distinctive tie.
How do you make your necktie purchasing decisions?
I have an excellent personal shopper: my wife Lynn. She is a professional shopper at Saks.
Does it surprise you that people are so interested in your clothes given the subjects that you cover?
It used to. After the first Gulf War back in 1991 and during the collapse of the Soviet Union at the end of '91, I was the Pentagon correspondent for CNN and I was doing major heavy duty stories of the 20th century and people would stop me at the supermarket and say, "You know, I really liked that tie you were wearing." They didn't say "That was brilliant reporting!" but they would talk to me about my tie. In the beginning I was flabbergasted, but over the years I have come to accept that is one element of how people react.
What do your clothes say about who you are professionally?
I try to let them say that I'm a serious professional journalist, and I take my wardrobe seriously. I want to make sure I look nice and my clothes are flattering to me; and I work hard to look good. I know that if you look bad on TV -- it's not a career-ender -- but it's certainly not going to help your career. I am not only representing myself, but I'm also representing my shows on CNN, and I'm representing CNN, so I just want to make sure that I don't embarrass the brand.
Do you think personal style is a professional asset?
Yes, I do. I always tell people: Make sure you look good, your hair looks good, your outfits look good. What you wear says something about you. And you want to look professional. Men should look responsible, professional, and decent. Women not too provocative or skimpy -- that probably won't help your career too much. But I always give everyone the same advice: be yourself. That was best advice I got when I went into TV: "Let Wolf be Wolf." You will be good at something if you believe in it and it's natural to you. Just don't take on some look or posture that is totally alien because you will probably collapse and fail in the process.
What are your other signature traits?
The emails I send are very polite and I always sign with "Thanks and Best Wishes." I'm not a terse emailer.
What advice do you have for young professionals creating their own personal brand identity?
Be yourself. Be comfortable with who you are. And know that you are not just representing yourself; you are representing the organization that hired you.
"What's My Logo?," a biweekly Q&A on the Huffington Post's Living section, will address the professional importance of personal style with prominent businesspeople, leaders and personalities. Come back Monday January 21st for the next installment.

SUBSCRIBE TO & FOLLOW LIFESTYLE
HuffPost Lifestyle is a daily newsletter that will make you happier and healthier — one email at a time. Learn more