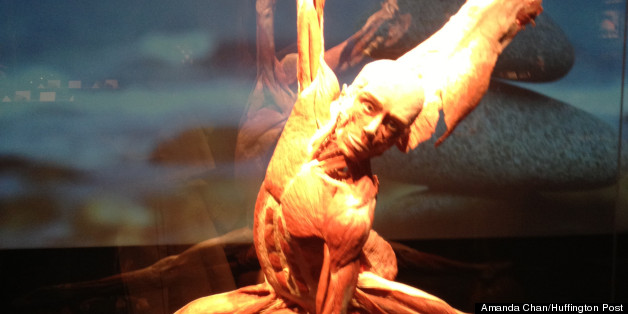 Do you know what the inside of an obese body looks like? Or lungs that have been blackened by years of cigarette smoking, or a heart that has developed scar tissue because of a heart attack?
Sometimes it's hard to understand what ills -- like high blood pressure, or obesity, or the effects of smoking -- look like beyond symptoms like shortness of breath, or wheezing, or a little extra chub around the belly. But I had the chance to check out the Body Worlds Pulse exhibit, which opens today at Discovery Times Square in New York City, which shows what exactly these conditions look like on the inside, and it's powerful.
"Although we're dealing with dead bodies, [the exhibit] is really teaching us about life," says Dr. Angelina Whalley, who developed the exhibition with her husband Gunther von Hagen. "My intention is to provide people with the necessary knowledge" to lead healthy lives.
Even though Body Worlds has been around for years, this latest iteration of the exhibit aims to show more the effects of city living on the body, instead of being solely a 3-D anatomy exhibit. It's meant to display the "human body as it shows its potential and its limits," Whalley, who is the director of the Institute for Plastination in Germany, tells me. "It shows the life choices we must make to stay healthy," and that we have to take responsibility for our own bodies.
There are many different sections of the exhibit, exploring the effects of smoking, diet, obesity and stress on the body. "The capability to respond to stress is meant to help us survive, but if it's turned on every day, then it's detrimental to the body," she says. She noted that a lot of the time, you can see the effects of stress on the body by looking at the individual organs -- the cardiovascular system, in particular.
She said the antidote to this stress is for people to find the right balance in their lives -- she used the musical term tempo giusto, meaning "the right time."
Click through the slideshow for some glimpses from inside the exhibit. Note: These are real human body parts!
For more by Amanda L. Chan, click here.
For more on personal health, click here.