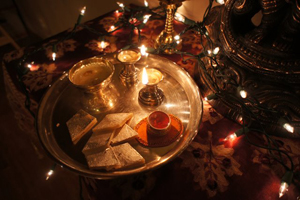 Today, nearly 1 billion Hindus worldwide celebrate what is arguably the most important Hindu festival of the year: Diwali. This celebration falls on the new moon in late October or early November each year, traditionally marking the harvest, the start of the new lunar year, and, in some interpretations, the triumph of good over evil. Hindus commonly observe Diwali, popularly known as the "festival of lights," by lighting diyas (oil lamps) and firecrackers, wearing new clothes, and sharing sweets with friends and family.
But for many gay, lesbian and bisexual (LGB) Hindus, Diwali can be a painful time of year. Although Hinduism does not overtly condemn gay or lesbian relationships, many conservative South Asian cultural traditions and interpretations of religious texts leave little room for them to exist. Thus, many LGB Hindus who come out to family members find themselves cast out or cut off from family support. In such cases, gay, lesbian and bisexual Hindus often struggle to simultaneously claim their spirituality, sexuality and community.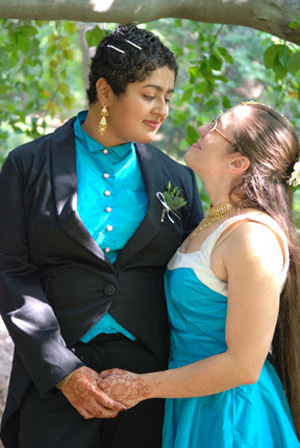 This was the case for Hema Sarang-Sieminski. She and her wife Alisha have been together for 13 years, and they just celebrated their first anniversary as a legally married couple in Massachusetts. They are successful professionals (Hema is an immigration attorney and Director of Community Engagement at The Network/La Red, a nonprofit dedicated to ending LGBT partner abuse; Alisha is a bioengineering professor at Olin College in Needham, Mass.) and share a happy home with their puppy and cat in Boston's Jamaica Plain neighborhood. Yet Hema's family is unsupportive of their relationship and has cut ties with the couple. Over the years, Hema and Alisha have observed Shabbat and Rosh Hashanah together (Alisha's family is Jewish), but not Hindu holidays.
This year, they will celebrate their first Diwali together by hosting a dinner for close friends -- their "chosen family." Hema explained, "So many traditions that I grew up with have felt very far away for a long time. But this year, we are going to light sparklers and diyas and cook up a storm. We're also going to do a puja [worship ceremony] the night before, in honor of the goddess Lakshmi. When I was growing up, we would do this every Diwali, and I was always told it was because Lakshmi is the goddess of monetary wealth. But now I'm reinterpreting her significance, and realizing she generally represents abundance, which is a theme I'd like to bring into the new year."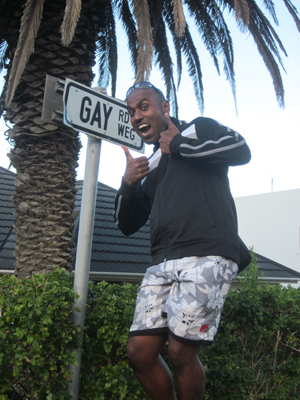 Raja Bhattar has a similar story of reclamation. He comes from a long line of Hindu priests, and, after emigrating to the U.S. at the age of 6 with his family, he grew up learning how to perform pujas in temples across the country. These days, he is the director of the LGBT Campus Resource Center at UCLA.
Raja last celebrated Diwali in India as a young child and remembers it as "a joyous time for family to put aside differences and celebrate community, love and kinship." Yet he felt pressured to choose between his ties to his spirituality and his sexuality, even at this young age. "All through my childhood I thought I could never be both Hindu and gay," he shared. "In my family we never talked about sex, let alone sexuality, and outside of my house, very few people knew anything about Hinduism, especially in queer communities. I was sure that I would have an internal battle and only one could win."
Raja's family does not understand his sexual orientation and still hopes that he will one day marry a woman. This lack of acceptance has led to distance between him and his family ever since he went away for college. At first, that also meant distancing himself from the Hindu rituals and traditions he was raised with. But his religious upbringing eventually led him back to his faith. "Growing up in a family of Hindu priests and being surrounded by scriptures and stories all my life, I started to realize that Hinduism is very open to all forms of sexuality and all other ideas of diversity," Raja explained. "As I continue to explore Hindu scriptures and philosophies, I understand more and more that my sexuality and my spirituality are intertwined and connected to the core of my being. If I am the same substance as the creator that has brought me into this life, then I am perfect the way I am and am meant to be the unique queer Hindu person I am today!"
Raja shared that he will celebrate Diwali for the first time in years this week, thanks to Satrang, an organization for LGBT South Asians in the Los Angeles area, which organized a joint celebration for Diwali and Eid (the Muslim festival marking the end of Ramadan). Today, Raja will also host a puja and potluck at his house for his "chosen family" of LGBT South Asians. He shared, "I finally feel like I can be all of me without feeling guilty or ashamed. I hope that someday, straight Hindus can see that queer Hindus also care about our traditions and celebrations, and deserve community acceptance."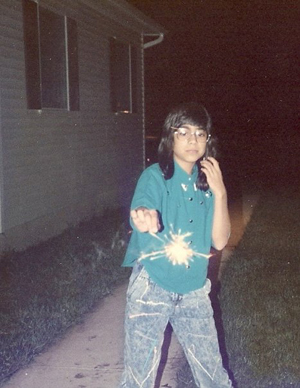 On a personal note, I also grew up in a Hindu family, and consider myself very lucky to have a mother, stepfather and naani (maternal grandmother) who love and accept me unconditionally. I have been out as queer to them for over a decade, and, though I'm not very religious, I do enjoy celebrating holidays with them whenever we can be together. I grew up in the U.S., with a mother who spent half her childhood in India and half in the U.S., and we've always celebrated Diwali with a low-key dinner together, sometimes a puja, and, when I was a kid, with sparklers.
In our family, Diwali marks both the beginning of the lunar year and the start of the holiday season (in true diasporic style, we celebrate Thanksgiving and Christmas, too). This year, my parents are in India for the Hindu new year, so I'm planning to attend a Diwali celebration at Occupy Wall Street that a few LGBT Hindu friends have organized, and then head home to light diyas and share sweets and hopes for the new year with my naani. I'll take the time to reflect on the year that has passed, set goals for the new year, and give thanks that I'm able to celebrate with both chosen and inherited family. (I'll indulge my sweet tooth, too -- the icing on the cake, or the syrup on the jalebi, if you prefer.)