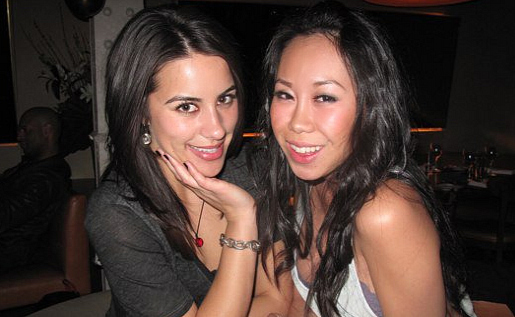 Stay:
A "home away from home" is the perfect way to describe the quaint, personable and comforting feel of the Lowell Hotel.
A complimentary drink awaited me upon arrival. I was enchanted by the classic, traditional décor of the spacious rooms, and a beautiful white marble bathroom and soaker tub. You can judge a hotel by the toiletries, I believe; the Bvlgari soaps and lotions were definitely a treat. Frette sheets and robes, fresh cut fruit compliments of the hotel, and each staff member addressing you by your name - luxury living at its finest.
The hotel is known for its charm, a quiet, hidden gem amongst the most high-end shops of the Upper East Side, and for it's subtle, understated vibe. A hotel of choice for many A-list celebrities and top-level business executives who want a hotel experience that is relaxing and peaceful. In fact, a very famous singer whose name I wont mention was checking in at the same time I was (ok, here's a hint, "Have I told you lately" are lyrics from one of his hit songs). Also, some other celebrity trivia: a certain famous British star made a Lowell suite his home for 3 months last year (hint: Bridget Jones).
The suites have private terraces that overlook the city, and real wood burning fireplaces. One of my top luxury hotel experiences and a definite recommendation for those who want to stay in the Upper East Side.
If you're looking for a location that's more central to downtown, my other New York favorite is the Tribeca Grand Hotel. The service, from the doorman to front desk to concierge, pushes the bar upward. The architecture of the rooms is unique and the quality of the hardware from the textured walls to the stainless steel bathroom countertops are high end. An ideal spot for events and parties, as the lounge has incredibly high ceilings with an open vibe. There is also a private theater room that can be used for events, and is often used for screenings during the Tribeca Film Festival.
Eat:
Thursday:
Ok, I confess, I gained a few pounds on this trip (ok, maybe more than a few). But how could I resist when there is such an abundance of fabulous restaurants! I tasted the best miso cod of my life at Nobu in Tribeca. The oysters are a must try, as well as the mochi balls for dessert.
Friday: Friday night I had dinner at
La Esquina
- a New York favorite where you enter in to what first looks like a sketchy fast food taco joint. The hostess brings you into the back and you walk downstairs, past the bustling kitchen into the main bar and lounge area. You feel like you've walked into another world completely, as you see the modern finishes of the room. You can't help but shivvy to the bumpin' music and of course, choose one of the various types of tequila offered on their impressive tequila menu. Your La Esquina experience is not complete unless you've tried their Cuban corn and short ribs.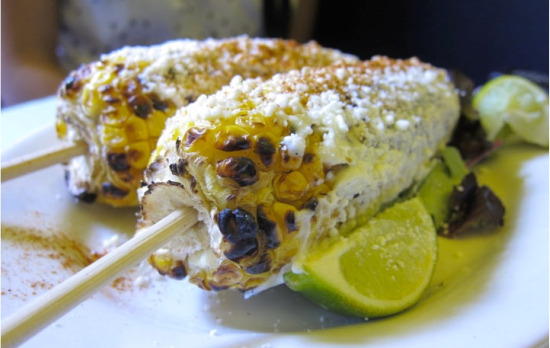 Cuban Corn - a must try in NYC
Saturday:
For brunch I went to the Soho hotspot, Balthazar. Beef Stroganoff is their signature dish and one I'd highly recommend. Saw my neighboring table order the profiteroles topped with melted chocolate and had to follow suit. Pleased to say, I don't regret a single calorie of it!
I am secretly a burger fanatic. For dinner, I tasted one of my top 10 burgers at PJ Clarkes in the Upper East Side. Melted cheddar, a tender, juicy patty with pickles and sautéed onions. Delicious!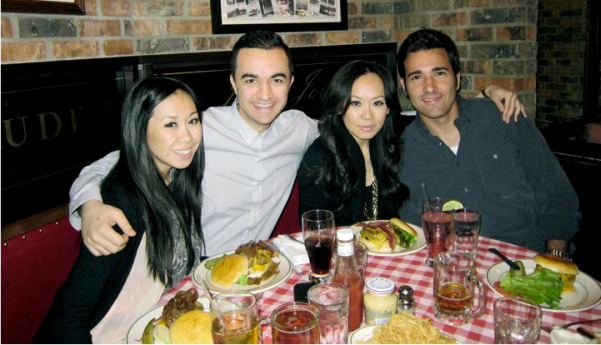 Dinner at PJ Clarkes with Arash of Blender Media and Alice of Freshtwig
Sunday:
Had to try Chef Daniel Boulud's latest restaurant, DBGB. They have a full page on their menu with various types of sausages and you can pair your choice with a liter of beer. Intense. Thought the food was just average, but the room and space was outstanding. Very open space and buzzing with high energy.
The final few pounds of my weight gained can be blamed on the filet mignon I've feasted on. One stop was at
Quality Meats
- a classic steakhouse in the Upper Westside. Note: in New York, having your steak cooked "medium" is equal to "medium-rare" in Canada. Anyhow, a delicious meal and if you're a steak eater, Quality Meats should be on your list of places to try.
After dinner spots: Bar and Books Cigar bar - The staff are all dressed in late 50's apparel, red lips, pearls, hair coiffed. The back couch area has rows and rows of old books. Smoked cigars while the gentlemen sipped scotch to go with their Montecristos and talked the night away at this quaint little cigar bar.
Milk and Honey A "speakeasy" sort of joint - getting a reservation at Milk and Honey is not per your standard fare. You have to have access to a special number to text message, and no, the number on the website is not the right one. The outside of the small bar looks like a hole in the wall, but once you walk in, you are seated in a small, dark bar where there is no menu and only one bartender, or "alcohol chemist" as some refer to him. You tell the waiter what sort of taste you like, and a customized concoction is created just for you. My drink consisted of a mix of elder flower and grapefruit, while my friend asked for "a drink you'd make to impress your girlfriend's dad." Lo and behold, a gentlemen's drink was created for him which met his expectations perfectly.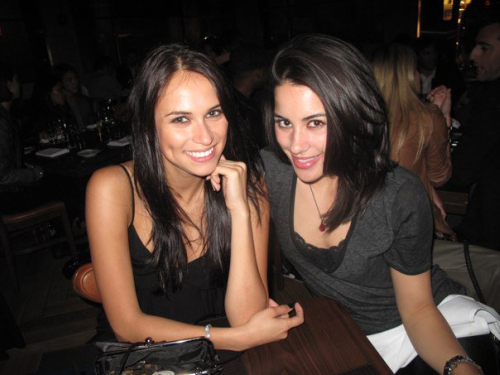 Asha Leo (Ford Models) and Devon Brooks, Co-Founder of Blo Blow Dry Bar at Abe and Arthurs
Well, my New York trip was pretty low key and I thought it appropriate to have one New York night out. Met up with my friends at Abe and Arthurs in the Meatpacking district. Had a late dinner of seared scallops with foie gras, truffle oil fries and corn mixed with eggs and creams. For dessert I had the most fun and interesting donut dish - where round sugar donut holes are brought out on a rack with caramel and strawberry sauce injectors. You puncture a hole in the donut and squeeze the caramel sauce inside. Think of three girls giggling and screaming with glee like kids in a candy shop. Yep, that was us.
Made our way downstairs to the lounge/club called SM lounge. Small and intimate, upbeat music ranging from MGMT to Stevie Wonder mixes, and of course, with your typical "suits" and "models" sort of crowd. It was a fun evening nevertheless, but I was happy to jump into my cozy Frette robe and into my comfy bed back at the Tribeca Grand.

Amy Chan is an avid traveler, food fanatic and Director of Marketing at Kiwi Collection, the world's largest curator of the best hotels. To read more blogs, visit www.amyfabulous.com
SUBSCRIBE TO & FOLLOW LIFESTYLE
HuffPost Lifestyle is a daily newsletter that will make you happier and healthier — one email at a time. Learn more