This Los Angeles dinner started in a limo. This is not my usual transport when dining with my Ethiopian colleague Boge Gebre. But tonight I was introducing friends from different worlds. Our Los Angeles hosts generously provided the transportation. The car's black velvet interior with blinking lights on the ceiling gave a surreal setting to our conversation about stopping the unbearable practice of female genital mutilation (FGM).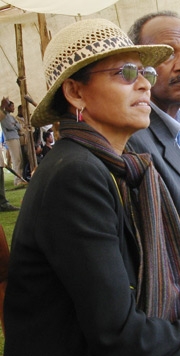 Boge is a modern hero. As a successful catalyst for change she (through her NGO, the Kembatta Women's Self Help Center) has virtually wiped out the practice of FGM in several districts in Southern Ethiopia. A decade ago she returned to her country with one burning goal, "to stop even one girl from being cut!" I asked her how many girls have been spared and she grabbed my hands beaming, paused, and said with great satisfaction, "I don't know the exact number but in 7 of the 8 districts where we work, there is no mutilation of any girl!" Many thousands I told our hosts! In 2006 I was at one of her rallies where some 15,000 people -- from several villages -- came together to celebrate the end of the practice. I've never seen anything like it!
FGM is not the easiest subject to discuss but our hosts remained steadfast listeners. Boge's earnest appeal for improving the life of women and girls in her country brightened the dark interior of the limo where it was all too easy to imagine the razor blades and crude make-shift knives that mutilate girls too young to understand or consent because of a centuries old ritual. A horrendous violation performed by women upon their daughters in the belief they are saving them.
Boge explained her biggest challenge decades earlier was to convince the first mother that her 'uncut' daughter would have a good life; she would be an acceptable wife, bear children and be healthy. That brave mother became one of Boge's best organizers and advocates. Her 'whole' daughter, some 20 years later, is happily married, has two children and is in law school. Boge's enthusiasm filled the car.
The NGO Boge established to do this work is Kembatta Women's Self-Help Center (KMG). They have succeeded in getting more girls into school, and improving health through prevention -- including HIV/AIDS and even building a mother and child hospital to halt the incredibly high rate of maternal and child disease and death. Her NGO's many public health projects have improved the health of all citizens and strengthened their communities.
Her new goal is to stop gender apartheid -- laws that discriminate against women, sanctioned attitudes that keep women from full participation in their communities. Boge implored us to see the connection. Women must have basic human rights and access to full participation in a society if progress is to be continued and sustained. Boge knows this is key to her country's growth and well being. I believe it is critical for our country as well. The United States, along with other western countries, has to finish the work of ensuring a woman's full and fair participation in society. The presidential race of Hillary Clinton was too often a painful reminder that aspects of gender apartheid are alive and well here. Negative attitudes about women are so deeply imbedded in our cultural psyches that so many blatant examples of sexism directed against Clinton were unquestioningly tolerated, especially by the media. Gender apartheid must get back on our political radars.
Those of us in the West could learn and be heartened by the stories of Boge Gebre. KMG and other NGOs are accomplishing what too many think is impossible; improving the quality of life in very poor villages by empowering women. After dramatically reducing FGM in her community, KMG moved to education, medical services, clean water, and livelihood opportunities. Boge and her ever expanding team of committed Ethiopians have advanced their villages by light years.
There are so many successes throughout the developing world that we don't hear about, that don't make it into our media. The continual focus on conflict, corruption and mega-misfortunes has created a lopsided view of so much of the world. As amazing as Boge Gebre is, she is not alone. There are thousands of women and men that have implemented successful initiatives to save and improve lives. There are heroes everywhere making a difference with very few resources and great personal sacrifice. Let's work harder to ensure their stories are told and understood. More of these heroes need to be part of the teams that inform and create poverty alleviation and other development strategies. As the world stands ready to welcome the United States back as a friend and leader in foreign assistance later this year, let's be sure we have the leadership that knows and supports champions like Boge and KMG! Please don't vote for anyone that doesn't. As for gender apartheid? We all have to work to become aware of it, to stop tolerating it in our daily life, on both the community and national levels. It is something that we all must work to abolish. We have a world to save and it'll take champions from all nations, all religions ..... And both genders.
SUBSCRIBE TO & FOLLOW LIFESTYLE
HuffPost Lifestyle is a daily newsletter that will make you happier and healthier — one email at a time. Learn more