From July 25 through July 30, anti-poverty advocacy group ONE joined 10 bloggers who made their way through Kenya to see what life is really like for moms in the developing world. While in Kenya, the 10 bloggers checked in regularly with accounts of what they're seeing and hearing, as well as daily actions tied to their trips and access to experts who can explain the key issues these women will see firsthand.
Doris is a tall, thin woman with sweet, smiling eyes and skin the color of dark, rich chocolate. When I meet her at the Siaya Clinical Research Center in western Kenya, she's sitting peacefully outside in a plastic deck chair cradling a baby whose thighs are dimpled and cheeks chubby. She's 27 years old, and she's HIV-positive.
But what about her child? Is her 3-month-old son, Joel, also positive? That's the first question that comes into my mind.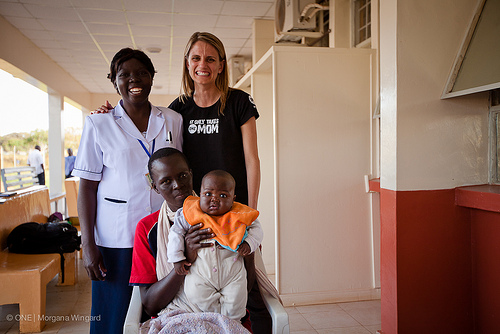 The answer is no, thanks to several studies aimed at fighting disease that are underway at this remarkable hospital situated in an area of the country where disease is especially prevalent. While the HIV rate throughout Kenya is 6 percent, it's 15 percent here in the Nyanza Province.
When Doris arrived at the clinic pregnant and HIV-positive, doctors entered her into a research program that allowed her to receive free medication, specifically ARVs, that decreases transmission of HIV from mother to child.
"It's a joy to see a baby come out negative from a positive mother," says Lilian Odhiambo, a nurse at Siaya. "Cases like this show that there's hope."
Before HIV positive mothers were given ARVs, the transmission rate was 25 to 40 percent. Now that rate is 1.8 percent.
This post was originally published on 11/08/2011 and is being re-featured for HuffPost Global Motherhood.
This isn't the only good news coming out of this research station that's collaboration between the U.S. Centers for Disease Control (CDC) and Kenya Medical Research Institute (KEMRI). Researchers have rolled out a malaria vaccine trial, passed out insecticide-treated nets, provided pregnant women with prenatal care, and last year they introduced the pneumococcal vaccine. These programs and studies are funded by PEPFAR, the Bill and Melinda Gates Foundation, and other organizations.
The most dramatic part of my visit occurred in the pediatric ward where babies and children infected with malaria lay lifeless like rag dolls on cots. When I saw a skinny boy sprawled across a mattress, with his frightened mother holding onto his hand, I broke into tears. His skinny legs and Bermuda shorts reminded me of my own son.
I rushed over to Martina Oneko, a pediatric neurologist working at the clinic, and asked, "Is that boy going to live?"
"Yes," she said with a smile. "We now have good medication for children with malaria. There's a malaria drug that costs only 40 shilling, and we can afford to give it to children. The previous drug cost 600 shilling."
Since 2008 the death rate for kids with malaria dropped from 10 to 4 percent.
Siaya is proof that programs aimed at fighting disease in Africa are effectively saving lives. Join the It Only Takes One Mom campaign to let U.S. lawmakers know that it's worth continuing to fund these programs.
SUBSCRIBE AND FOLLOW
Get top stories and blog posts emailed to me each day. Newsletters may offer personalized content or advertisements.
Learn more