I just returned from my 15th trip in a little more than two years to Martin County, Kentucky. Going to Martin County is a little like stepping back in time: It's beautiful Appalachian Mountains and a rural landscape, but the poverty in the area is staggering -- some local residents don't have electricity or plumbing; outhouses are often seen, as are many people sitting on their porches, watching the world go by. The Rockin' Appalachian Mom Project works in Martin County and focuses its efforts on making a difference through nutrition. RAMP is in Kentucky on average about every two months, working with the community, schools and food banks, checking on progress, meeting with community leaders, coordinating food deliveries for the needy, and in the past year, building gardens, which we like to call "planting seeds of change." This trip involved our corporate partners, Whole Foods Market mid-Atlantic management team, and Rockin' Water, and was extremely productive. We went down there to plant three new gardens at the local schools. Unfortunately, rainy weather hampered our efforts, but it didn't dampen the spirit of cooperation and the air of excitement of what these gardens will bring to the students -- fresh and healthy produce.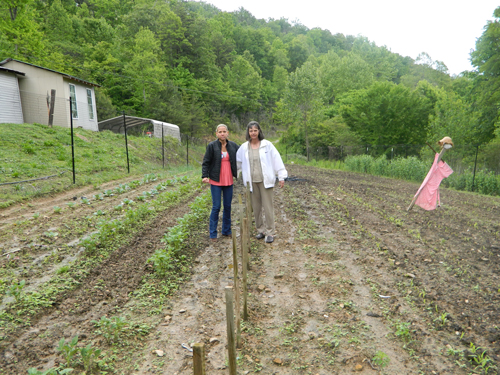 In addition to the three school gardens, the teams from RAMP, Rockin' Water and Whole Foods Market, also worked with a group of local residents at replanting a large community garden that we built last summer. The Homecoming Community Garden is located in the remote Calf Creek Hollow and serves 150+ families with fresh vegetables. The garden is in partnership with RAMP's support of the Homecoming Food Pantry, run by Elmer and Betty Harris, long-time Calf Creek residents. Elmer and Betty have been a part of RAMP's efforts in Martin County since day one. We met them after a grueling day of delivering food and Rockin' Water all throughout the mountainous area. Their pantry was the last stop on our list, and to get there, you have to drive up curving mountain roads, winding bends, and steep inclines with barely enough room to squeeze one car through, let alone a truck. On the top of a mountain is their little white church and food pantry perched on edge of the hill.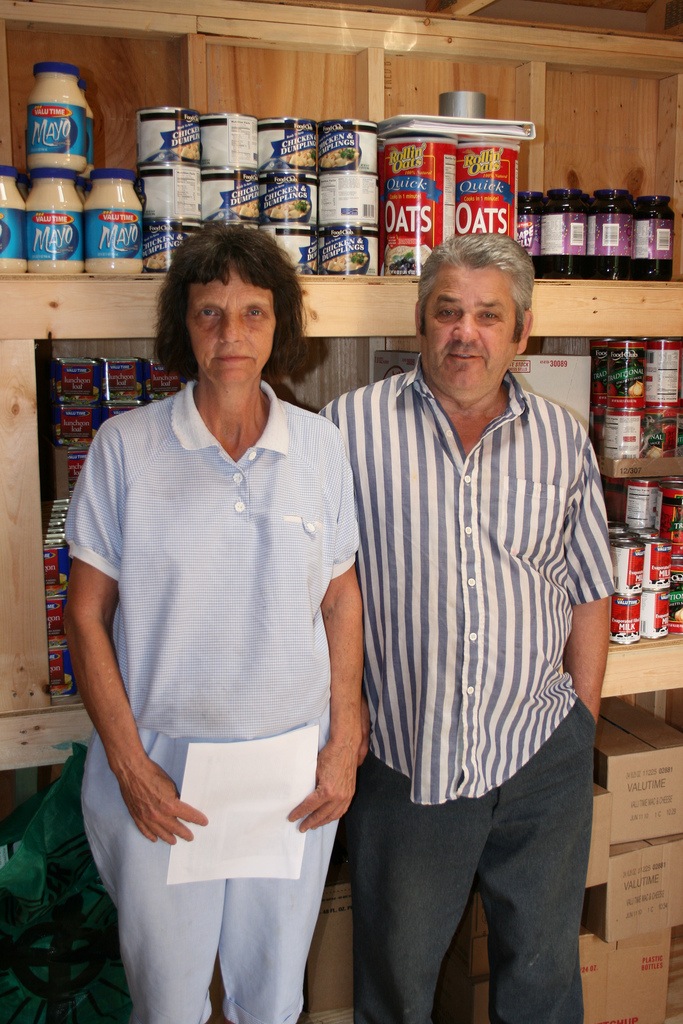 Elmer and Betty are two of the most inspiring people I've ever met. They are one of the biggest reasons why we created RAMP and continue to go down to Kentucky every couple months. Elmer is 64 years old and has suffered several small strokes in recent years, but his health issues haven't slowed him down. As pastor of the Homecoming Church he and his wife Betty, who is 60, see it as their mission in life to help those less fortunate. They have helped more than 500 people with food, clothing, medical supplies and support. Every person is accepted by Elmer and Betty with open arms. When we met them, they had been overwhelmed by requests from families for help. We showed up with a truckload of food and Rockin' Water, and Betty and Elmer called us "their little angels," and a name that has humorously stuck since that day -- "Amy's Angels." Betty told me that she had been praying for someone to come and help them, and then there we were, the Moms of RAMP, standing at their doorstep. But what Elmer and Betty may not realize is that they are this community's angels. Betty and Elmer are not wealthy, in fact, they struggle on a daily basis to support themselves, barely scraping by on $12,000 a year between them from retirement and Social Security benefits, but they have the biggest hearts. They will not turn anyone away and always seem to find a way to help someone, either through food, clothing or emotional support. On this most recent visit, Betty and Elmer had helpers at the garden ready to help with the planting. One of those families was the Hatfield Family -- Rick, 38, his wife Maggie, 32, and their daughters Kimberly, 14, and Santanna, 11. Rick is a fourth generation Hatfield from the infamous Hatfields and McCoys.
Rick and his family are a constant presence at the Homecoming Community Garden and Food Pantry. They toil for hours in the garden, helping Betty and Elmer grow food for the community. Rick is educated, articulate and caring. He has a degree in social work from Morehead State University and worked his way through college. After school, he was a substitute teacher for many years, but when the jobs became scarce, he took a job working for the Clark Grave Vault Company making caskets. Rick was laid off two years ago and has yet to find permanent work. His wife Maggie suffers from seizures and other medical issues and is unable to work and Rick helps care for her. Despite their struggles, Rick, Maggie, Kimberly and Santanna are at the Homecoming Community Garden several days a week, planting, weeding and harvesting the produce. They also help at the food pantry, stocking the shelves and delivering boxes of food to other needy families. The Hatfields have known Betty and Elmer Harris for 13 years. And, recently, they have needed a bit more than just Betty and Elmer's friendship -- they have also needed food from the food pantry, dinners prepared by the Harrises, and clothing and school supplies from donations directed through Betty and Elmer's charitable efforts. These two families and neighbors work together to make sure that they support each other. Betty and Elmer help Rick Hatfield and his family on a one-on-one level, and the Hatfields in turn help, Betty and Elmer feed and serve even more people in the community.
This kind of neighbor helping neighbor is inspirational to see. These two families are not related (although the original Hatfields had numerous children and are well represented in the area). But they do share a sense of cooperation, teamwork, and a common goal of helping each other.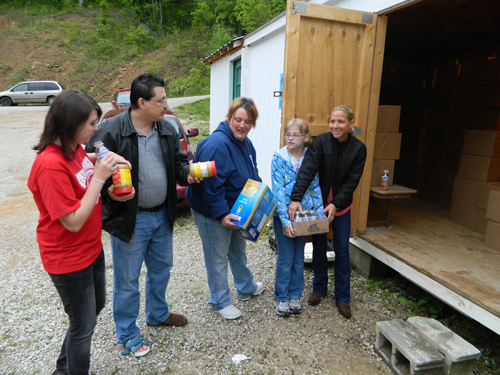 Part of RAMP's mission is to focus on working family-to-family and community-to-community. The Hatfields and the Harrises are just one example of community cooperation, and whether it's done on a local family-to-family level, or on a broader community-to-community level, neighbors helping neighbors is one of the foundations that makes us all stronger.
For more information on the Rockin' Appalachian Mom Project (RAMP) and its work in Martin County, Kentucky, visit http://www.rampamerica.org. For information on the partnership with RAMP and Rockin' Water, see http://www.rockinwater.com; information on Whole Foods Market's initiatives and partnerships can be found at http://www.wholefoods.com
SUBSCRIBE TO & FOLLOW TRUMP'S FIRST 100 DAYS
How will Donald Trump's first 100 days impact YOU? Subscribe, choose the community that you most identify with or want to learn more about and we'll send you the news that matters most once a week throughout Trump's first 100 days in office. Learn more