RULE: Invest in quality essentials with sustained fashion relevance. Day trade with throwaway trends. "Sure thing" pieces maintain their integrity over time and are a sound investment.
Super busy women don't have time to traffic in trends. They need power basics that can weather anything from the carpool lane to the cocktail party. With a flattering canvas at the ready, time-consuming guesswork and "dress stress" is eliminated from the morning mayhem. Your "uniform" will deliver a look that "works" each morning. So, when you get down to brass tacks, what do you really need? Just a few classic pieces that can be mixed and matched for most occasions. You're essentially creating a working fashion portfolio. Like a financial portfolio you start with the "blues" and build. Diversification and some trendy high risk, high reward items come after creating a hard core foundation. At first you go for pieces with steady guaranteed return. Your "uniform" should initially consist of flattering but fade into the woodwork pieces that can be mixed and matched; an arsenal of reliable tops, dresses and bottoms that can be transformed by simply adding and subtracting accent pieces. The "investing" rules: keep it simple. Keep it neutral. Keep it basic. This "uniform" of foolproof silhouettes delivers an effortless, uncomplicated style that defines "pulled together." Though it varies from woman to woman, the uniform is composed of versatile, dress- them- up, dress -them- down essentials that "work" for every occasion. Black should be the cornerstone of a woman's wardrobe. Why? It is the basic, basic. It is chic. It is seasonless. It can combined with any color or print. Above all, because it absorbs light, black hides imperfections and is far and away the most slimming color on the planet. As an additional dividend, it's another way to eliminate time consuming morning dressing guesswork.
Once you have the basics down, it's all about injecting them with personality (or, added value) through "layering" and "super-accessorizing". This is the secret to effortless style. How do you add zip to basics? Artists use paint to convey composition and texture. Women layer. Simply adding a jacket or knit to your "uniform" is a mega fashion portfolio dividend. Look for jackets and knits that liven up a muted palette. Colors and prints will add drama as will a contrasting texture. Layering coolifies basics and makes them POP! It also disguises the fact that you are rotating the same garments day in and day out. Then, the piece de resistance: statement jewelry. An eye catching bauble will inject your personality to a basic look. Statement jewelry does not have to cost an arm and a leg. In fact, costume jewelry often gives you the biggest bang for your buck. By rotating your power basics with layering pieces you will create dozens of looks from a handful of pieces - your fashion portfolio is paying you dividends.
THE POWER BASIC TOOLBOX: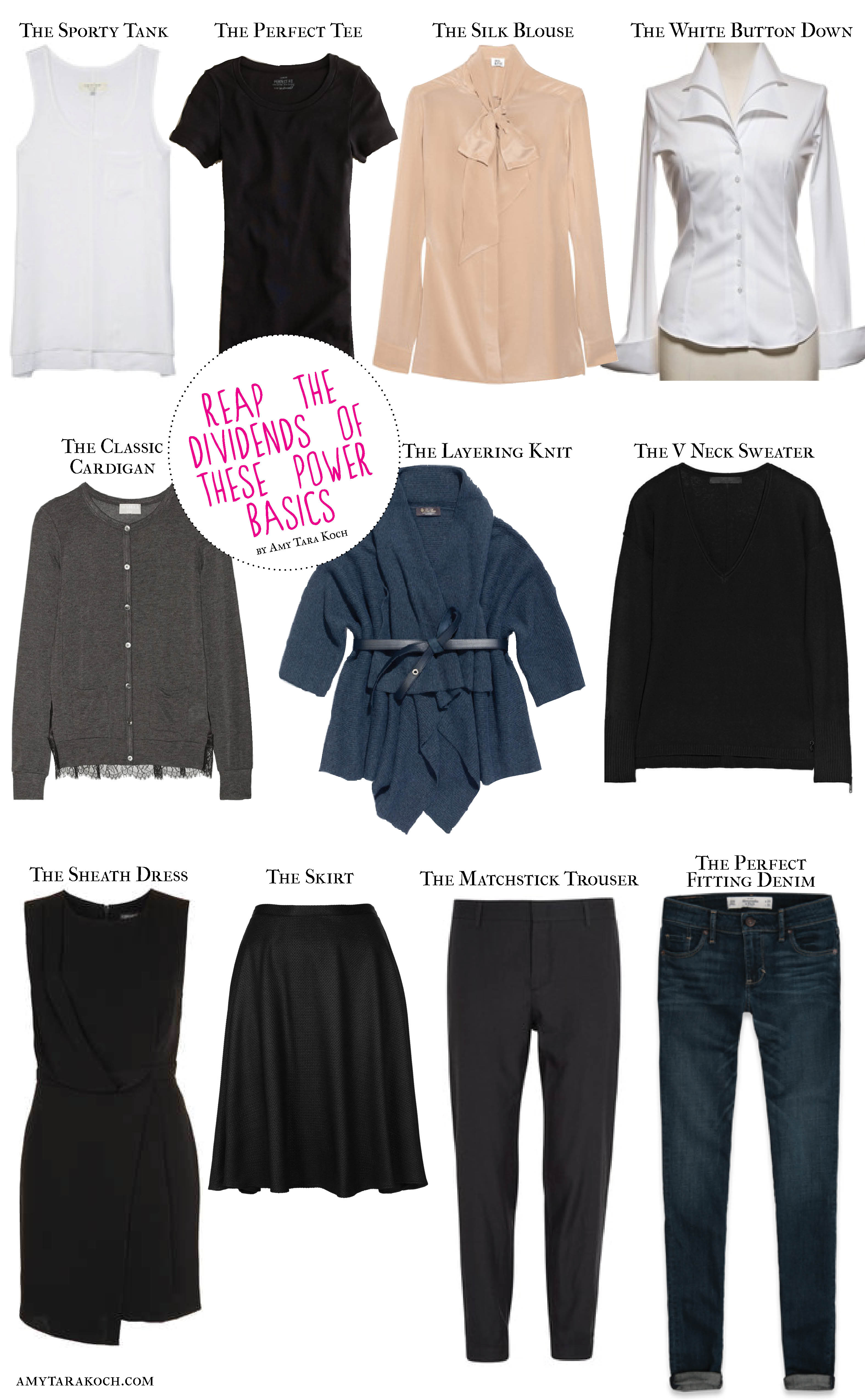 The sporty tank: Rag & bone pocket tee $95
The perfect tee: J.Crew perfect-fit tee $24.50
The silk blouse: Iris & Ink pussy bow silk crepe blouse $125
The white button down: Anne Fontaine christie shirt
The classic cardigan: CLU lace trimmed jersey cardigan $315
The layering knit: Loro Piana josephine baby cashmere cardigan $2,795
The v neck sweater: Karl Lagerfeld laudine wool-blend sweater $310
The sheath dress: Topshop sleeveless drape dress $80
The skirt: Topshop full calf skirt $72
The matchstick trouser: Vince side strapping trouser $265
The perfect fitting denim: Gap 1969 always skinny jeans $69.95
For more style tips and tricks visit Amy's Blog at amytarakoch.com and Instagram.