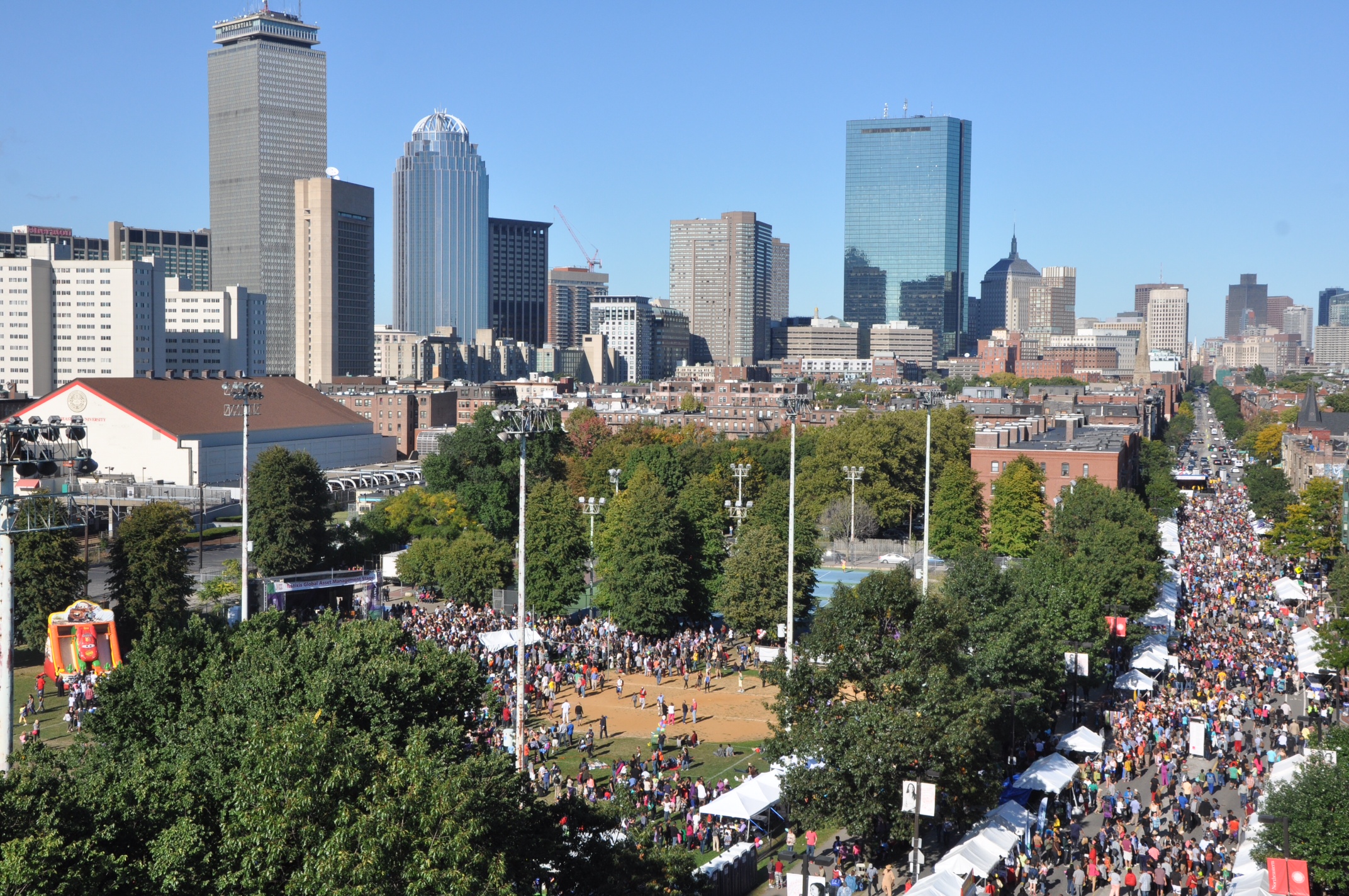 The Berklee BeanTown Jazz Festival -- Boston's biggest block party -- delighted over 65,000 music lovers on September 28th. Jazz, Latin, blues, and funky groove acts performed on three stages along Columbus Avenue.
Highlights included the critically acclaimed bassist Meshell Ndegeocello, Grammy Award-winner Will Calhoun and his Trio, Robin McKelle and the Flytones, and Grammy-nominated trumpeter Christian Scott. There were also many outstanding performances by Berklee faculty and students. In addition to world-class music, there were countless vendor booths offering foods and crafts from around the world. Whether it was teriyaki chicken, samosas, pizza, chicken fingers and fries, a cupcake, or anything else you could think of, you were able to get it.
Jazz: The Next Generation was the theme of this year's festival, essentially focusing on the next crop of creative musicians. "The next generation of creative musicians is quite strong, and having stood on the shoulders of their predecessors, are now hopefully prepared for unlimited boundaries," said Terri Lyne Carrington, Grammy Award-winner, Berklee professor, and Artist Director for the festival. Many young talents showed off their chops on the three stages, including the Berklee Global Jazz Ambassadors, the Berklee P-Funk Ensemble, and the Berklee City Music All-Stars Big Band.
I talked to a few of the students who had the opportunity to perform with their idols at the festival. Berklee student Abraham Rounds performed with Meshell Ndegeocello. "I grew up listening to her music so this was an amazing experience for me," said Rounds. "I was so thankful to work with such an amazing, influential, and humble singer-songwriter and bassist. We spent three days rehearsing. By the end, we had shared a bond that went beyond the music and gave it a family vibe. We worked together to produce music from our hearts and Meshell gave us the freedom to apply our own creative persona to the music."
Another student, Dejehan Hamilton, performed with Berklee professor Lawrence "Larry" Watson and the Workforce. "It was quite an amazing experience to play for so many people and with such incredible musicians," said Hamilton. "We had a lot of fun, especially when the audience interacted with us." Hamilton plays the steelpan, which is a hot commodity at Berklee. He brought a different flavor to the soul and gospel performance. Hamilton was also happy to be part of the headlining act on the Natixis Stage, finishing off the night with a bang.
As a Berklee student, I also have that passion for music and love attending festivals, especially free ones. I saw many Berklee students and faculty members roaming around the festival, and I also saw some familiar faces from Northeastern and Boston University as well as students with Boston College hoodies.
I caught up with a few area students for their thoughts on the festival. Berklee student James Malinowski said, "For me, the best part about the Beantown Jazz Fest was getting to see my teacher Matt Jenson lay down some awesome reggae grooves. I also got tons of free stuff, including an awesome blue lion tattoo."
Milan Beker, a freshman at Berklee, loved Christian Scott's performance. "I mainly came to see him perform. I also thought the band's drummer was absolutely amazing."
Berklee's neighbors at Northeastern University enjoyed the festival, too. "The BeanTown Jazz Festival was great! It was nice listening to jazz although it's not the type of music I normally listen to," explained Margaret Foley, a Music Industry major. "It was a really nice family atmosphere. Plus the food was amazing!"
Biology major Anthony Khairallah said, "I loved the diversity and how music brought everyone together at the festival."
The festival took Northeastern student Lucy Hastings by surprise. "I live on Columbus Avenue and looked out my window, where there many people enjoying themselves to the music. I went to see what was going on and had an awesome experience. I loved it!"
Not only were there students and faculty members from colleges around Boston celebrating the joy of music, there were families enjoying themselves at the Natixis Family Park, where there were activities including inflatables, face painting, and an instrument petting zoo. Festival sponsor Natixis Global Asset Management also awarded the Natixis-Berklee City Music Scholarship to Samuel Joseph, who received $5,000 to cover the expenses of attending Berklee's Five-Week Summer Performance Program.
If you missed this year's festival, join the crowd next year to celebrate music. In the meantime, check out Berklee's events calendar for upcoming events.