Across Israel this week, over two million children began their first day of school on Monday, facing the challenge of an uncertain year ahead.
For Leora Fima, principal of Madaim Alon Elementary School in Sderot, Israel, the school year began with the typical routine. Students from the first to the sixth grade arrived to school on time, with their new textbooks, only to begin the day with the Color Red rocket warning siren, followed by a rocket explosion.
"We started the morning with a Qassam attack and then proceeded on with the rest of the day," Fima told me. "No one was surprised by the Qassam rocket attacks on the city. The rockets are usually fired from Gaza around this time when the school year starts."
For a city which endured a decade of rocket attacks, followed by three years of overall quiet since Operation Cast Lead, Sderot has once again been subject to sporadic rocket attacks in the last few months. "We were very much prepared for the rocket attacks today because we are aware that the quiet is very fragile in this region. The western Negev is experiencing rocket attacks every day," said Fima. "We come to school not only ready to teach but prepared to deal with the impact that these rocket attacks have on the children."
"We have students who still suffer from PTSD (post traumatic stress disorder) following the years of rocket attacks, but the siren and explosion today triggered some emotional trauma in other students as well, especially among the younger students in the first and second grade," stressed Fima.
"The most frightening part of the day for us -- the school administration -- is when the children are going back home, traveling on the open road. At least in the school, we know that the kids are within 15 seconds of shelter. Outside, anything can happen when the kids are on the busses, waiting at the bus stop. Luckily, the Qassam rockets fired in the afternoon targeted the city, after the children had already got home."
In Jerusalem, the challenges for the new school year were of a slightly different sort.
At Hebrew University High School in Jerusalem, also known as Leyada, which is considered one of the most prestigious schools in Israel, the principal, Gilead Amir, spoke about a different kind of threat. "Each of the students received a handbook today with safety instructions about how to act in case of a potential emergency situation in a war -- something that could result by a conflict with Iran," said Amir.
"This is part of the reality in Israel -- we always have to be prepared for every war scenario despite how much we desire a 'normal' state."
"However, we will continue to function as best as we always do," Amir explained. "There are many social awareness projects and dialogue programs taking place in the school this year, as well interactive and project-based learning."
"I want students to be aware and interested in what's going in within Israeli society, and influence what is taking place. Despite what may happen with Iran, we hope for the best and will continue on with a normal school year as much as possible," concluded Amir.
For students studying in a special educational institute called Tzur Yisrael in Psagot, located in the Binyamin region of Israel, however, the biggest challenge is not Iran or Gaza rockets, but passing matriculation exams. The school, which enrolls students in eleventh and twelfth grade, is a last stop for teenagers who did not manage in traditional school frameworks. The school's principal, Boaz Kashi explained that the aim of the school is to get such students to pass their matriculation exams, which helps determine acceptance into elite military units, Israel's colleges and universities and getting hired for work.
"We established this framework to get students who otherwise may end up on the streets permanently and involved in drugs and alcohol, to redirect them and get them back on a productive track," said Kashi. "This has been our challenge for the past 12 years, since the school was established. No matter what kind of external threats Israel is facing, our challenge is to get these students to pass their exams and become responsible citizens of the country."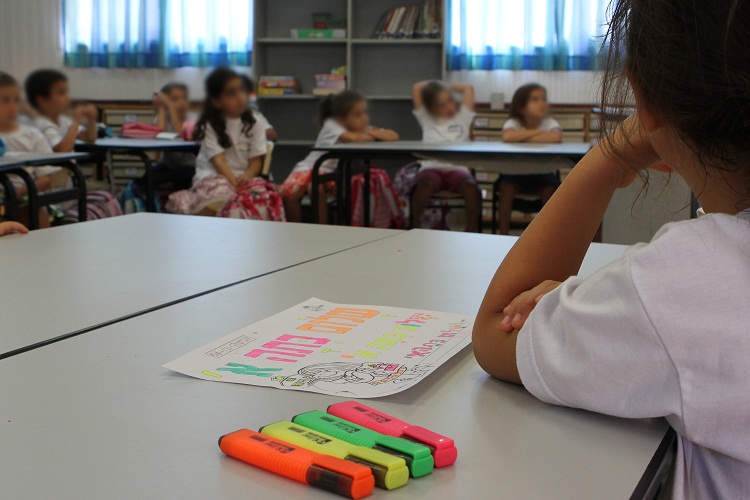 First day of school for children in Kfar Adumim, Israel, August 27, 2012. Photo Credit: Tazpit News Agency.
SUBSCRIBE AND FOLLOW
Get top stories and blog posts emailed to me each day. Newsletters may offer personalized content or advertisements.
Learn more