It is not too difficult to find a lawyer in Israel, but to actually become one is a long and arduous process.
On Thursday, December 13, the Israel Bar Association admitted 1,248 new lawyers in a formal graduation ceremony held at the International Conventions Center in Jerusalem. Israel now has 52,142 active lawyers, reports Israel's Calcalist, which makes it the country with the highest number of lawyers per capita in the world, according to Israel's Courts Administration.
In this year's ceremony, more women than men received their licenses to practice; 664 female lawyers (53 percent) in comparison to 584 male lawyers (47 percent).
"It is moving to have all of you prepared to practice law in our Jewish democratic state, during a time when we celebrate the different holidays of the season," said the Israeli Minister of Justice, Yaakov Neeman, to the proud graduates, after the chanukiah (menorah) was lit.
For Nardeen Bisharat, 24, of Nazareth, it was exciting to finally reach the day where she was certified to work as a practicing lawyer.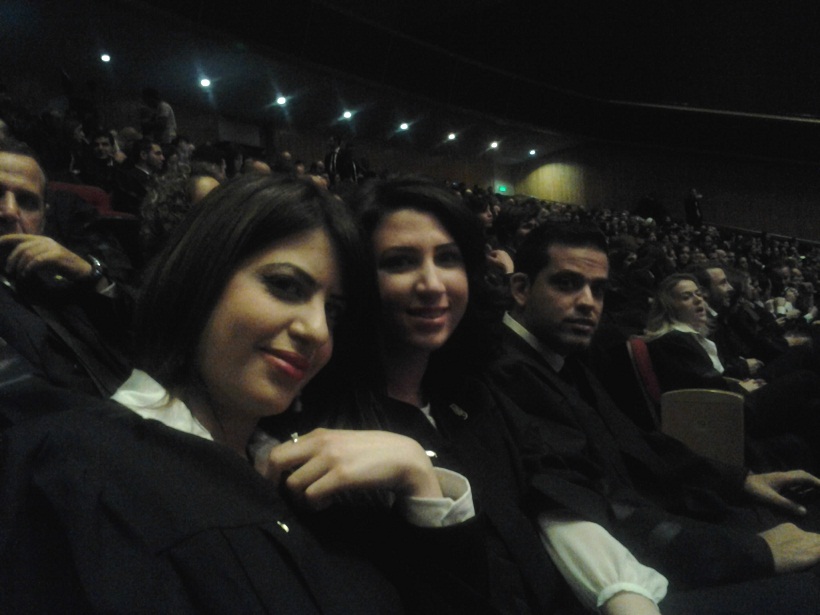 Photo: Tazpit News Agency / Description: Nardeen Bisharat receiving her legal certification from the Israel Bar Association last week.
"The studies were so difficult," Bisharat, who graduated from Tel Aviv University, told me. "But I wanted to be a lawyer since second grade. My father also works in the legal profession."
Bisharat, who graduated from St. Joseph Seminary (El Mutran), a Christian school in Nazareth, Israel for Muslim and Christian Arabs, says she's undecided about her future. "I may work in my father's law office in Nazareth, but I'm not sure yet."
"My father is very, very proud of me," Bisharat adds with a smile.
Reemon Silverman, 23, who moved to Israel from the United States right after high school five years ago, was also very excited to receive her license after spending two months intensively studying for the bar exam. "These past 4.5 years including the internship were challenging and the university classes were especially difficult because Hebrew isn't my native language."
"But because I want to practice law in Israel it was important for me to study law here," emphasized Silverman, a native of Maine.
"I feel that it's a special opportunity to practice law in Israel because it gives me the chance to contribute to the future of the Jewish people and state in a unique way."
"Being a lawyer was never my dream," she adds. "But in high school, I took a class on law and that triggered the possibility that someday law could be my career."
Silverman also had family from the U.S. attending her graduation. "It is so great to have my father here. It means the world to him to be able to see me become a lawyer in Israel."
In addition to the varied backgrounds of the new Israeli lawyers, there was also a wide range of ages among the licensed graduates, with the youngest graduating lawyer being 22, and the oldest, 66.
"You have significant work ahead of you," Neeman addressed the black-robed audience dressed in the traditional legal attire worn in court. "The most important thing to remember is to love your brothers and to always use open dialogue in your problem-solving. This is what makes the Israeli legal system so exceptional."