Around the same time Michael Weinstein, the C.E.O. of Ark Restaurants, was wading through the horrors of our health care system trying to help a friend pay for a critically needed surgery, he got a call from another friend, a Democrat in the House of Representatives looking for money for his campaign war chest. The House had just shot down the TARP bill.
Weinstein, a big Party donor, responded, "The whole country is going into catastrophe and this is what you're thinking about?" He didn't have time for this; his friend would die if she didn't receive surgery. "You have a good friend who needs an operation and can't get it," he told me over the phone from his Manhattan office. "And all they [the politicians] care about is staying in power."
With the terrifying Supreme Court ruling last week giving corporations free reign on the money they can lavish on candidates for public office, things are about to get worse. Instead of complaining about it, Weinstein and his good friend, design legend George Lois, often dubbed one of the original Mad Men, came up with a positive solution: acknowledge the businesses that are doing good.
This doesn't mean good by shareholders' narrow standards but a far more inclusive bottom line. Weinstein, the reportedly casual-dressing founder of Ark Restaurants, which oversee Bryant Park Grill in Manhattan and Bill Clinton's old hang out, Sequoia, in Georgetown as well as dozens of other hot-spots, wanted to acknowledge a company that's a shining light in the fog of greed choking our government at the moment.
"I don't understand why there's not a civil war going on right now," he says. Instead of complaining, Weinstein used the fact that he runs a Washington, DC institution--the Sequoia--to draw attention to a super star in town. Tuesday morning, as Ford's C.E.O. Alan Mulally gives the keynote address at the Washington Auto Show's Public Policy Days, he may notice a full page color ad in The Washington Post awarding him with the first, "Don't Give up the Ship!" Award, a George Lois creation.
"All my life I've done ads that are sincere," Lois told me by phone. "This one's visceral hot shit."
Weinstein says he's already picked out three other businesses to receive similar attention, to encourage C.E.O.s who have their heads on their shoulders.
Today's ad states, "As the only American automobile company to avoid bankruptcy and turn down a government bailout, Ford exemplifies the spirit of the award which honors an individual or corporation that exhibits ingenuity, tenacity, grace under pressure and the strength of character to persevere any and all odds to get the job done."
Ford is on a winning streak, having taken home top honors at the Detroit Auto Show and recently announcing that it will be creating a thousand jobs in Wayne, Michigan. As I recently reported, Ford will have four electric cars on the market by 2012 and has a team of all-women bio-engineers working towards building biodegradable car parts.
Ford's C.E.O. Alan Mulally has reached rock star status, earning his place in business school curriculum for unifying the company under his One Ford strategy and overseeing a $5.9 billion government loan to create more fuel efficient cars.
And if he wants a free meal for all his trouble, Weinstein said he is welcome if he gives the Sequoia a call.
The restaurant, Weinstein's jewel on the Potomac, was a Clinton hot spot in the nineties. On one regular visit to the Sequoia, the 42nd President dropped in on a wedding inside the massive restaurant, to congratulate the bride and groom. Maya Angelou celebrated becoming a poet laureate there and Barbara Streisand and Kevin Costner also partied at the Sequoia, named after the famous presidential yacht used by FDR through George Bush I. With the vacation-prone G. W. Bushes in office, who were also notorious homebodies, things got quieter in post 9/11 DC.
Though DC is enjoying a moment of vogue right now, Weinstein thinks it should get real. "There's disgust going on. I have a restaurant in DC, it's well known. I really wanted to say, hey, there are people doing the right thing."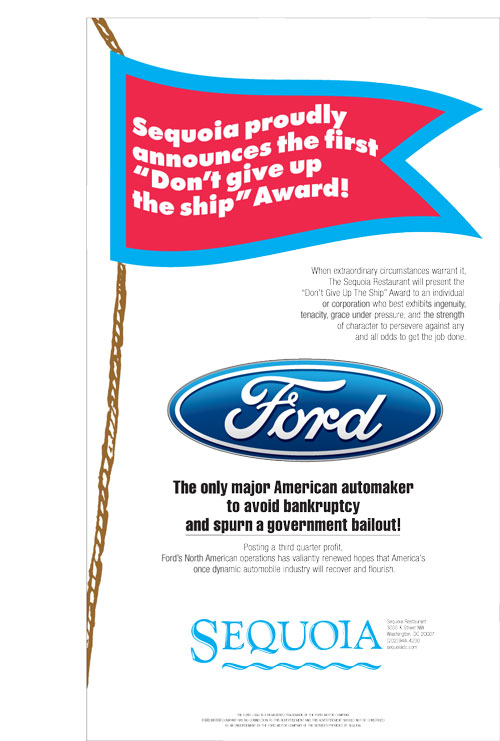 SUBSCRIBE TO & FOLLOW THE MORNING EMAIL
Start your workday the right way with the news that matters most. Learn more