I recently broke one of my travel rules -- don't go to NYC in the summer -- and, surprisingly, ended up having an amazing time and hardly thinking about the weather. The city was empty, which translated into sailing into Alain Ducasse's Benoit at dinner time and getting immediately seated -- and there were enough terrific exhibitions in air conditioned venues that, with a little bit of planning, I could walk everywhere, work up a sweat and an appetite, then cool off and get a culture (or culinary!) recharge.
I stayed at a brand new hotel on Madison and 77th, The Mark, which was created by legendary French designer Jacques Grange, and provides a much-needed shot of cool to the relatively staid neighborhood.
And, since The Mark is run by the ex-general manager of the famed Carlyle Hotel, which happens to be across the street, it's not a hipness that sacrifices anything in the way of service. Grange, whose high profile clientele includes the late Yves St. Laurent, Princess Caroline and Valentino, is all about drama (black and white striped marble floors in the lobby and bathrooms, cascading silk draperies) and convenience (huge walk in closets, refrigerated drawers rather than ugly old mini-bar fridges, towel warmers).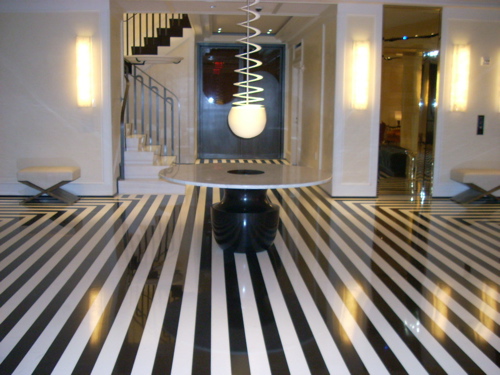 The lobby elements were designed by Grange's coterie of friends -- top modern designers like Ron Arad and Mattia Bonnetti.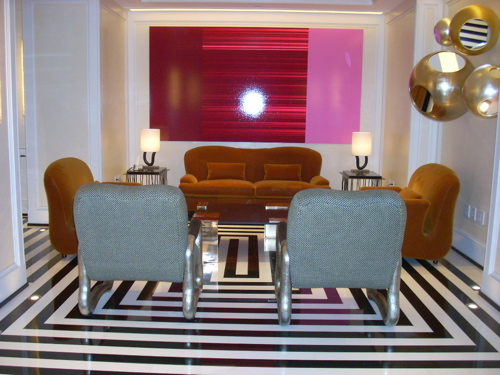 The hotel is truly dog-friendly. Coco, the peripatetic poodle was treated like Eloise at The Plaza, oohed and aahed over as he sashayed back and forth between the hotel and Central Park just down the block.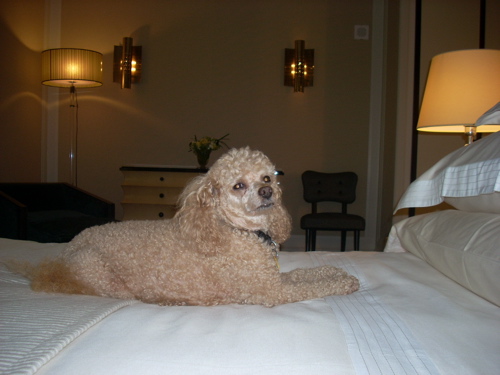 The Mark also features residential suites for sale and will have a Jean-Georges Vongerichten restaurant off the lobby that will also provide room service. Lucky guests! During this "soft" opening, rates have been cut at least 30 percent.
I saw three must-see exhibitions: a Richard Avedon retrospective spanning six decades of his incomparable fashion photographs at the International Center of Photography; the Isabel Toledo retrospective at the Museum at the Fashion Institute of Technology, where you can check out Michelle Obama's chartreuse lace inauguration dress and John Lennon: The NYC Years, curated by Yoko Ono with lots of personal video footage, at the Rock n' Roll Hall of Fame Annex. The Avedon show ends on 9/21 and the Toledo exhibition on 9/26; the Lennon show is open ended.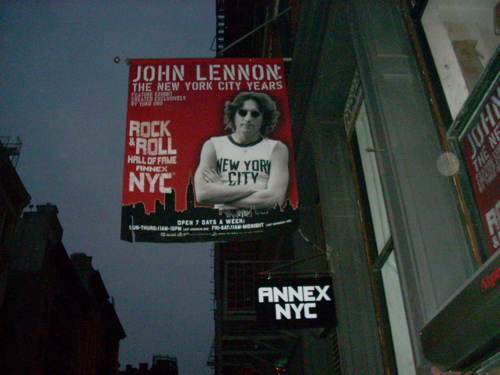 I also saw and loved an exhibit by Chinese conceptual artist Song Dong at MOMA, featuring years of - dare I say junk? Garbage? Recycling? -- collected by his mother during the "waste not" years of the Cultural Revolution. Unfortunately, that show closed September 7, but remember the name.
My restaurant discovery this trip was Onda, on trendy Front Street adjacent to the South Street Seaport. The cuisine bills itself as contemporary Latin comfort food, which means that Raymond Mohan, the incredible Guyanese chef who trained in the Vong kitchen, does not want to be tied down by geography; he riffs on cuisine from everywhere Latin. I ate from the "small plates" menu and was definitely feeling a Spanish "tapas" vibe (Onda means "vibe" in Spanish), but one that was inventively deconstructed in dishes like wild sea bass ceviche with passion fruit sorbet and jalapenos, and crab and arepa (Spanish polenta) salad with a chili lime vinaigrette.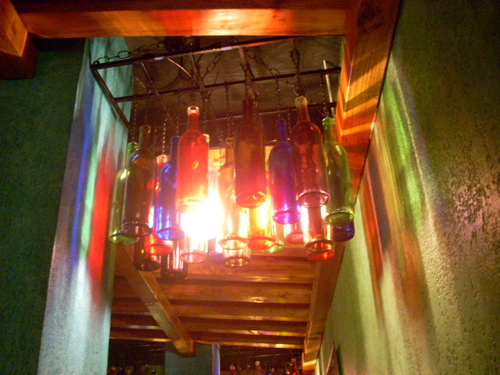 The restaurant often organizes nights featuring cocktails, cuisine and music from a particular region in Latin or South America; Brazilian night, I'm told, sizzles. Onda is owned by Capri-born Alessandro Passante and three of his charming Europeans buddies; they make everyone feel like a VIP. There's a lively bar scene animated by a mix of attractive people (more interesting than your usual Wall Street types), good prices and, most importantly, tasty treats you won't find anywhere else in the city.
I never thought I'd also find myself eating tapas at the bottom of the ski slope in Quebec's Mont-Tremblant. After a week in New York, I was ready for a change, so I hightailed it up to Quebec, which is its own country, one with very good bread and very good cheese, in fact, fine food on nearly every corner. I flew into Montreal but immediately headed up to the Laurentians, where a friend had shrewdly rented a cabin on Lac Marois, one of the lakes in Ste.-Anne-des-Lacs. We spent a week barbecuing and biking, savoring and strolling, just eating, really.
In quaint, upscale St.-Sauveur, I stumbled upon the perfect cheese sticks at Page Bakery (and went back every day for more), a scrumptious six grain baguette (incroyable with tomme de savoie cheese from Bourassa, the Laurentians answer to Costco) and meringues as light as air.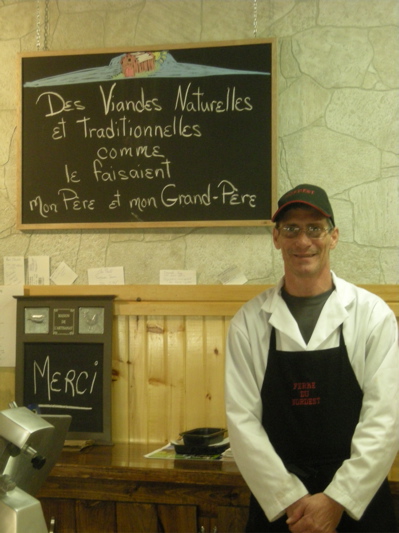 How fortunate that the butcher next door, whom my friend had been flirting with all summer, made the best merguez sausages this side of Marrakesh.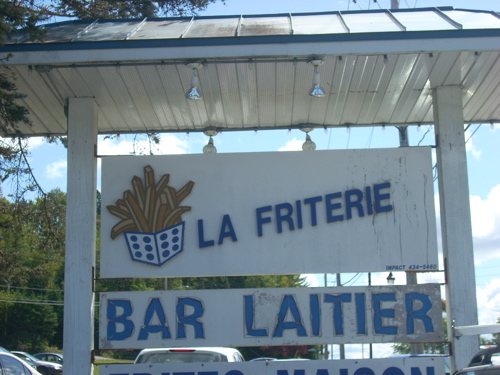 And, of course, this being Quebec, we had to sample frites in several recommended roadside joints.

We ended our eating orgy at L'Avalanche, a quasi-French bistro at the bottom of the ski slope in Mont-Tremblant. Located in a 1930s ski chalet, the oldest structure on the mountain and once the home of Joe Ryan, the American who created the resort, L'Avalanche is owned by Cedric Damani, a half-French, half-Sicilian larger-than-life charmer who grew up on the Riviera.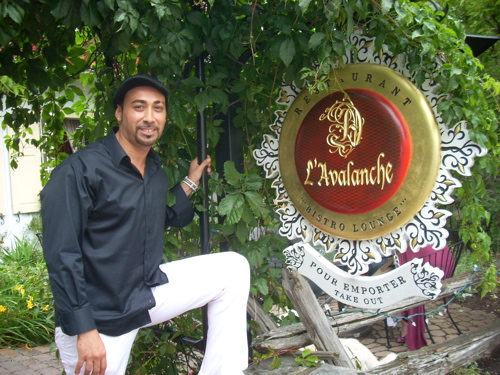 The food has a French foundation but is inventively infused with Asian and Mediterranean elements by a 25-year-old, Quebecois chef. As we could not face a full-on meal, we ordered off the tapas menu and were thrilled by items like scallop ceviche with spicy citrus and cilantro sauce and filet mignon sates infused with sake. Luckily, we saved room for dessert, which featured fois-gras creme brulee. Though it sounds terrible, it was amazing -- the kind of dish you'd swoon over at El Bulli or Bazaar. Though I'm not sure the locals are sophisticated enough for that particular end to a meal, the international ski set that descends on the resort in the winter will surely appreciate the irony and ingenuity that goes into dishes like that one.

This Blogger's Books and Other Items from...
SUBSCRIBE AND FOLLOW
Get top stories and blog posts emailed to me each day. Newsletters may offer personalized content or advertisements.
Learn more