Two Bunch Palms, one of the most relaxing getaways in Southern California due to the healing lithium-filled hot springs that run through the property, is now pet friendly.
"We were looking for ways to market that wouldn't take away from the integrity of the place," explained Tony Calsolaro, general manager of the resort, which, coincidentally, is in receivership and looking for a new owner. Obviously, Calsolaro and staff were not going to open the laid-back spa (nor its gorgeous mineral-filled grotto) to families with kids, but they couldn't see a downside in allowing guests to bring Rover.
Two Bunch, located in Desert Hot Springs, was Al Capone's desert hideout and since the seventies when I first started going there -- way before spas were ubiquitous -- has become a desert oasis that is now spread out over several acres.
Calsolaro thought it would make sense to take a couple of the villas at the edge of the property and make them dog friendly abodes. Coco, my abricot poodle, couldn't have agreed more, nor been happier in our villa, which had its own fenced-in private backyard with a lemon tree and a view of the surrounding mountains; right outside our door was a hiking trail for sunset walks.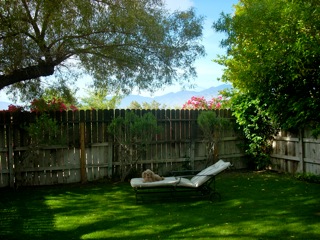 The maintenance people and housekeepers doted on him while he was there and were very conscientious about not letting him dart out the open door (not that Coco would; he's quite content passing the day in an air-conditioned, comfy hotel room.)
The villa had a full kitchen with a refrigerator and microwave which came in handy for cooking meals for my finicky pooch.
And while Coco lolled on the chaise in the backyard and buried the bone he received upon arrival, I got to soak guilt-free in the grotto and partake in my favorite Two Bunch spa treatments: deep tissue massage with Russel and Watsu with Tal, and dine in the restaurant, which gets better every time I go back.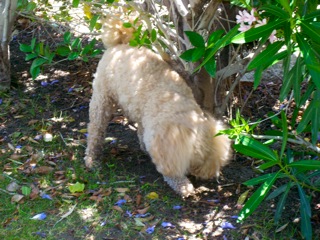 For more about the resort and lots of pictures, check out the HuffPost blog I wrote last May here.
SUBSCRIBE TO & FOLLOW THE MORNING EMAIL
The Morning Email helps you start your workday with everything you need to know: breaking news, entertainment and a dash of fun. Learn more