Artists go through transitional phases. If the person is famous enough, the world sees and judges their transformation. Sometimes it is out of their hands, like a child star growing up. Other times it is the artist themselves orchestrating the change. He or she may not feel that the direction of their career is going in the right way. So after some deliberation (or in some cases an event that was the last straw), the artist decides to risk it all and break free.
Adam Lyons is going through this transition. The 21-year-old pop artist recently had a falling out with his manager and label after being with them for about a year-and-a-half. The Liverpool native is now attempting to make a splash on his own by creating music independently.
"I feel like I have started a complete fresh start after being tied down by music I didn't want to write/record and being told to change everything I am and who I am which me being me, I don't stand for," Lyons stated.
However, Lyons doesn't have any regrets originally signing with the label.
"I do not regret signing with them doing what I did do as this is all a journey into the artist I am becoming and to finding the right team who share my unique visions," Lyons said. "The music industry can eat you up but if you stay true and know what you want and have that burning passion to succeed, fate will align itself with your dreams."
So, now as an independent artist, he is ready to tackle the music and show the world the sound and music he wants to record. But what type of music is it?
His first single "Psycho" was released on iTunes back in the beginning of January. The song was actually recorded by Lyons around two years ago, but was never released.
"I always believed in the track, especially when you boom up the volume and feel the bass tremble in your body. It shows a different side to me and, yes, my darker side," Lyons said.
The song is pop and catchy with a great beat and hook. It does come off a little angry, but that should be expected.
"[The lyrics] aren't to be taken too seriously, as they are just expressing that hate you feel when somebody really ticks you off and you just literally want to sabotage them! It could be a friend, girlfriend/boyfriend, stranger, anybody, you know that burning feeling when you look back at certain situation and think to yourself what you should have done/said differently," Lyons said.
A music video to the song (a first for Lyons) was shot in Los Angeles and should be released soon. It was directed by Marc Cleary (Stoligrant Productions) who Lyons met on his previous trip to LA back in September. Cleary has directed and choreographed videos for the likes of Kat Graham and others.
"I don't think people are ready for this," Lyons said about the video.
Besides his budding pop career, Adam Lyons has crossed over to the world of Electronic Dance Music (or EDM for short). He recently teamed up with Uplink and Last Hit, two German-based music production companies in which he provided vocals for many upcoming tracks (and like all his music, he wrote the songs as well).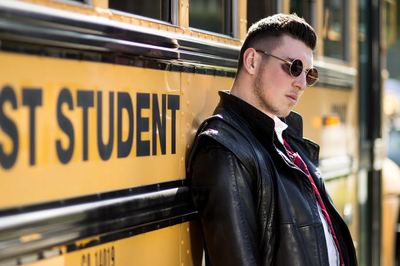 (Photographer Michel Pierre Beirouthy, Director Marc Cleary and Stylist/Visual Artist Dorothy Joly)
It has been over six months since I last wrote an article about this emerging artist from Liverpool. In the sometimes turbulent entertainment world, this could be the length of person's career. Since then a lot has changed for Adam Lyons. However one thing has not changed: his drive. In this overnight/viral success world we are currently living in, at times it may be frustrating for an artist. He or she may be tempted to say "Yes" to a project that he may not truly believe in. While many in the music field in particular have done this to get their foot in the door, I am finding more are navigating the independent route and staying true to the music they want to record. Is that the smartest thing to do? I am not sure. There is no doubt that big labels/managers would help to skyrocket an artist's career; however it might be important to keep this as an option.
Regardless of the ups and downs of the music world, Adam Lyons' drive and talent have not only remained, but have thrived. He did do a risky move by deciding to go the more independent route. Some may even say what he did was "Psycho." However, we all take a different path to where we want to be. By staying true to himself and the music he wants to record, Adam Lyons sounds like he knows and is content with the path he has set in front of him. Will his career go "Psycho?" I am not sure. However, I do believe he is currently laying out the correct foundation for success. Will there be bumps in the road to success? Yes, but in the case of Adam Lyons, this will only add to his drive and determination for success.
"Psycho" is available on iTunes. For more information about Adam Lyons, visit his official site.