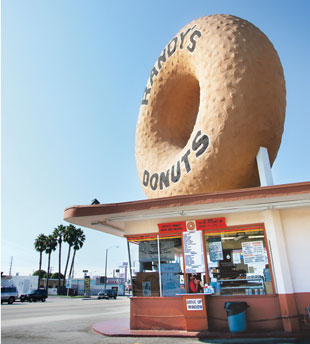 Every culture has fried dough--German Berliners, Italian zeppole, French beignets, and Indian balushahi--but none can top the gut-busting pleasure of the American donut. It's the latest iconic food to undergo a renaissance; here are our picks for the best classic and newfangled donut purveyors across the country.
Randy's Donuts
Los Angeles
Los Angeles has donuts on just about every corner, but you can't beat this legendary stop near LAX. Look for the huge donut atop the building (a 1952 landmark). The buttermilk and crumb raised donuts are crowd-pleasers. 805 West Manchester Avenue, Inglewood; 310-645-4707; randys-donuts.com
Dynamo Donuts
San Francisco
At this counter in the Mission District, long lines form early for Four Barrel coffee (roasted nearby) and inventive donuts including lemon-Sichuan, apricot-cardamom, and the excellent caramel de sel. 2760 24th Street; 415-920-1978; dynamodonut.com

Bouchon Bakery
Yountville, California
On weekends, donut disciples head to Thomas Keller's casual spot for pastry chef Richard Capizzi's treats, including jelly donuts with seasonal preserves and the brioche donut topped with chocolate mini balls. 6528 Washington Street; 707-944-2253; bouchonbakery.com
Dat Donuts
Chicago
Every donut at this South Side joint is made by hand. Purists will like the raised glazed donuts (available in a supersize version as well), while cream-filled-center devotees must have the Boston cream. 8249 South Cottage Grove Avenue; 773-723-1002
Kane's Donuts
Saugus, Massachusetts
In business since 1955, this no-frills Beantown institution is located 20 minutes from downtown. Favorites include honey-dipped and powdered-sugared varieties, and a huge coffee roll. 120 Lincoln Avenue; 781-233-8499; kanesdonuts.com

The Donut Stop
St. Louis
A big roadside sign announces this white stand-alone shop straight out of Homer Simpson's dreams: Glass cases are filled with glazed donuts, fried pies, fritters, and custard-filled rounds. 1101 Lemay Ferry Road; 314-631-3333; thedonutstopinc.net

Doughnut Plant
New York
The artisanal donut boom can be traced to Mark Isreal's Lower East Side place. The classic glazed and tres leches cake donuts are perfection. Even the jellies in the trademarked jelly-filled square donuts are house-made. 379 Grand Street; 212-505-3700; doughnutplant.com

Voodoo Doughnut
Portland, Oregon
What Dalí was to art, Voodoo is to donuts. Among their masterpieces are the Dirty Snowball (chocolate cake donut with a pink marshmallow glaze) and the Memphis Mafia (chocolate chips, banana, and peanut butter). 22 SW Third Avenue; 503-241-4704; voodoodoughnut.com

Round Rock Donuts
Round Rock, Texas
It opens at 4:00 a.m. and charges only $0.55 each for cake donuts in flavors like applesauce, blueberry, and chocolate. You can also go fancy--a cherry bismarck (jelly-filled) costs $0.75. 106 West Liberty Street; 512-255-3629; roundrockdonuts.com

Mighty-O Donuts
Seattle
Dairy- and egg-free. Trans-fat and cholesterol-free. Here, the ethereal sugar rings (in flavors like lemon poppy seed, spiced cake with maple glaze, and chocolate iced with peanuts) are all that--and organic to boot. 2110 North 55th Street; 206-547-0335; mightyo.com
Photograph by Sian Kennedy
Related Recipes:
SUBSCRIBE AND FOLLOW
Get top stories and blog posts emailed to me each day. Newsletters may offer personalized content or advertisements.
Learn more