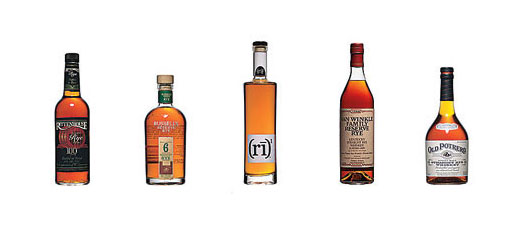 America is experiencing a rye renaissance, with new and classic brands of the less sweet and spicier cousin to bourbon now de rigueur at better bars and liquor stores across the country. We blind-tasted 16 different bottles of rye with help from star bartender Jim Meehan of PDT in New York. Here are five of our favorites--each perfect in a Manhattan, on the rocks, or straight up.
Rittenhouse Rye, 100 Proof, $20
The go-to rye for many serious bartenders. Its low price and high proof make it ideal for mixing in modern and classic cocktails.
Russell's Reserve Rye, 6 Year Old, $25
This bottling from the Wild Turkey family has hints of smoked almond and, like many ryes, fresh-cut grass.
Ri 1, $48
The bottle's sleek design says vodka more than whiskey, but this balanced rye from the Jim Beam family is a great introduction to the spirit.
Van Winkle Family Reserve Rye, $70
A sought-after rye from one of America's premier whiskey houses; they don't make much of it, so if you see it, buy it--then sip it.

Old Potrero Single Malt Straight Rye Whiskey, 19th Century Style, $77
A pre-Prohibition style of whiskey distilled from 100 percent rye in a copper-pot still.

Are You Ready for St. Patrick's Day? :
More from Bon Appétit: